The Second Belt and Road Forum for International Cooperation was just concluded in Beijing. The three-day Forum from 25th to 27th April attracted 40 top leaders and over 6,000 participants from more than 150 countries and 90 international organizations.
During the forum, a total of 283 items of practical outcomes were achieved and cooperation agreements worth more than 64 billion US dollars were signed. What's more, President Xi Jinping announced a raft of new measures for reform and opening up, including broadening market access, strengthening intellectual property rights protection, increasing imports and setting up new free trade pilot zones.
These are seen by all sides as significant opportunities for the Belt and Road Initiative (BRI), which aims to enhance connectivity and practical cooperation.
Since the BRI was firstly put forward in 2013, Belt and Road cooperation has opened up new space for trade and investment, produced lager platform for closer ties among countries, and become a widely welcomed international public good. A general connectivity framework consisting of six corridors, six connectivity routes and multiple countries and ports has been put in place.
Moreover, 127 countries and 29 international organizations have signed cooperation documents with China on jointly building the Belt and Road.
The goods trade volume between China and countries and regions along the BRI surpassed 6 trillion US dollars from 2013 to 2018.
To developing areas like Africa, China strongly supports comprehensive and multi-modal infrastructure connectivity.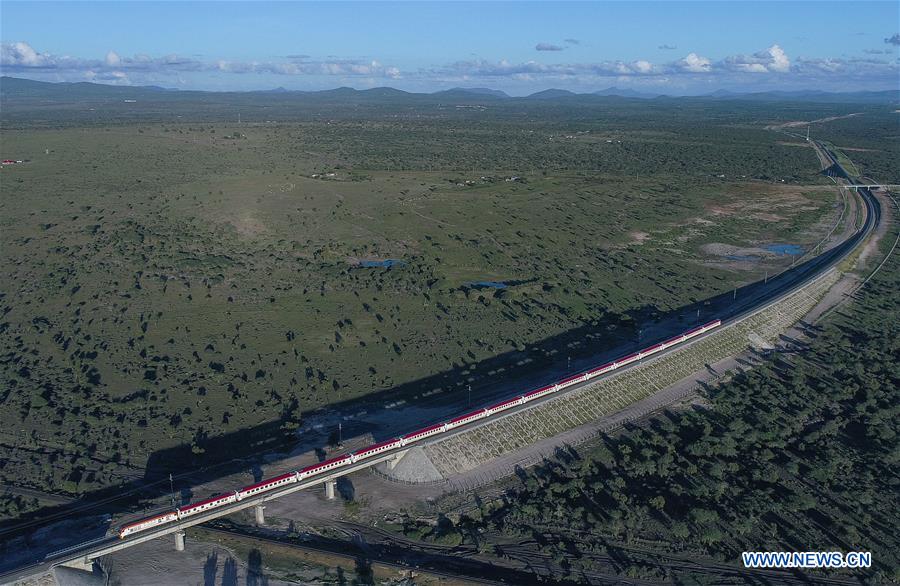 For example, the Chinese-built and funded Nairobi-Mombasa railway has ferried more than 2.5 million passengers and nearly 3.9 million tons of cargo since its launch in May 2017.
Kenyan President Uhuru Kenyatta praised this grand project and listed it among the top 13 most magnificent railway tours for 2019.
From the start, the BRI follows the sound principle of consultation and cooperation for shared benefits. Plenty of facts are proof that the BRI is not a "debt trap" that countries may fall into, but an "economic pie" that benefits the locals. No one is in a better position to repudiate the so-called debt trap allegation than the BRI participants themselves.
Facts and figures speak louder. Take Africa for example, according to figures compiled by the World Bank and John Hopkins University, between 2000 and 2016, Africa owed China 115 billion US dollars, less than 2 percent of the total low and middle income countries' debt stock.
Decisions made under the BRI framework, whether project selection or investment and financing cooperation, are all based on full consultation among the parties and on the basis of conducting due risk assessment and investment feasibility study.
Just as President Paul Kagame has told media recently, "China's engagement in Africa is good. In Rwanda, we know our capacity and which Chinese proposals we should accept, so as not to be overloaded with debt." China and participating countries have jointly adopted the Guiding Principles on Financing the Development of the Belt and Road, which highlights the need to ensure debt sustainability in project financing. In case the cooperation partners face difficulties in servicing debts, China will properly address through friendly consultation, and never press them for debt payment.
During the just concluded Forum, the Chinese side has published the Debt Sustainability Framework for Participating Countries of the BRI. As a matter of fact, no country has got trapped in a debt crisis since its participation in the BRI. Quite on the contrary, it is through participating in BRI cooperation that many countries have got out of the trap of "no development".
China and Rwanda enjoyed very strong relations in recent years. During President Xi Jinping's state visit to Rwanda last July, the Chinese and Rwandan governments signed a MOU on promoting BRI cooperation, giving new impetus to the bilateral relations.
China is willing to help land-locked Rwanda to transform into land-linked. In March this year, two China-funded projects kicked off — the upgrading of the Bugesera International Airport Road and the Huye-Kibeho-Munini Road.
In upcoming June, Rwanda Air will launch the directly flight from Kigali to Guangzhou.
"As Chinese Ambassador to Rwanda, I believe that BRI initiative will help Rwanda to remove development bottlenecks and implement the 2020 and 2050 version for sustainable development. The BRI will be an important platform to build a community with a shared future between China and Rwanda.
RAO Hongwei is the Ambassador Extraordinary and Plenipotentiary of the People's Republic of China to the Republic of Rwanda