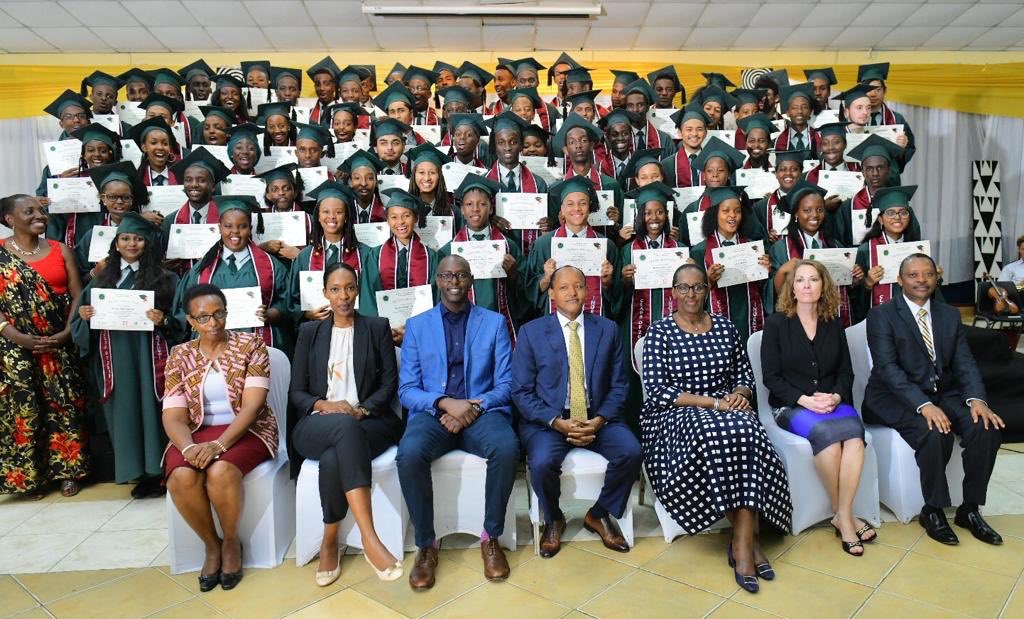 GHA graduation – Group photo
Rwanda's First Lady Jeannette Kagame has asked graduates of Green Hills Academy (GHA) to brace for the challenges of life after school but also remember to give back to the community.
Mrs Kagame made the remarks while attending the 17th GHA graduation ceremony for the grade 12 student's class of 2019 dubbed 'Ingenzi', which took place at Green Hills Academy this June 15, 2019.
As a parent who has educated her children at the same school, Mrs Jeannette Kagame said to see yet another group of students dressed up in their gowns and caps, ready to take the next step in their lives, fills her with so much joy.
The first Lady used this opportunity to advise the teenage smiling graduates who were dressed in their dark green gowns and looked excited to take another step in life.
Ahead of the graduation, GHA students through club activities, this June 8, organised a Model United Nations (MUN) assimilation conference that aimed at discussing problems faced by the world and finding solutions while also preparing them to become future leaders.
Mrs Kagame said that the level discipline and great performance displayed, especially on the sports grounds – bringing home several trophies – is the formula that can also be used to continue embarking on this new journey (after school).
"It is also my hope that, when the time comes, you use what you have learned and achieved, to give back to your parents, your teachers, your communities and countries, as other GHA alumni have done before you," Mrs Kagame said.
She also told the graduates that this will come with "turning a new page in the great book of your life and means opening yourself up to a new and bigger world, which at times, will challenge you beyond expectations."
"It means learning to form new relationships, and new coping mechanisms vis-à-vis the new paths you will be following. These processes are inevitable, if you are to grow into the strong men and women you are all destined to become," advised the First Lady.
Most of the 70 graduates started at GHA as kindergarten pupils, from Rwanda and across the world and have at least spent 16 years under guided Cambridge education and life skills training ranging from culture, sports and social outreach.