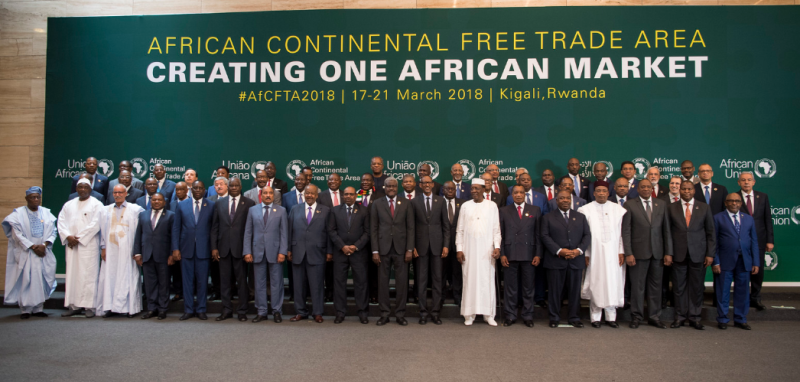 The Africa Continental Free Trade Area (AfCFTA) could receive a big boost before it is officially launched in July this year – following news that Nigeria – the continent's economic power house, is reportedly finalizing the process to ratify the agreement.
In March last year, fifty African countries signed the historic Africa Continental Free Trade Area (AfCFTA) – an agreement that will create a single African market.
Before the event, Nigeria had issued a statement saying it remained skeptical to endorse its signature. This attracted debate that the agreement would not be successful without Nigeria.
However, after a post-launch press briefing, Rwanda's President Paul Kagame insisted that Nigeria is "supportive" of AfCFTA.
In the context, he said, "I think it's a question of time and how fast they (Nigeria) address things they feel they should address before they make full pronouncement as to what position they ultimately want vis-avis this historic event we have witnessed today," Kagame told the media in Kigali shortly after signing the agreement.
On Monday, June 17, 2019, Dr. Abdu Mukhtar, the Director of Industrial and Trade Development at the African Development Bank – the key financier of mega projects on the continent, announced that Nigeria is on its way to join the market.
"African Development Bank has expressed optimism that Nigeria, the largest country on the continent will soon ratify the African Continental Free Trade Area (AfCFTA) agreement," AfCFTA quoted Dr. Abdu Mukhtar on its Twitter handle.
Celebrations are expected to fill up Niamey – the capital city of Niger, when African leaders will witness the official launch of the Africa Continental Free Trade Area.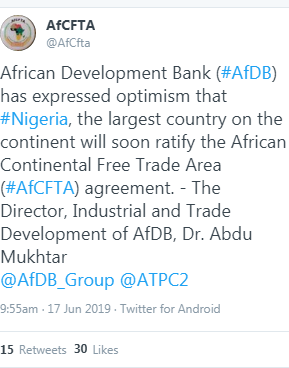 On May 30 this year, AfCFTA officially came into force following the minimum 22 needed signatures.