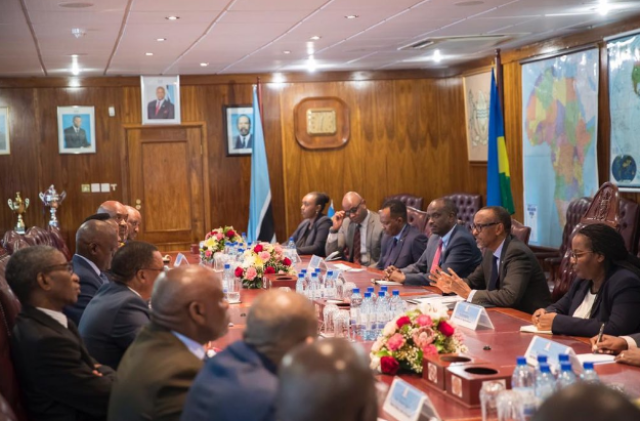 Rwanda's President Paul Kagame and First Lady Jeannette Kagame arrived in Gaborone, Botswana on Thursday for a two day State Visit.
On arrival in Gaborone, the President and the First Lady were received by President Dr. Mokgweetsi Eric Keabetswe Masisi and First Lady Neo Masisi.
Later in the day, President Mokgweetsi Masisi and President Kagame held a bilateral meeting with members of their delegation before the signing of bilateral agreements.
President Kagame and First Lady arrived in Botswana after a two day visit to Madagascar where they attended the 59th Independence Anniversary on Wednesday.
The visit in Botswana will afford the two leaders an invaluable opportunity to exchange views on bilateral, regional and international issues of mutual interest, according President Masisi.
"It will also serve to enhance and broaden the scope of bilateral cooperation between Botswana and Rwanda in various sectors of human development," Masisi said.