The Prime Minister Dr Edouard Ngirente has said that the government has taken measures to crackdown on the mismanagement of saving and credit cooperatives (SACCOs), including arresting individuals involved in the swindling of cooperative funds.
The Premier made the assurance today while appearing before Parliament to update legislators on the current status of trade in the country, pointing out that all those involved in mismanaging SACCOs leading to losses for citizens will be dealt with.
MPs wanted to know what the government is doing to recover billions of funds unaccounted for by those supposed to manage cooperatives, leading to heavy losses for citizens who had been saving with the SACCOs, including the local government-linked Umurenge SACCOs.
"All I can say is that we are recovering cooperative funds. Some people responsible for mismanaging these SACCOs have been arrested, others are still being investigated. All those involved will be brought to book and the funds will be recovered," Dr Ngirente told legislators.
The Premier said that under the new policy on cooperatives, the government is looking to streamline operations of the over 9, 000 cooperatives in the country while the law establishing cooperatives is also under revision to ensure that the loopholes that lead to losses are sealed.
He said that among other things, the government will put in place measures to improve the capacity and management of savings and credit cooperatives to shield them from mismanagement and minimize losses on the side of citizens.
Last year, the Ministry of Local Government (MINALOC) report found that most of SACCOs had been mismanaged, with local leaders among those defaulting on loans from Umurenge Savings and Credits Cooperatives.
According to figures from Rwanda Cooperative Agency (RCA), last year SACCOs made losses of close to Rwf2bn, mainly attributed to defaulting, with local leaders cited among those not paying back their loans.
Out of the unrecovered amount, Rwf648 million had been taken in loans by local leaders while non-performing loans are equivalent to 16 percent, well above the 5 percent threshold set by the National Bank of Rwanda.
There are 416 Umureng SACCOs countrywide distributed in each of the country's 416 Sectors.
President Paul Kagame last year directed line ministries, the National Public Prosecution Authority, Rwanda Investigations Bureau (RIB) to follow up on the SACCOs which have caused heavy losses to citizens due to mismanagement.
The Prime Minister said that different government bodies are working with RCA to ensure that the funds are recovered while those involved in the mishandling of the cooperatives will be dealt with by the law.
Positive trend
The Premier gave an update to legislators on the status of trade in the country, noting that over the last 10 years, the government has done a lot to facilitate both domestic and external trade as well as trade in services.
Among other things, he said that in the last three years, the government built five cross border markets in Cyanika, Rubavu, Karongi and Rusizi to facilitate cross border trade while six one stop border posts were constructed at Rusumo, Kagitumba, Ruhwa, Nemba, Rubavu (la Corniche or Grande Barrière) as well as Gatuna.
The MPs called on government to ensure that these facilities are operational and are benefiting the citizens in these areas.
The Premier also said that 89 warehouses and 52 cold rooms were built over the last 3 years to facilitate agribusiness.
In the same light, he said 126 milk collection centres have been constructed, 76 of them by the government.
He pointed out that the government has continued to scale up roads in the country, with current roads standing at 38,803.4km countrywide. Of those, 2, 749 are national roads while 13, 565km are district roads.The PM said that since 2013, households with electricity increased from 20 per cent to 46.5 per cent at the end of 2018, reflecting an increase of 133 percent while internet penetration is at 52 percent countrywide. Mobile phone penetration stands at 77 per cent.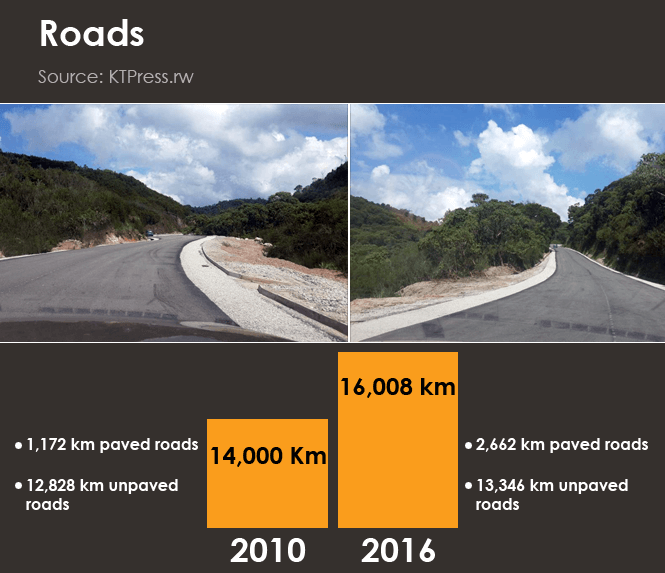 On Foreign Direct Investment, Prime Minister Ngirente said investment by foreigners increased by 18.6 percent since 2018 while total private flows also went up by 9.6 per cent at the end of 2016.
At the same time, trade surplus in informal cross border trade) stood at US$ 105m at the end of 2018 while the Gross Domestic Product (GDP) exhibited a 'positive trend' since 2010.
He however said that imports increased by 16.8 per cent mainly due to construction materials, machines and devices.
Trade deficit with East African Community (EAC) decreased by 47.1 percent mainly due to increased exports from Rwanda to EAC countries which went up by 146.2 percent while imports from EAC countries decreased by 5.9 per cent in the same period, thanks to the Made in Rwanda drive.
As such, he said that the government is looking to put more effort in revising trade policies and laws from 2017-2024 with the aim of boosting domestic trade and export diversification through value addition, among other strategies.