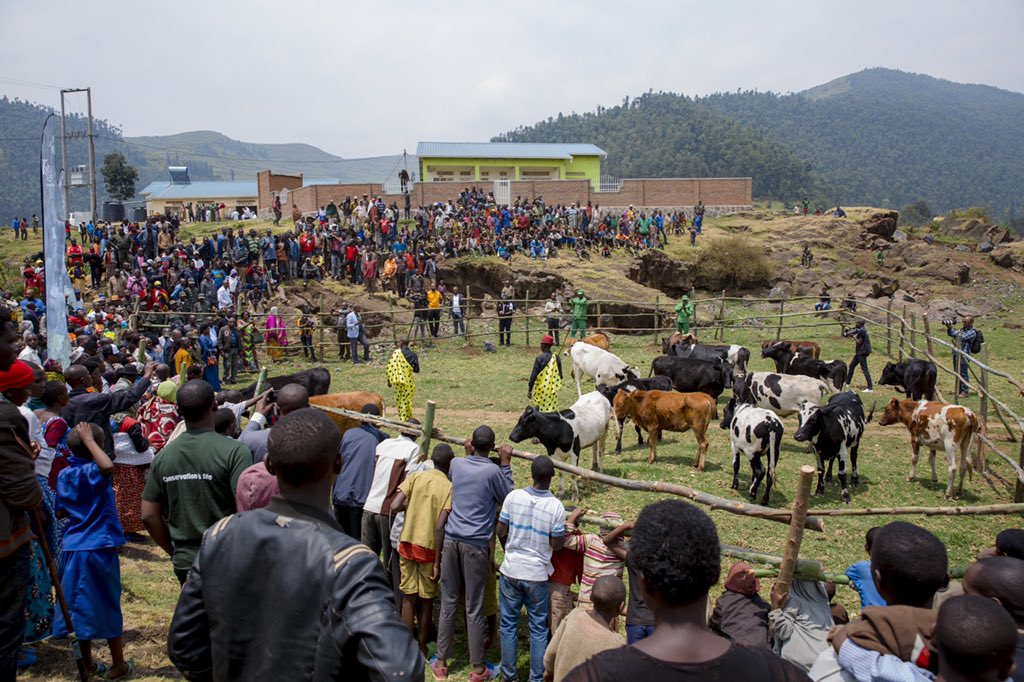 This year's gorilla naming ceremony is already promising to be the most exciting, thanks to the different activities Rwanda Development Board (RDB) has lined up to mark the 15th edition of the annual event locally known as Kwita Izina.
Momentum for Kwita Izina 2019, which will take place on September 6 in Kinigi, at the foothills of Volcanoes National Park in Musanze District, Northern Rwanda, has been building up, with several activities involving communities around national parks already giving a glimpse of what to expect in the coming days.
On Saturday residents of Kayonza District, visitors and friends of Akagera National Park took part in the Akagera Rhino Velo Race, an annual cycling event that aims to promote conservation awareness through sport.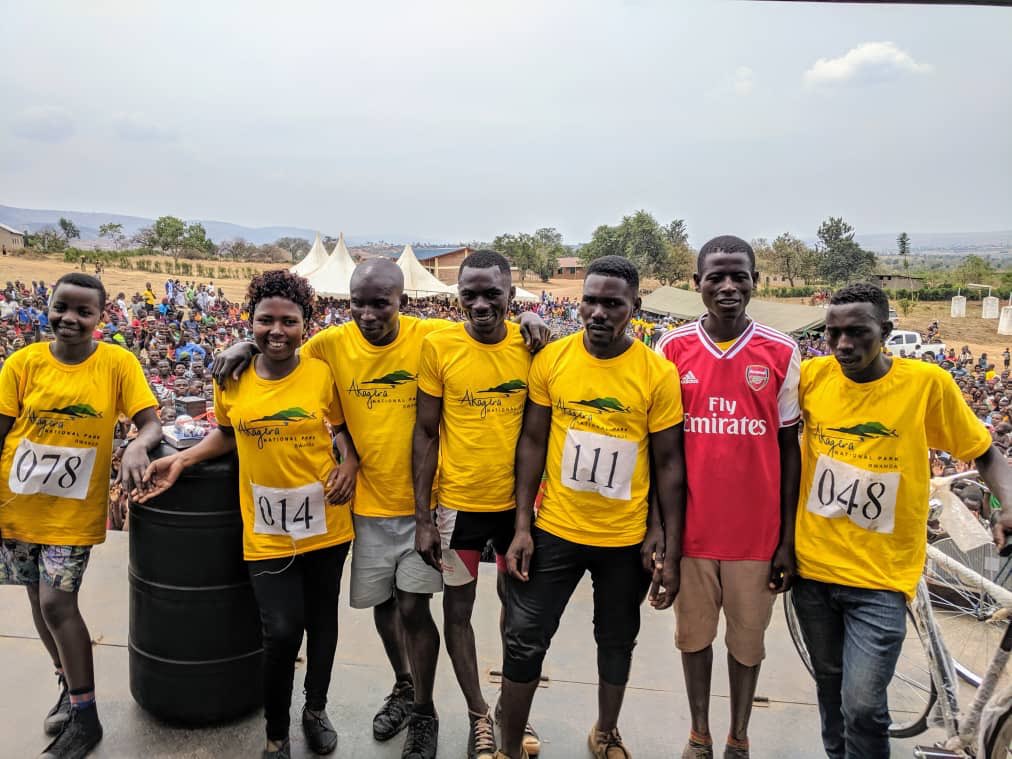 According to RDB, over 150 people participated in the activity which is part of the side events taking place across the country ahead of this year's Kwita Izina annual baby gorilla naming ceremony.
25 baby gorillas will be named on September 6 in an event expected to attract global celebrities and conservationists, including American RnB star Ne-Yo, Arsenal legend Tony Adams, veteran Dutch football coach Luis van Gaal and Rwandan stars Meddy Ngabo and Sherrie Silver among others.
The top 7 riders walked away with prizes that included bicycles, solar lamps, smart phones and water tanks. The overall winner, Callixte Bihoyiki also received a Visit Rwanda branded Arsenal jersey.
Ariella Kageruka, the head of Tourism and Conservation at RDB, commended residents of Kayonza for their efforts and contribution towards conserving Akagera National Park.
"Your increased awareness on the importance of national parks in the country has enabled the country earn more revenue from tourism of which 10 per cent is used to fund projects that improve the lives of communities surrounding the parks,"
"This year, as we celebrate the 15th Kwita Izina ceremony, we will acknowledge the gains we have made in conservation and set more goals that will sustain Rwanda's development," Kageruka said.
In a similar development, in line with Kwita Izina 2019 activities, RDB on Friday handed over 729 cows to vulnerable families living around the Volcanoes National Park as part of its tourism revenue share program.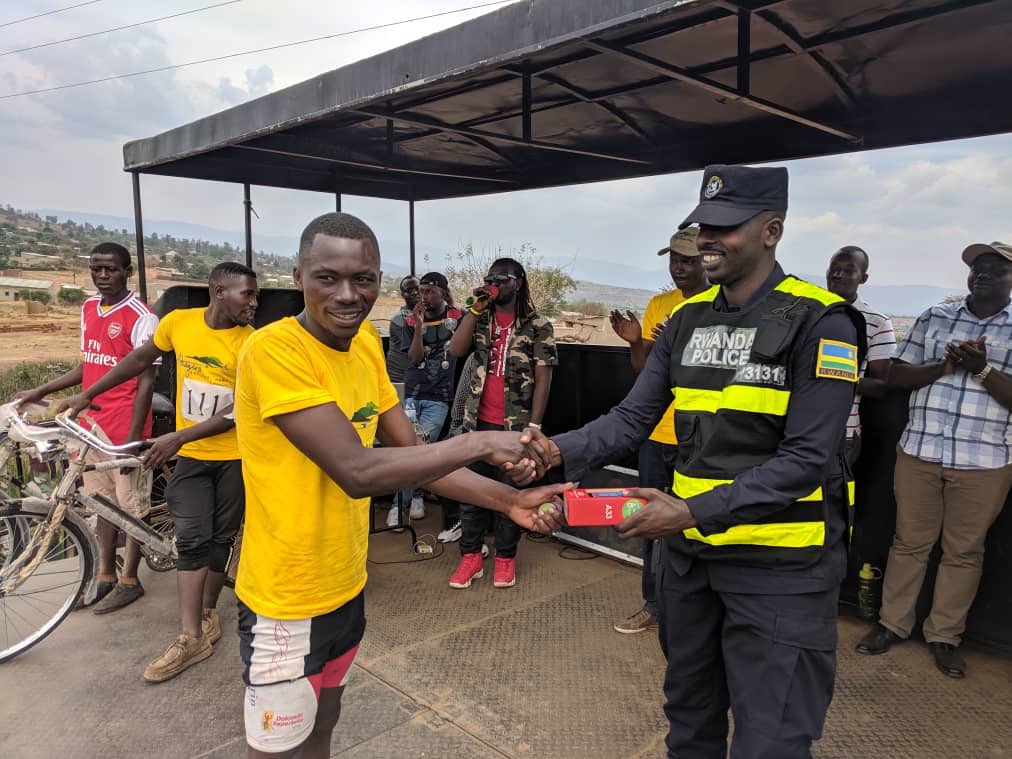 Every year, RDB uses 10 per cent of revenues generated from tourists visiting the country's national parks to fund projects aimed at improving the livelihoods of communities living around the parks.
The handover, which took place in Nyabihu District, Western Province, is one of 36 projects that the Government spent Rwf 1.5 billion on during the last fiscal year (2018-2019).
The figure is up from Rwf741 million spent in 2017-2018. Overall park revenues reached over US$ 21.1 million (Rwf 19 billion) in 2018.
The projects have availed clean drinking water, milk collection centres, health centres, classrooms and housing to members of the communities living around the three national parks of Akagera, Nyungwe and Volcanoes National Park.
The program has existed since 2005 and over Rwf 5.2 billion has been spent on 647 community projects since its inception.
According to Belise Kariza, the RDB Chief Tourism Officer, the revenue share programme has greatly benefited communities and boosted conservation efforts as it integrates locals in conservation initiatives.
"The tourism revenue share program helps improve the lives of communities living around the national parks and also makes them love the parks. Every year, these communities take ownership of the parks and their conservation more importantly and this is what makes our conservation initiatives succeed,"
"This year, thanks to the collaboration with the local authorities, we were able to identify the vulnerable communities' needs and are glad that the families will be drinking milk everyday knowing that they earned it from tourism,"
"It is also my hope that two years from now, the number of cattle we have handed over today will quadruple and benefit even more families," Kariza said.
The Governor of the Western Province, Alphonse Munyantwali, commended RDB for the revenue share program, noting that the programme has since turned former poachers into strong conservationists while at the same time transforming their lives.
"When the revenue share program started, the communities surrounding the parks used to receive about Rwf 100 million,"
"Today, the figure has grown to Rwf1.5 billion, which is a big achievement. I appreciate the fact that today a person that used to set traps for animals in the parks is now able to get milk and other basic needs on a daily basis. Let's continue protecting the parks so that our region can continue earning more from tourism which will improve people's lives," Governor Munyentwali said.
As part of the 15th Kwita Izina anniversary, RDB has lined up a number of activities including a mega concert on September 7 which will be headlined by the 'Miss Independent' singer Ne-Yo and Rwanda's very own Meddy Ngabo alongside other local artistes.
RDB is working with conservation and private sector partners to support events that support the Kwita Izina theme 'Conservation is Life' including the just concluded Rhino Cycling Velo Race, Umuganda and Tennis tournaments set for August 31 and September 1 among other activities.
A 3km Gorilla Fun Run is also scheduled for September 5, while the conservation gala dinner and concert are all set for September 7.
RDB together with the African Leadership University (ALU) have also planned the Business of Conservation Conference scheduled for September 8 to 9 as part of Kwita Izina activities.