In a sombre mood, relatives, family and friends of late Louis Baziga, a Rwandan national who was shot dead in Mozambique last week are bidding him farewell as they ask that murderers be arrested and justice be done though the heavens fall.
The body of Louis Baziga was flown home on Saturday night from Mozambique capital Maputo.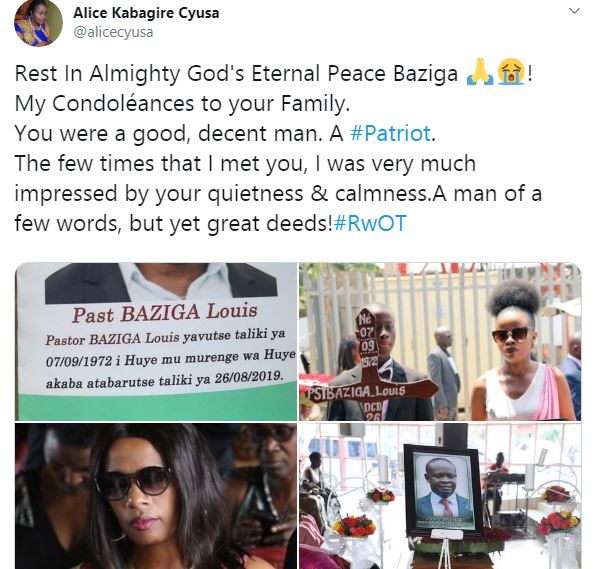 This morning, a requiem mass was read at Pentecostal church -ADEPR Kabuga parish in Kabuga Parish in the outskirts of the capital Kigali after which family members, government representatives and friends paid tribute to late Baziga.
"Rest in eternal peace Louis Baziga! You have lived a good life, taking care of your family, working for God and loving your country. Rwanda was in you and you died for her," says Amb. Olivier Nduhungirehe, Minister of State in charge of East African community at the Ministry of Foreign Affairs and Cooperation.
"But I can promise you that the criminals who took your life will soon be held accountable," Amb. Nduhungirehe added.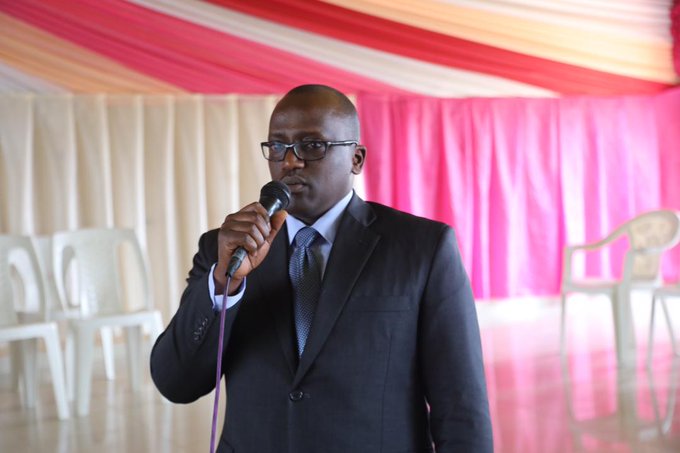 Rwandan envoy To Mozambique, Amb. Jean Claude Nikobisanzwe said the passing of Baziga is a great loss.
"I knew Baziga from way back. He was a great friend. I knew him before I even became an Ambassador. He was a diligent man who selflessly served the country and did good through his life. He helped Rwandans," he said.
The Envoy explained the situation of the Rwandan community in Mozambique and the divisions mainly caused by groups which are Anti-Rwandan government which are active in Mozambique.
He said Baziga choosing to back government  programmes and refuse to join negative groups cost him his life.
"We can categorically say Baziga was killed for refusing to join these negative groups which are mostly composed of people who fled the country in 1994 and others who are part of the community. He rejected them and went on to normalize his citizenship," the ambassador said.
"It is not the first time this has happened. There was an attempt on his life before in 2016. The same people walked away scot-free and now they managed to take his life. There is no doubt the same people who had bayed for his blood eventually succeeded."
Family Speak Out
Baziga was married to Beatrice Uzaramba in 1995 and is survived by 7 children. At the funeral, the children said life without their dad can only be described as bitter.
"Our dad was a role model. He was there for us all through, taught us virtues and humility. He was always concerned by the plight of other people and dedicated his life to his family and country. He moulded us into who we are today," says Uwase Ange Louise, Baziga's First Born.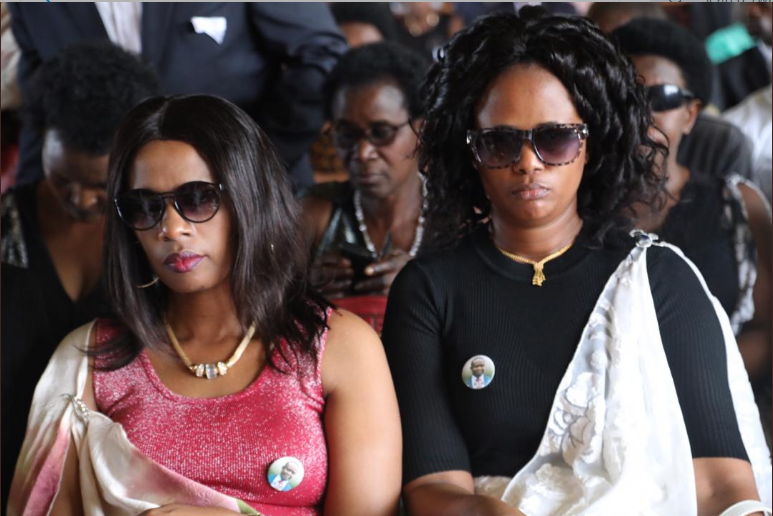 The wife said she has lost a spouse and a father in Baziga.
"He was a great man. We never lacked anything. He provided for us all through. He was like my father. We got married at a young age. He cared for widows and those in need. He dedicated himself to serving humanity. If there is heaven, I am sure he is there," Uzaramba Beatrice said.
"I would like to thank the Government of Rwanda and particularly our Embassy in Mozambique for standing with us through this period and the repatriation of the body."
Who is Louis Baziga?
Born on 07/09/1972 in Huye Sector, HuyeDistrict, Baziga went to Runga for his primary education, continued with secondary education in Kibeho – Nyaruguru District before joining Ecole Polytechnique Kigali.
He got married to Beatrice Uzaramba in 1995 and is survived by 7 children.
After completing his education, Baziga worked with Medicin Sans Frontiers(MSF) in 1994. After the 1994 Genocide against the Tutsi, he went to DR Congo where he continued working with the same organization. In 1997, he relocated to Mozambique where he opened up businesses.
Alongside his businesses, Baziga joined the Pentecostal Church and was later ordained a Pastor. In 2011, Baziga was elected the head of the Rwandan Diaspora in Mozambique. He became actively involved in government programs and diaspora activities and returned to Rwanda briefly.
Fresh details obtained by KT Press from reliable sources last week implicate six individuals in the cold-blooded murder of Baziga, who was shot dead by assailants who blocked his car before spraying it with bullets in Matola area of the Mozambican capital Maputo.
Among the suspects is Eric-Thierry Gahomera, the honorary consul of Burundi in Mozambique who is suspected to have conspired with several other individuals including Revocat Karemangingo, a former Rwandan army member (Ex-Far) who is a prominent businessman in Mozambique.
The list of the suspects also includes Benjamin Ndagijimana alias Ndagije, a member of subversive outfit Rwanda National Congress (RNC) young brother of exiled former Senator Safari Stanley. Ndagijimana is also a prominent businessman in Mozambique.