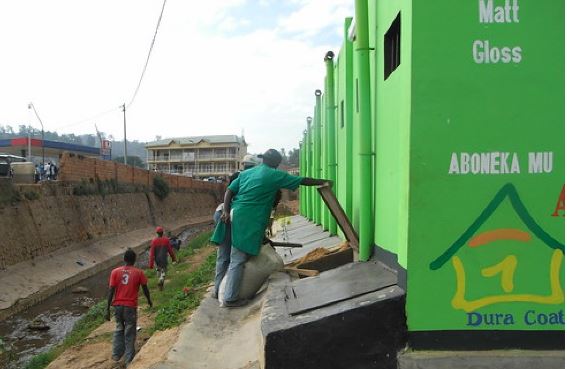 Kigali could soon have a Central Sewerage System following revelations by the Water and Sanitation Corporation (WASAC) that the utility is searching for a contractor to build the over 85km sewerage network.
However, the utility which is charged with water and sanitation in the country is yet to zero down on the company to implement the project which is expected to cost about Rwf98bn, financed through a loan from African Development Bank (AfDB) and the European Investment Bank (EIB).
According to Aimé Muzola, the Chief Executive Officer (CEO) of WASAC, the process to select a contractor is ongoing.
"The money is available. It is an AfDB funded project. The study was done. We already have a supervisor of the project. At the moment we are recruiting a contractor to build the Kigali Centralised Sewerage System which will be located at Giticyinyoni,"
"Groundworks have already started. The pilot phase will cover parts of Nyarugenge district, including Muhima, Kiyovu and Rugunga areas. It is from here that the centralised system will be built. We are only waiting for the identification of the contractor," Muzola told Journalists during a media interaction session.
Muzola said the first phase of the central sewerage system is expected to be completed by 2022, adding that the expropriation process to compensate about 180 people whose properties will be affected by where the sewers will pass is ongoing.
"The expropriation process is ongoing. So far we have completed 50 per cent of the expropriation exercise. This is an ongoing project which will help us to deal with the sewage challenge," Muzola said.
He revealed that WASAC is doing another study to see how semi-centralised sewerage systems built by estate developers can be connected to one central system, either on existing treatment plants, or decide whether to build another plant that would ensure proper handling of sewage.
Experts warn that given the City of Kigali fast development and population growth, the metropolis is likely to have serious challenges with human waste if the centralised sewerage system to support waste management is not development.
"The study on the estates is also ongoing. What I can say is that whether we decide to rehabilitate or upgrade the existing treatment plants, there is a budget for that. Once the study is complete, a tender document will be issued and we expect construction to begin immediately," Muzola said.
He said the study covering sewage treatment in real estate projects in Kigali is being done by a Thai company. Muzola said that a separate study on the sewerage network for Gasabo district is being conducted and Kicukiro district will follow next.
"We are mobilising funds for the Gasabo sewerage network," he said
Upcountry secondary cities will also have centralised sewerage system but he said utility has already started works to build solid and water waste facilities in Nyagatare, Kayonza and Nyanza. He said more facilities will be built in Rubavu, Musanze, Rubavu, Karongi and Rusizi while a study covering on waste management in Muhanga and Huye towns is also underway.
He said for the secondary cities, focus will be put on solid waste and water waste management first but also model latrines will be built in the secondary cities, which districts will base on as a model to build more.
Other parts that will be covered by the pilot project of the Kigali Centralised Sewerage System include Gisozi, Kimisagara and Nyakabanda, parts of the city which continue to struggle with waste, given the nature of the settlement.
With the city's population expected to hit 1.5m by 2025, experts warn that common use of soak pits could create a long-lasting sewage problem for Kigali if a centralised system is not established.
According to available information, the Kigali project will cover over 85km of a connected sewer network as well as treatment plants.