"Do not be surprised if in a couple of months you see Kylian Mbappé, Neymar or Angel Di Maria taking selfie with the rare mountain Gorillas in the Green Rwanda," writes the French based sports24.lefigaro.fr.
The team of the Ligue 1 in Parisian city has signed a deal to promote Rwanda's tourism and investment during the Match against Nantes at Parc des Princes, a deal that will be officially announced this evening, according to Le Figaro.
The deal will cover the three next year, "with specific objectives from both players."
It will be built around three main cornerstones: cultural and artistic synergies, a shared commitment to excellence and football development, according to Rwanda Development Board(RDB), an institution that promotes Rwanda's image in the world and promote investments.
According to Le Figaro, PSG has 76 million fans on social media platforms which will benefit Rwanda in as far as visibility is concerned and will, in consequence, boost Rwanda's investment.
"Our goal is to show the best that Rwanda can offer," LeFigaro quotes Clare Akamanzi Chief Executive Officer(CEO) of RDB.
"We have chosen PSG because it is more than a football club, but a custodian of entertainment, a lifestyle. It is the youngest of the biggest European clubs and it stands for similar values like Rwanda: Ambition, World vision, close ties with the youth and excellence," Akamanzi further said.
No media reported anything about this deal earlier; it did not leak. However, the president of PSG, Nasser al-Khelaïfi said that the deal is a result of a discussion that started one year ago.
And he said; "the objective is not to find new talents in Africa; it is rather purely business."
He said that the mark "Visit Rwanda" will be written on the jersey of the team players during the worm up.
The Mention Visit Rwanda will also be available across the stadium contours during the game, and this will also include promotion of Rwanda Tea, gorillas, among others.
In half time, publicity about Rwanda will be aired while several products made in Rwanda will have access to the stadium. Those include the Rwanda Tea and coffee which have incredible aroma, test. Quality of Rwanda Tea and coffee is one of the best worldwide. Quantity is still low though.
According to RDB "Visit Rwanda branding will be displayed at the Parc des Princes Stadium, on the sleeve of Paris Saint-Germain women's team, and on the back of training kits. Fans of PSG will also be given the opportunity to savour award-winning Rwandan tea and coffee that will be served exclusively at the Parc des Princes starting next season." 
A RDB press release also reads that "Semaine du Rwanda à Paris" (Rwanda Week in Paris) event will be organised to promote "Made in Rwanda". A number of fashion, art and lifestyle collaborations will also be launched over the coming months and young and eco-responsible luxury brands will join forces with Visit Rwanda and PSG in exciting tripartite collaborations.
And Nasser added: "This is without forgetting that our players will travel to Rwanda in a couple of months to come, and why not creation of a football academy in Rwanda."
RDB is yet to divulge how much is involved in this deal, but, Le Figaro cites their sources according to which, Rwanda could have paid the club between 8 to 10 million euros annually.
It is expected that the deal will revolutionize the world of sport, while also helping renowned companies from Europe to cross to Africa.
According to Akamanzi, last year Rwanda received 1.7 million visitors to the country and more is expected this year.
"Furthermore, we registered a record $2 billion in investments and we are confident that the partnership will boost more investments.  We look forward to the opportunity for business and creative exchanges between the Paris Saint-Germain community and Rwanda. We cannot wait for Paris Saint-Germain fans to get to know today's Rwanda – an ambitious, modern country that has much to offer the world."
RDB invited PSG fans to come for the incredible mountain gorilla trekking experience and to enjoy a variety of kayaking, cycling, hiking, bird watching and a 'Big Five' savannah safari to list but a few of the attractions available in Rwanda.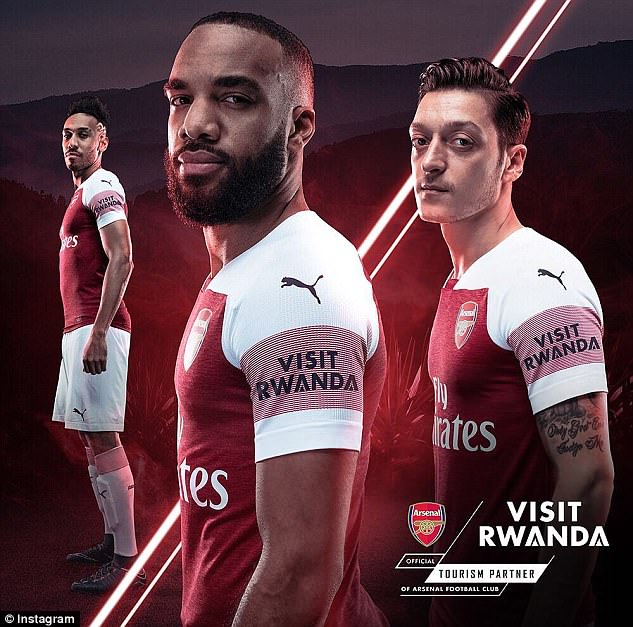 The deal, is second of its kind. Already, the Arsenal, the UK Premier League signed three years deal 'Visit Rwanda' with Rwanda, two years ago- and Rwandan officials said that the country is getting return on investment.
At the launch of the deal will be among others, Marc Armstrong, Director General of Sponsoring in PSG, Sonia Rolland, Miss France 2000 of Rwanda decent, Rwanda's Ambassador to France among others.
?✍? @visitrwanda_now#ThisIsRwanda #VisitRwanda #MadeInRwanda pic.twitter.com/ojsRJsZOWN

— Paris Saint-Germain (@PSG_inside) December 4, 2019