The association of Rwandans living with HIV Aids has called for an extensive research to understand the living conditions of its members in order to improve the fight against the scourge.
The call was made by Sylvie Muneza, 47, the chairperson of Rwanda Network of People Living with HIV/AIDS (RRP+) during the ongoing 20th International Conference on AIDS and STIs in Africa (ICASA) in Kigali city.
The ICASA conference kicked off with the Organisation of African First Ladies for Development (OAFLD) which was attended by Rwanda's First Lady Jeanette Kagame and other five First Ladies from Ghana, Chad, Botswana, Congo Brazzaville and Niger among the 10,000 delegates attending the continental meet.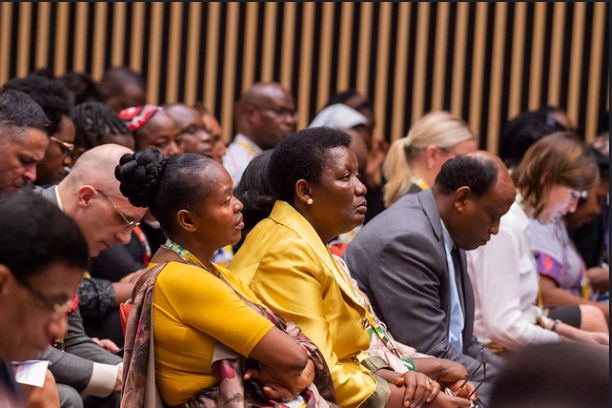 Presenting her personal testimony and experience as an HIV victim in Rwanda, Muneza said that she and other adults and children orphaned by HIV/Aids have come a long way and despite the support from government, still have another journey to make.
"When I was first diagnosed for Tuberculosis, it emerged that I had contracted HIV/Aids, and hearing this news I almost committed suicide. It's God who helped me to overcome this because we got help," Muneza said sending a chill on faces of participants.
With this traumatic experience and a society that was negative about HIV, Muneza said that she weighed about 20kgs and hated health situation for a moment but decided to take the first action- forming Igihozo (the consolation) – an association of HIV orphans and victims.
"I was not a person to look at, but we got lucky at the time because government started giving us free medication which gave us hope for life in addition to the First Lady Jeannette Kagame who also paid for us health insurance for five years," Muneza told the OAFLD members at the ICASA conference.
Muneza said that the First Lady's support gave RRP+ members enabled them to be strong and healthy and they have been able to create small and medium income jobs and most of them-186,000 members, 300 cooperatives been formed.
Recent statistics show that 3% out of 12million population are living with HIV/Aids however, at least 90% access free antiretroviral treatment (ARV).
Muneza told ICASA that because of availability of treatments, she was able to give birth to a health child as a result of effective mother to child protection in Rwanda's medical system.
With this progress and new hope, the RRP+, just like other experts and victims at ICASA2019 say that poverty and gender based violence are among the leading challenges facing Persons Living with HIV Aids (PLWHAs).
"Our biggest challenge we have is poverty and we need funding to access the current situation, through research so that we know each ones situation because each of us have different concerns that need to be understood," said Muneza, 47.
Muneza's story is shared with her Kenyan counterpart, Wilbroda Awour Akuro who is HIV positive and uses her experience to inspire other mothers living with HIV through the MotherToMother program.
Also known as "Mentor Mother" programme, it  utilises HIV positive mothers to provide support and advice to HIV positive pregnant women and mothers of HIV exposed babies.
Using the story of one girl (called Maureen) , who contracted HIV/Aids after being gang raped and coerced into sex slavery in Mathare slums in Nairobi, Akuro called for elimination of the barriers of GBV and Poverty in order to enable women live positively with HIV.
For Maureen, poverty, conflict, gender inequality, a lack of education and many other factors made this situation terrible- infected with HIV, feeling alone and afraid of seeking help, according to her M2M mentor Akuro.
"Through additional M2M outreach programs Maureen  is today a progressive mother with two children who are not infected and her children are in early childhood programs among the 97% children who reached their first Birthday," Akuro said, making First Ladies to applaud this progress.
The case of Maureen is just one of the others 10,000 women in Africa who Akuro said have been helped to get employed and the plan is to reach more than 10 countries, opening programs in Ghana and Angola this year and Equatorial Guinea by next year.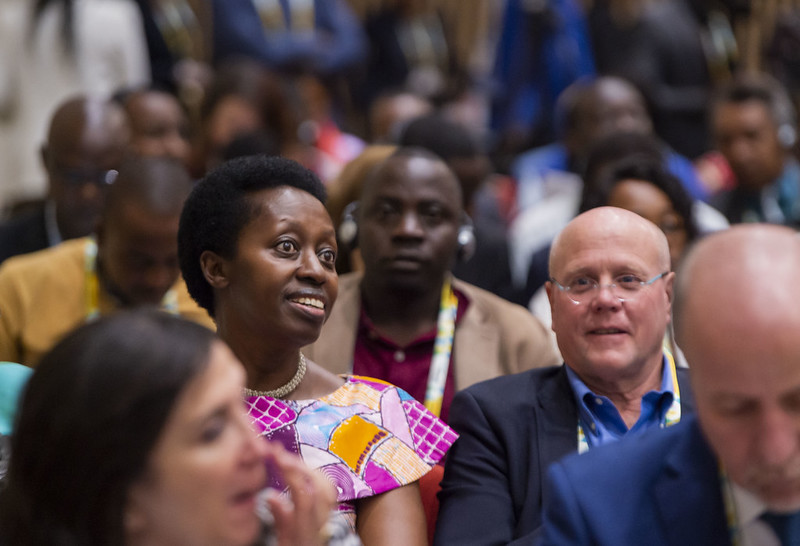 Akuro said that she was not impressed with UNICEF 2018 figures which show that three in four new HIV cases were girls and asked for global action.
"I want to humble ask you (African Leaders), let's tackle gender inequality by ending the idea that female community health workers can be volunteers. This is a real job and a hard job for that matter," Akuro said, asking that these women should be paid as professionals whose work is transformative.
Some answers to this plight came from the five members of the Organisation of African First Ladies for Development (OAFLD) who emphasized education and economic empowerment but also called for more measures on ending GBV as a challenge for women empowerment and fight against HIV/Aids.
Dr. Tedros Adhanom Ghebreyesus, the WHO Director General said that no mother should die giving birth as a result of shortage of 18million health workers globally with a majority need for nurses and midwives in Africa.
"We (WHO) have declared 2020 as a year for nurses and midwives and want support of the First Ladies and their commitment to help provide the key ingredient of political will to make this happen. We are going to revive the memorandum that was signed in 2016 between WHO and OAFLD to achieve this new strategy," Dr. Tedros said.