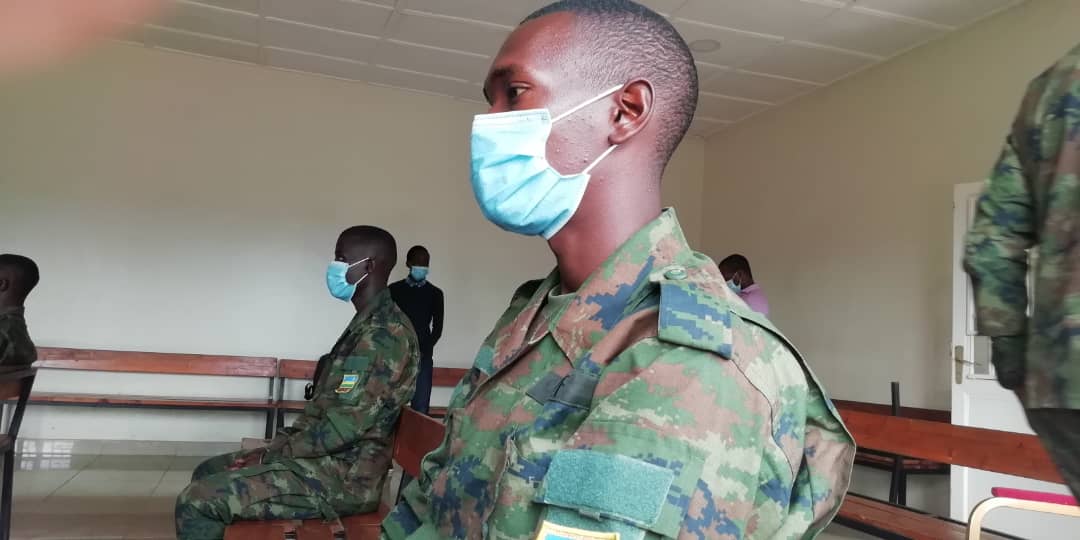 The Military Tribunal has ruled a 30 days provisional detention for five Rwanda Defence Force (RDF) soldiers and a civilian charged with criminal counts allegedly committed in the month of March 2020.
The suspects are: Privates-Ndayishimiye Patrick, Nishimwe Fidele, Gatete François, Gahirwa John & Twagirimana Theoneste. 
They are charged with Civilians namely Donat 'Rajab' Ntakaziraho and Mukamulisa Diane- the latter didn't appear in court for maternity reasons. 
They were initially accused of six charges which include the formation of a terror group, rape, theft, abandoning duty, and battering civilians in Kangondo 2 village in Remera sector, in Gasabo district, Kigali city. 
The Military Prosecution had said that the alleged crimes were committed on separate occasions and there was evidence from victims' testimony that the crimes were committed but asked court to detain the suspects pending an in-depth investigation before trial hearings.
 However, the defense lawyer Moses Sebudandi argued during the earlier hearing this Monday that there was no sufficient evidence the crimes were committed and the allegations leveled on his clients were not based on the legal provisions to suite a proper reason for detaining any of the accused. 
Sebudandi, however, agreed with the prosecution on testimonies collected but asked that all the suspects be released on grounds that the allegations were not sufficient to have them detained for 30 days. 
The court, however, said that there was enough reason to suspect the crimes were committed however found no sufficient evidence on one of the charges in which the suspects are accused of forming a terror group.
 "Court finds no reason to suspect the accused of forming a terror group because they didn't know each other and only met as a result of abandoning duty at their respective posts," Presiding Judge Major Gerald Muhigirwa said. 
On the resolve for the 30-day detention, Justice Maj. Muhigirwa said that there are substantial reasons that were based on to rule for the provisional detention of the suspect. He, therefore, ordered for their detention without further due.
 "The six suspects, however, have five days to appeal the detention ruling," the presiding judge.
 All the suspects were taken for custody at military detention pending the next appearance in 30 days, which can be extended depending on how much more evidence is needed before going to trial.