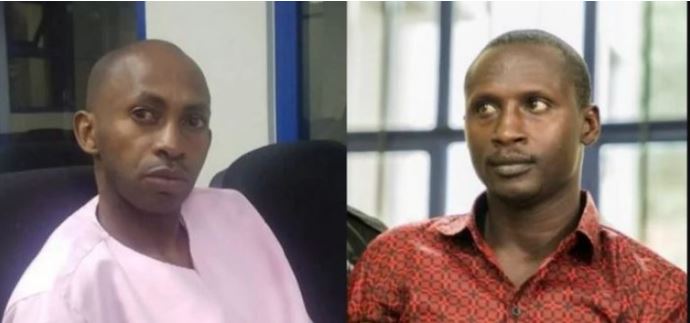 The defense attorneys in the terrorism case involving suspects Callixte Nsabinama and Herman Nsengimana have finally agreed to have a joint trial of their clients who are accused of manning communications strategies in the terrorist group – National Liberation Front (FLN).
Callixte Nsabinama was arrested in 2019 and subsequently succeeded by Herman Nsengimana, who was also later arrested in 2020
Nsabimana, who pleaded guilty for working with FLN was this year transferred to the special chamber of High Court in Nyanza district, Southern Rwanda where he has been under trial, while Nsengimana has been awaiting trial.
The suspects and their lawyers had in September rebuffed the prosecution motion to have their case merged.
In the earlier video conferenced court hearings, Prosecution argued that both suspects held the same position.
However, Nsabinama and his defense attorney Lawyer Moise Nkundabarashi argued that this move would need concrete reasons but also delay the progress made in the trial of his clients, since he pleaded guilty on most counts.
The arguments created a new turn and a deadlock in the case proceedings, of which the Special Chamber of High Court had promised to consider both arguments.
Re-appearing before the same digital court room today where both suspects were standing in prison and judges in Nyanza district while prosecution sat in Kigali, the case took another turn.
Prosecution retained its earlier argument pleading with court to have both suspect tried together on the basis that it would serve justice and speed up the trial, since they had almost the same charges legally.
In a surprise response, the suspects and defense team including Nsengimana's lawyer Maître Johnston Kabera-  agreed to the proposal but on one condition- that court rules over request with due diligence to serve justice.
In court, Nsabimana said that he had earlier made the same request and wanted even his bosses like terrorism financer suspect Paul Rusesabagina who is facing a separate trial in Kigali to be brought to stand a joint trial with him since he worked under his indirect 'orders' and financing.
This shift in the case of both suspects comes at a time when the National Prosecution office recently turned around its judicial cards seeking the High Court to have all the 18 FLN suspects (including Rusesabagina, Nsabinama and Nsengimana) collectively tried immediately in an in-depth trial over terrorism charges.
Rusesabagina is yet to appeal this request however, Nsabinama and Nsengimana showed doubts of what will happen if they are tried with some suspects they have never known at all.
Nsengimana said he was worried more than 300 suspects arrested in DR Congo could be pulled into the same case.
Court will on December 3, 2020 reconvene to take its final decision on how this case will proceed, but also take into consideration the National Prosecution request on all FLN suspects currently indicted in the 18-suspects case filed last week.