The First Lady Mrs. Jeannette Kagame has said that despite major breakthroughs in science and technology, millions of women across the world still have to endure extreme pain to give birth to more life, calling for more efforts to ensure painless births for women as a right and the full involvement of mothers in deciding birth plans.
The First Lady made the remarks on Sunday while addressing the FIGO Africa Regional Congress organized by International Federation of Gynecology and Obstetrics (FIGO) in partnership with the African Federation of Obstetricians and Gynecologists and the Rwanda Society of Obstetricians and Gynecologists.
Speaking at the summit which opened on December 13, Mrs Kagame applauded the government and professional doctors for improving health care systems in the area of maternal care, particularly the number of women giving birth in the professional healthy facilities increasing from 69% to 91% across the country, over the past decade.
The improved maternal health care services include an extensive scope of health services mothers are given before pregnancy, during pregnancy, delivery, and post-natal. The Kigali hybrid meeting convened obstetricians, gynecologists, midwives, nurses, and other specialists in the field of women's health and policy.
Mrs Kagame called for the need to humanize maternity by ensuring that women are given a chance to have a say in how they want to experience childbirth.
"How a woman wants to deal with childbirth pain is an important decision. Her interaction with an obstetrician and anesthesiologist should be encouraged, no matter where she gives birth, so they can talk about options and provide recommendations,"
"Beyond data and statistics, improvements in ensuring the best quality of care for a mother to deliver should also prioritize humanizing maternity care and the expansion of birth options which, at the same time, prioritize midwifery-led care for women of all risk.," Mrs. Kagame.
She pointed out that a woman would experience varying degrees of pain in labour, and exhibit an equally varying range of responses to it.
"Her reaction to that pain may be influenced by the circumstances of her labour. During that crucial moment, she is dealing, not only with the contractions but also with the myths that the culture has created for her," she said.
Mrs. Kagame added that although viewed as a normal physiological process, labour and birth can produce significant pain requiring appropriate pain management while many women give birth in a state of zen-like call while many others owe their lives and those of their babies to the skills of medics and midwives.
The First Lady said that birthing women, who feel they have no control or are not involved with decision-making, tend to have a less positive experience of childbirth and are more likely to experience anxiety.
Established in 1954, a global organization working to improve the health and wellbeing of women and newborns worldwide. The organization (FIGO) brings together professional societies of obstetricians and gynecologists in research, advocacy, and clinical best practice across 132 countries.
FIGO organization targets achieving active participation in health and rights, and the highest possible standards of physical, mental, sexual, and reproductive health with the joined strength of renowned experts, whose knowledge and experience in all aspects of women's health and rights help shape best practice and innovation.
In her remarks,  the First Lady said that by putting women's health first and at the center of our work, the country will be more effective to end preventable maternal, newborn, and child deaths.
"Your professions are nothing short of demanding; it is a career requiring intense schooling, constant training and chaotic schedules — not to mention a heavy dose of tenacity and patience while this may seem to be an overwhelming statement, it is very real: when you save a single woman's life, you save the lives of her entire family." she added.
Personal experience
Reflecting on the birth of her granddaughter this year, Mrs. Kagame said that childbirth is such a mix of immense emotions followed by immense happiness, and that the doctor's comforting presence is priceless.
"My grand-daughter was able to see the light of day because you kept awake all night for her mother to deliver safely. There can be millions of reasons why you decide to pursue a career in medicine. And perhaps, the most important reason is your calling,"
"You commit your life to save other's lives. You calm our fears by sharing all you know and by serving others," She noted.
According to the World Health Organization (WHO), pregnancy-related deaths and diseases remain unacceptably high, for example in 2015, an estimated 303 000 women died from pregnancy-related causes globally.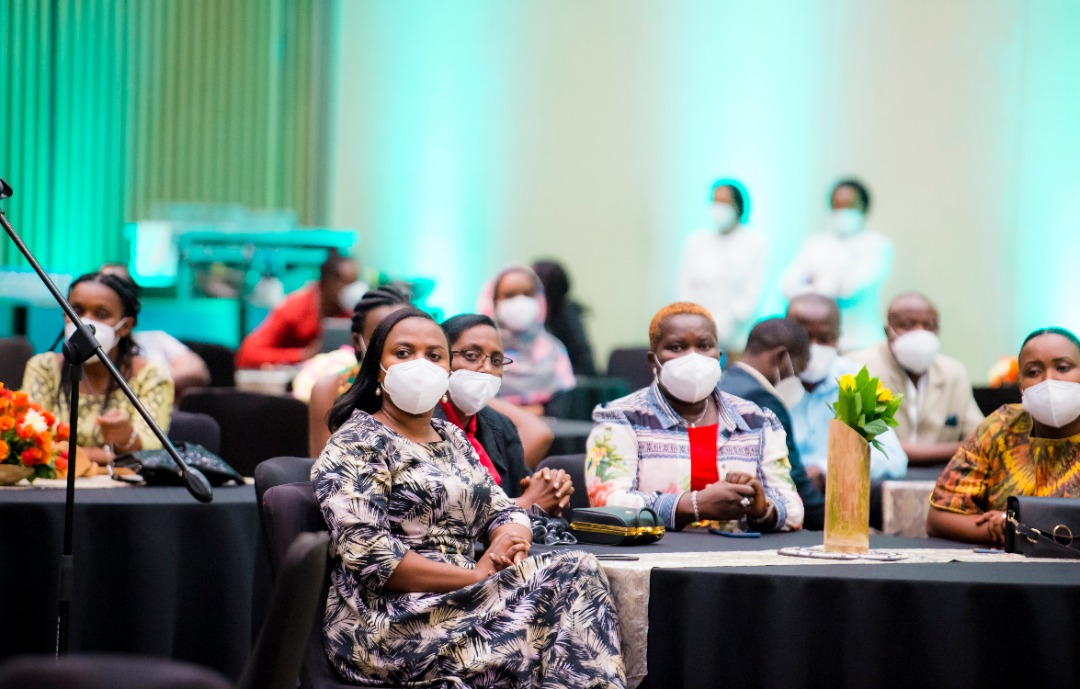 For the last five years, WHO figures indicate that 2.7 million babies died during the first 28 days. However, the international health body says substantial progress has been made over the past two decades by increasing access  and use of higher-quality health care during pregnancy and childbirth can prevent many of these deaths and diseases, as well as improve women and adolescent girls' experience of pregnancy and childbirth.
According to Tedros Adhanom Ghebreyesus, Director-General of WHO, the world has improved maternity care, but still need to marshal the support of the entire FIGO community to improve service delivery.
"In many countries, the health reproductive health services have been disrupted by the Covid-19 pandemic and women are facing challenges, women and their children are at high risk of violence. The collaboration between governments and FIGO is more important. There is a need for the entire support of communities. " Ghebreyesus said.