Increased teen pregnancies has evidently become one of the crucial current societal problems in Rwanda which has left government seeking for ways to end cases of child sexual abuse.
The Ministry of Health report shows that in 2017 there were 17,337 cases of teen pregnancies which increased to 19, 832 in 2018, and 23,628 lst year.
From this background, Rwanda Investigation Bureau (RIB) arrested and filed court cases involving 4,265 suspects.
A 2020 Senate report on teen pregnancies shows that due to lack of information on Sexual Reproductive Health (SRH), most teens are sexually abused at home, at school and by their caretakers who use authority, age superiority and false information to lure young girls into sex activities, resulting to pregnancies.
The report recommended combined efforts in mass education using reader-friendly SRH reading material, mass media to empower the victims with the right information on time.
With such figures and clues Parliament and Rwanda's First Lady Jeannette Kagame has tasked government and stakeholders to find solutions to this problem and not rest until there is zero teen pregnancies.
KT Press visited some school going teens who have taken matters into their hands to reverse this trend and fight back prevent early pregnancies using access to information on sexual reproductive health.
Through joining behavior change clubs and using handbooks (for students, parents and teachers) written in Kinyarwanda as a source of firsthand information, teens say that they have been empowered to take up personal responsibility as a starting point to prevent early pregnancies.
The handbooks were published by Save Generations Organization (SGO) a local non- governmental organization that prepares, empower and equips the future generation.
The handbooks are distributed in primary and secondary schools under the Sexual Reproductive Health Rights (SRHR) project to empower adolescents and young girls with reproductive health information, skills and materials.
Lilliane Umuhire, 12, a primary 6 pupil at Group Scolaire (GS) Kabuga Catholique says that her parents have never discussed with her any information about her body. She thought that breasts on women were a curse.
She decided to join the SGO behavior change club and read a SRH pupils book for answers on the women's sex cycle.
"This prepared me to an extent when I saw my breast growing and bums bursting out I wasn't scared as before, because I knew it meant thst I was growing up and my body was sexually active," Umuhire said.
She further said that with guidance in the handbook, she knows what to do and how to behave when she is, for example, in her monthly menstrual periods.
"For instance, while in my periods, I have to stay clean, carry two underwear and avoid any direct sexual activity to prevent pregnancy," Umuhire said.
Through the behavior change club discussions, Umuhire, who is the best student in her class says she has been empowered to know what she wants in life and go for it.
For example, she dreams of becoming a tour guide, but first, she will earn money and get married at 29 years.
"Even if a boy told me that he is in love with me, I will agree to the idea, but won't let him change my life goals," she said.
Daniella Akimpaye, 18, a Senior 6 student at GS Ndera and a member of the SGO behavior change club, had her sexual life mindset changed since joining the group.
Before joining the club, Akimpaye says she almost felt victim of sexual abuse as a result of concocted lies on sexual life, where she was told that to have sex is a cure for pimples.
"I only came to know it was a lie after joining the club, where they shed light on my inquest to what I was going through," Akimpaye said.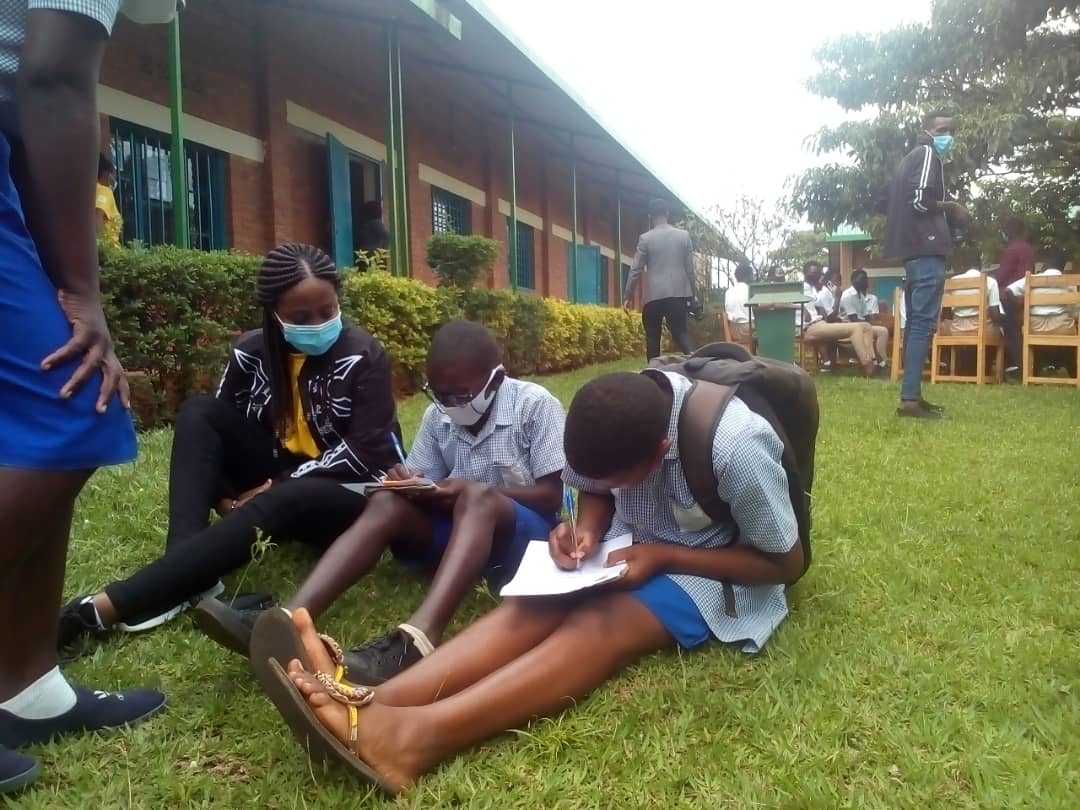 Pupils share information on reproductive health at GS NderaTo help parents and teachers, SGO has formed parent's group SRHR education groups who also get their own handbooks, which has helped some like Pastor Jean Paul Birasa, a parent, who was scared to engage his children in a straight sex talk.
"As men we knew and considered this as devilish and a taboo until we attended these sessions," Pastor Birasa said.
Birasa says the challenge is that they need to get more skills to disseminate their knowledge to other parents, which will require resources, training and funding.
This project is implemented in 8 schools from 2 districts of Gasabo and Kamonyi reaching about 240 adolescents and youth between 10 – 19 years old. Beneficiaries were trained on SRHR and child rights as agents of change and champions to train their peers in the school clubs.
The SGO Executive Director, Yvette Nyinawumuntu said that after three-year project timeline which has benefited many teens among its beneficiaries, the activities will be expanded to two more districts and schools in Nyagatare and Rwamagana district.
Nyinawumuntu also revealed that the project will be extended for two more years with a new focus on Training of Trainers (ToT) where each beneficiary will be required to reach one person (each one, reach one) and the baseline of educating others is uprooting false information in reproductive health.