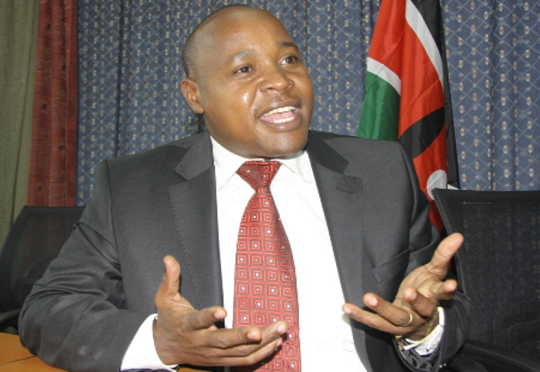 Politician and legislator Dr. Peter Mathuki from the Republic of Kenya has taken over as Secretary-General of the East African Community(EAC).
Mathuki was appointed at the 21st ordinary assembly of the EAC which was held virtually, chaired by outgoing chairperson President Paul Kagame.
The next Secretary General who will serve a 5 year no renewable term takes over from Burundian Liberat Mfumukeko.
Dr. Peter M. Mathuki holds an MBA and PhD in Strategic Management & Regional Integration from the University of Nairobi, Kenya. He has served in several regional and international organizations.
Until his appointment, he was the Executive Director/CEO of East African Business Council(EABC). Mathuki previously served as a Member of Parliament of the East African Legislative Assembly (EALA) between 2012 and 2017, where he chaired the Committee responsible for Legal affairs & good governance and served in the Committees of Accounts, Trade and Investment. Prior to this, he also served as a Director in charge of International Labour Standards (ILO) at the International Confederation of Free Trade Unions (ICFTU-Africa) which later became (ITUC-Africa). He also worked for European Union (EU) programs on institutional strengthening for Africa based in several African countries.
Dr. Peter Mathuki is currently involved in the process of implementing the African Continental Free Trade Area (AfCFTA) and formation of the African Business Council.
Also appointed were Justice Nestor Kayobera, Lady Justice Anita Mugeni and Justice Kathurima M'inoti as judges to the Appellate Division of the East African Court of Justice with effect from 27th February 2021.
Also at the same court – first instance division, Rwandan Justice Richard Muhumuza was appointed together with Justice Yohane Bakobora Masara and Justice Richard Wabwire Wejuli.
Justices Nestor Kayobera and Geofrey Kiryabwire were designated as President and vice president of the court respectively.
Justices Yohane Bakobora Masara and Audace Ngiye were designated as Principal and Deputy Principal Judge respectively.
Meanwhile, Kenya becomes the new chairperson and Burundi, the Reporteur.
At the summit, Kenya, Uganda, Rwanda, South Sudan, and Burundi were represented by their respective Heads of State while Tanzania was represented by vice president Samia Suluhu Hassan.
"I first wish to congratulate the new chairperson HE President Uhuru Kenyatta. I also extend a warm welcome to our new Secretary-General Dr Peter Mathuki. We look forward to working closely with you," said President Paul Kagame, the outgoing EAC chair.
"I thank our outgoing Secretary-General, Ambassador Liberat Mfumukeko for his dedication and service to our organisation and wish him all the best in his future endeavor."
The President thanked all heads of state and EAC secretariat for the support of Rwanda during its tenure as chair.
"This has been a year like no other for East Africa and for the world. Our health system has been challenged like never before and the disruption of travel and trade has been significant," Kagame said.
"This situation has had real impact on the wellbeing and the livelihoods of our people. However, the positive examples of cooperation we have seen through our East African Community institutions has played a role in mitigating the effects of the pandemic."
The president said, that the next focus for EAC "should be on rebuilding stronger than before with closer regional cooperation as a pillar of our resilience and prosperity. Let us continue in this spirit and do even more and better together."