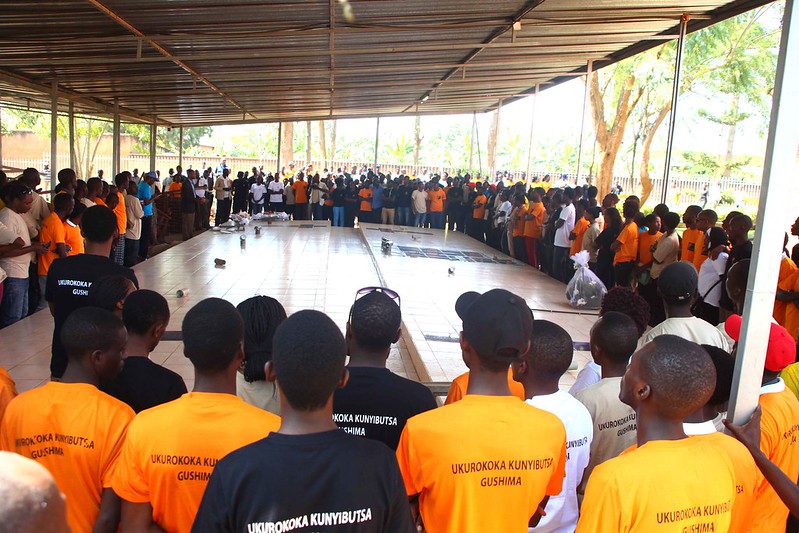 When you lose someone you love, a parent, a sibling, a colleague and a friend, people come over from different places to comfort you, cry with you, financially and materially help you and take you through a decent funeral.
In our beautiful culture, people sympathize much with friends having difficult times associated with the loss of a loved-one.  They make sure she/he doesn't feel alone, she/he doesn't face alone the panic, sorrow, and fear that death brings in her life.
Unfortunately, back in 27 years, during the 1994 Genocide against Tutsi in Rwanda from April to June 1994, the kind of death we faced was not that natural end of life going with a normal period of mourning and healing, surrounded by the person who love you and care for you.
Those neighbors, colleagues and friends who were part of your life suddenly and abruptly became your killers.  In the killer's mind, it was clear that "Everyone would be killed, hunt to death" and in the victim's mind on the other side, "surely none would survive".  This mindset of being killed at every minute of the 100 days didn't allow survivors to mourn and heal.
Fortunately enough, after the Genocide, the Government of Unity and Reconciliation immediately understood the vital role of the commemoration of the Genocide Against the Tutsi for the entire nation to mourn and heal, for the entire nation to learn from that very dark past and take lessons for the future to make it peaceful for the "Never Again" slogan to be real in our beautiful Rwanda.
Together with the Government officials, the associations of Genocide survivors put a lot of efforts in the preparations of the commemoration activities with the aim of maximizing all the benefits from this important period in their lives. 
Every year, the commemoration week is officially observed on April 7-13 but for the Genocide survivors, the period normally last for approximately 100 days.
They mourn their family members including the completely wiped-out families, having in mind that 10.000 Tutsi were killed every day during the Genocide.
Genocide survivors have now moved on in life where they strive not only to develop as families individually, but also to improve their wellbeing collectively.
In this context, several initiatives were born from the need to sustain mutual support and the legacy of remembrance.
AERG/GAERG Week
AERG/GAERG week is a great initiative organized every year, since 2015, before the commemoration period starts by the young Genocide Survivors Associations AERG (Association des Etudiants Rescapes du Genocide) and GAERG (Groupe des Anciens Etudians Rescapes du Genocide).
The week's main aim is restoring hope among the Genocide Survivors where different activities are carried out including; visiting and cleaning different genocide memorials, social activities for the vulnerable Genocide Survivors such as rehabilitation of houses, preparing vegetable gardens, and rewarding some men/women with integrity.
The rewarded are among others, those who assisted victims during the Genocide by giving them "Inka y'Ineza" literally meaning "A cow of gratitude" as a strong symbol of their outstanding gesture of integrity, humanism and courage during those atrocious times.
All in all, the goal of AERG/GAERG week is to send a message of love and hope to the Genocide survivors across the country, to show them that we care about what they are going through and to prepare them to enter into the commemoration period with more or less courage and peace of mind.
Benefits of keeping memories
As we commemorate, let's reflect on how important it is to keep the memories of our beloved families and how we should treasure them.
Going forward, we should ask ourselves a series of questions.
How should we keep the memories of our beloved one?
How should we help each other to make it in life and fully live again, embrace and manage all the surprises good and bad that life offers every day?
How should our memories help us preserve a more peaceful nation that deserve our children and grandchildren?
It all starts within the family; the love you receive and share with your family members, the values you build, sustain and spread, the dreams you make together, the future you create for your family, the strength and the whole confidence you need for better life is received from your family.
Seeing your family being slaughtered, killed in front of your eyes is the worst thing to happen in someone's life.
In our context of the Genocide against Tutsi in Rwanda, it took time to realize you really survived.  Time to settle down again and find the basic needs also took time before someone deeply think of what she/he went through, before she/he counts his/her deaths and the horrible things his/her eyes have seen, what her/his ears have heard and what his nose had smelt.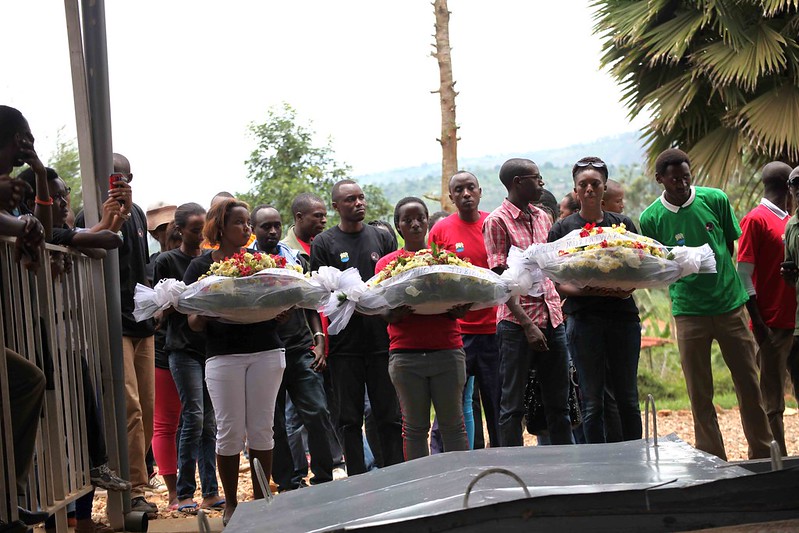 It is important to keep the memories of our killed family members just because we can't live otherwise.  I would summarize the benefits of keeping the memories and commemorating the Genocide Against Tutsi in Rwanda in a few points.
Easiest way to mourn and heal: It gives you time to continuously mourn yours and heal from the heavy emotions and depressions associated with the lived atrocities. It is important to find solace in the memories of your family values, qualities and courage. When you properly remember them, you learn to cope and deal with your emotions, you accept the reality, and stop denying and decide to firmly move forward.
Source of continuous strength and resilience: For all parents and families, the wish for the children is to be successful in life. To live a happy life and leave a legacy. Many of their "last word" to their children before being killed, was "Uzabe Umugabo" literally meaning, please be a Man.  Therefore, there is a strong direct connection between what you live today and what your parents would have wished for you.  So, remembering them is also striving for a decent, happy, and responsible life making them proud parent where they are.  It is a way of making them proud, refusing to die, immortalizing them through your life.
Community learning and ensuring a more peaceful future: When we commemorate and remember our people, we must share experiences with our communities. This includes many people who were not around, a big part of young generations and friends of Rwanda who become aware of what really happened.  This is very important for them to see all the consequences in terms of all what the country lost due to a bad politics of hatred and divisionism.  People should know how bad the Genocide ideology is to be able to energetically fight it, from generations to generations.
A continuous commitment to play your role: The commemoration of the Genocide against Tutsi in Rwanda keeps reminding all the citizens about the unity and reconciliation efforts to preserve the future of the nation. These efforts bring together all the actors on the scene, victims and perpetrators, politicians and religious leaders, academicians, civil society, youth, artists to mention but a few.  Everyone would then have a common understanding of what it takes to not return the country into those horrible times and commit themselves to continuously make peace, sustain the reconciliation, fight against genocide negationists, and deniers.  
A strong quote from Mr. Phillipe Gaillard who was the Head of Red Cross mission in Rwanda during the Genocide against Tutsi in 1994 goes like:
"You cannot kill their memory. The memory is the most invisible and resistant material you can find on the earth. You cannot cut it like diamond, you cannot shoot at it because you cannot see it, and nevertheless it is everywhere, all around you."