Dalila Uwera was crowned the inaugural Miss Rwanda at Hotel Chez Lando in Kigali, Rwanda on December 17, 1993 and there is barely any memory of this event, though it was documented as the first of its kind.
The beauty contest went into a long pause until 2009 when it returned, with the government as the lead organizer, with private sector partners coming on board to inject funds in the grande prizes.
KTPress looks at where Miss Rwanda has come from in terms of Grande prizes that have been given to the contest winners over the years. 
Grace Bahati become the first Miss Rwanda in post-1994 Genocide against the Tutsi, winning the coveted crown in 2009, winning walking away with a brand new Suzuki courtesy of the event main organisers Rwandatel. 
She also received $10,000 from Hooters and a fully financed trip to the United States by Atlanta based novelist, Elizabeth Dewberry, while Carine Rusaro Utamuliza and Winnie Ngamije- first and second runners-up walked away with $5000 and $3000 respectively.
Bahati kept the crown until 2012, when the new Miss Rwanda, Aurore Mutesi Kayibanda, was selected after beating 14 other contestants in a hot contest that took place at the Gikondo Expo Grounds.
She was handed a brand new car grand prize worth Rwf25 million plus flights to South Africa courtesy of RwandAir to spend four nights at the Inkwanzi Lodge.
Other prizes include a DSTV decoder from Tele 10, a beauty product pack from Simba Supermarket and a package of hair products from Shair Hair Academy, among others.
For some organizational challenges, Rwanda didn't have a Miss for two years until 2014, when Miss Colombe Akiwacu, was crowned at the fourth edition of the pageant held at Petit Stade of Remera in Kigali.
She walked away with a brand new Nissan Altima saloon car, a return air ticket to France or Spain and a cash prize of Rwf2 million from Cogebanque and enjoyed a one-year subscription at the Century Cinema, a shopping voucher worth Rwf100, 000 from Simba Supermarket, among other prizes. 
Suzuki Legacy at Miss Rwanda
The following year, Doriane Kundwa was crowned Miss Rwanda 2015 in front of an excited audience at the Kigali Serena Hotel walking away with a new Suzuki Swift from Cogebanque.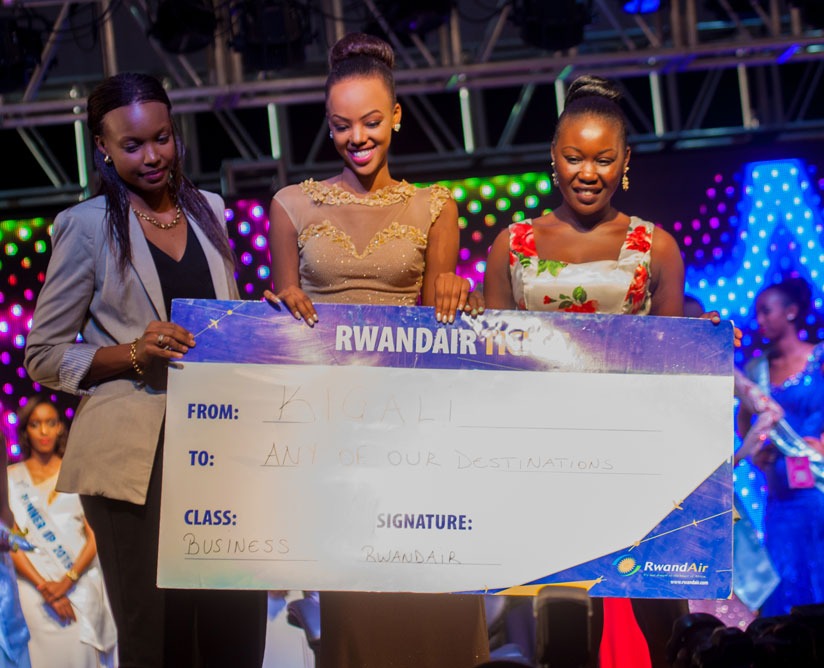 Miss Rwanda 2016, the sixth edition of the pageant, was held at Camp Kigali Grounds in Kigali in which Jolly Mutesi, was crowned in a colorful ceremony opening a new page of lucrative prizes and spring of young beautiful girls coming out to take part.
Cogebanque, main sponsor awarded Miss Jolly Mutesi a MasterCard prepaid card credited Rwf800, 000 a month for a year and later handed a brand-new red Suzuki Swift worth Rwf15 million- the first biggest cash prize the left many in owe.
She also got RwandAir's award of a free ticket for any destination.
In 2017- Elsa Iradukunda trounced 15 contestants to get the prestigious crown which the organizers had equally injected the same cash prizes as the year before.
Iradukunda was also handed a brand-new white Suzuki Swift worth Rwf15 million, courtesy of Cogebanque, and earned a monthly salary of Rwf800, 000 for the whole year.
Stakes Gone High
The 8th edition of the Miss Rwanda pageant, held at Kigali Convention Center in 2018 with Miss Liliane Iradukunda winning the glamorous but contentious crown aired live and online and followed by millions of Rwandans as they watched an almost new set of 20 smart and beautiful girls compete to the last one standing. 
At the final round, Sonia Rolland admitted, "it was a tough job because all the girls are really bright."
Iradukunda Liliane also got a monthly salary of Rwf800, 000 for the whole year, but with a slightly trendy grande prize car- a black Suzuki-Belano straight from Rwanda Motors.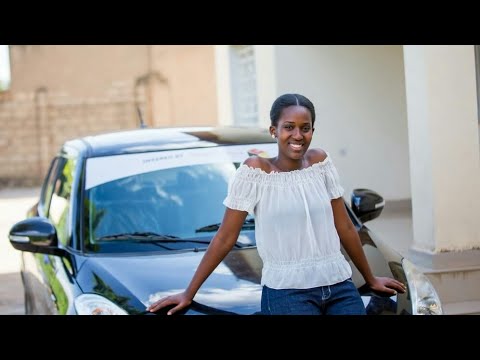 The following year, Meghan Nimwiza was crowned Miss Rwanda 2019, replacing Lilliane Iradukunda, whose names were not that easy to differentiate her predecessor- Elsa Iradukunda.
At the contest that was exciting but full of spoken English language among contestants, Nimwiza beat others in fluency to walk away with the grand prize of a brand new black Suzuki swift, and a monthly Rwf800, 000 salary all year and lots packages of goodies.
Last year, Naomie Nishimwe has been crowned Miss Rwanda 2020 amidst tight competition from 19 finalists, in a glamorous event held at the Intare Conference Arena but with more awards-  She got a brand-new Suzuki Swift, courtesy of Rwanda Motors, a monthly salary of Rwf800,000 from Africa Improved Foods (AIF), and additional goodies from Miss Rwanda's partners and also represented Rwanda at the Miss World 2020.
This year Miss Rwanda has already unveiled a new grande prize- brand-new Hyundai Creta ( to be won which will change the Suzuki legacy at the contest but also entice many Rwandan beauties to participate.
 The 20 finalists were last week shown the features of the sleek Hyundai Creta and an opportunity to have a 'feel' of the Rwf38m worth mid-size SUV which was manufactured in 2021.
Jean Paul Muramira, the CEO of Hyundai Rwanda, said partnering with Miss Rwanda is because they believe in the empowerment of women and girls and by awarding the winner with a sleek car, will facilitate her mandate.