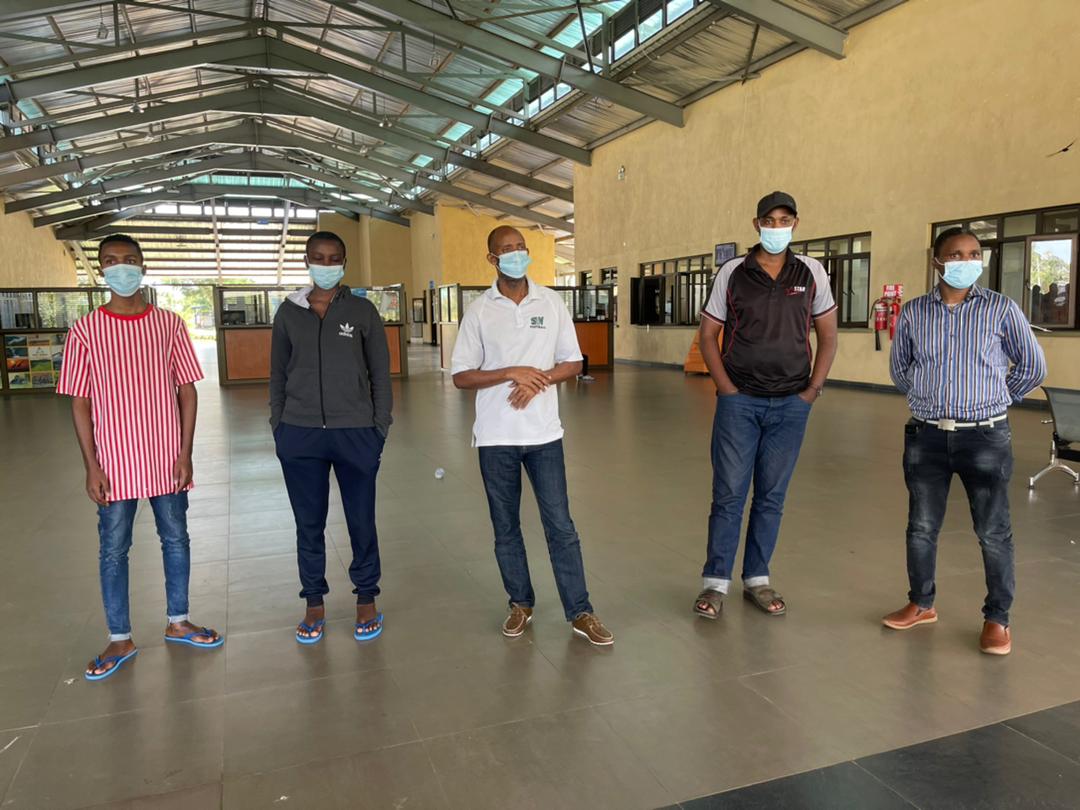 Five more Rwandans who have been deported from Uganda say they were tortured by Ugandan security agents while in detention after they were wrongfully arrested on suspicion of espionage at different times.
The five were dumped at Kagitumba One-Stop Border Post by Ugandan Immigration authorities on Friday, at around 10:20Am, where they were received by the Rwandan side.
They include four men and one woman and they say they were arrested by Uganda's Chieftaincy of Military Intelligence (CMI) between September 2020 and January 2021 on accusations of spying on behalf of Rwanda.
Upon arrival at Kagitumba, all deportees claimed to have been beaten and tortured by CMI staff, while some looked dishevelled and weak.
The deported individuals include Ishimwe Eliel, 19, and his sister Ishimwe Celine, 17, who were living in Kira Municipality, Wakiso district, Central Uganda, before they were arrested on December 10, 2020.
The teenagers who are children of Bicamumpaka Esiri and Mukandahiro Euleria, went to Uganda in February 2015 with their mother via Gatuna border, with intentions of living and working in Uganda.
They were arrested and detained by Ugandan police at Bukasa police post and arraigned in court on December 17, last year, where they were accused of entering Uganda illegally.
The duo remained in detention until January 25 when they were taken to the country's Ministry of Internal Affairs until Friday when they were deported. The teenagers have no family in Rwanda but they claim to have a grandfather who resides at Nyamuri Cell, Muyira Sector, Nyanza District in Southern Province.
Similarly, Bernatus Murindangabo, a businessman, says he was arrested by CMI on February 4, 2021 in Kansanga, a Kampala suburb, where he runs a business, and transferred to CMI headquarters in Mbuya, Kampala
Murindangabo was later transferred to the Military Police Barracks in Makindye, another suburb of Kampala, where he was accused of being a spy.
The father of two, who is married to Michele Nisinginzwe, is a son of Rutaza Reverian and Mukantagara Atanasia, who are residents of Bugesera District.
He had just returned from Brisbane, Queensland, Australia, where he lives with his, on February 4, 2020 and travelled to Uganda on February 13, 2020 via Kigali International Airport (KIA). He was arrested last month in his business premises.
Murindangabo had a tour company and restaurant in Kansanga and had legally entered Uganda. He said the accusations were unfounded as he was known to travel between the two countries for business purposes.
He returned with Shadrack Mugisha Gahungu, 29, who was also arrested on the same day, February 4, 2021 in the same suburb of Kansanga, where he was working at Pyramid Bar and Restaurant, which belongs to Murindangabo, as a manager.
The father of two, married to Mugisha Rachel, is a son to Tabaro Dominique and Nyirahategeka Juliet, residents of Nyamasheke District. He had lived in Uganda for a long time and had previously lived in Kenya until 2015 when he relocated to Uganda to engage in business.
Previously he was dealing in clothes and Uganda had become home, like many East African citizens who move to different countries in the region to look for opportunities.
Like Murindangabo, he was transferred to CMI headquarters in Mbuya and later relocated to the Military Police Barracks in Makindye, Kampala, where he was accused of espionage. Mugisha has no family in Rwanda and left his wife and children behind.
Another person deported is Napoleon Rebero, who was arrested on February 10 this year, in Kampala, where he was going about his businesses. The 47-year-old father of four, married to Ndayikunda Immaculate, was detained at CMI Mbuya headquarters on similar accusations of espionage.
He is a son of Karara Claver and Mukarushema Maria. He has been living in the Ugandan capital since 2000, having entered the country legally, through the Gatuna border. Like others deported, his family was in Uganda and left behind his properties and businesses.
This is the third group of Rwandans deported from Uganda in recent months, claiming to have been wrongfully arrested, tortured and deprived of their belongings. Earlier this week, five more people who were dumped at Kagitumba by Ugandan authorities also said that they were tortured.
Rwanda maintains that hundreds of Rwandans remain in Uganda detention facilities without trial, on wrongful accusations of torture. The issue is one of the many affecting relations between the two neighbours.