Justine Mukamana (not real names) is a single mother of three living in Jabana sector in Kigali city, who has been living with HIV/AIDS since 2010.
Before the COVID-19 pandemic in March, 2020, she depended on hawking children and women's clothes to earn a living for her family. On a daily basis, she could take home some Rwf5000 to put food on the table, send children to school and save.
With the sustained COVID-19 pandemic and its subsequent lockdowns slowing down businesses, and hawking being an illegal trade, Mukamana says that she spent three months without hitting the streets to earn a living.
"My earnings fell widely and during the lockdowns I could hardly earned Rwf1,500 per day especially that hawking is illegal," Mukamana said, I depended on government portions,"
To make sure she survives through the pandemic, Mukamana joined a Jabana sector women's Self Help Groups (SHGs) 'Twiyubake' a savings scheme comprised of 250 vulnerable mothers whose income was affected by the pandemic but determined to help one another through savings.
The group requires that each of the members contributes Rwf2,500 per month which is collected and distributed according to needs of each of the women.
In the group, Mukamana says that she was assisted to save the little income she made pending resuming of business in her usual source of income.
"The group was very helpful to allow me save less than the others and I have now been able to repay all the arrears. I can now afford to save and buy food for myself because of the group support," Mukamana said.
The World Bank (WB) estimates that with COVID-19 there is a social and economic cost that negatively impacts a country's GDP by up to 3.7% and the health crises exacerbated the violence against girls and women.
WB and UN Women reports show that effects of the health and socio-economic crisis linked to the COVID-19 pandemic are expected to be substantial in economies with a large informal sector.
In Rwanda for instance, 74 per cent of women are in informal businesses, living on a daily basis without any savings or social protection, exposing them to not only greater economic vulnerability but also to Gender-Based Violence and sexual abuse.
For example almost 80% of respondents in a survey by Innovation for Poverty Action (IPA) in Rwanda say they have had to deplete savings to pay for food, healthcare, or other expenses since February 2020.
Mukamana is just one of the many women in the group, with odd jobs, who have financially been affected by COVID-19 but from this experience of group innovation the women say their incomes will be sustained through investing in long term income generating projects.
The chairperson of the Twiyubake women's savings scheme, Christine Uwingabire says that they have since last year managed to pool over Rwf2million from their members and the funding will be used to invest in sustainable projects.
"We have learnt a lesson from the pandemic. We want to invest our focus on projects which are pandemic resistance such as agriculture, livestock keeping and food services so as to prepare for the future,"  Uwingabire said.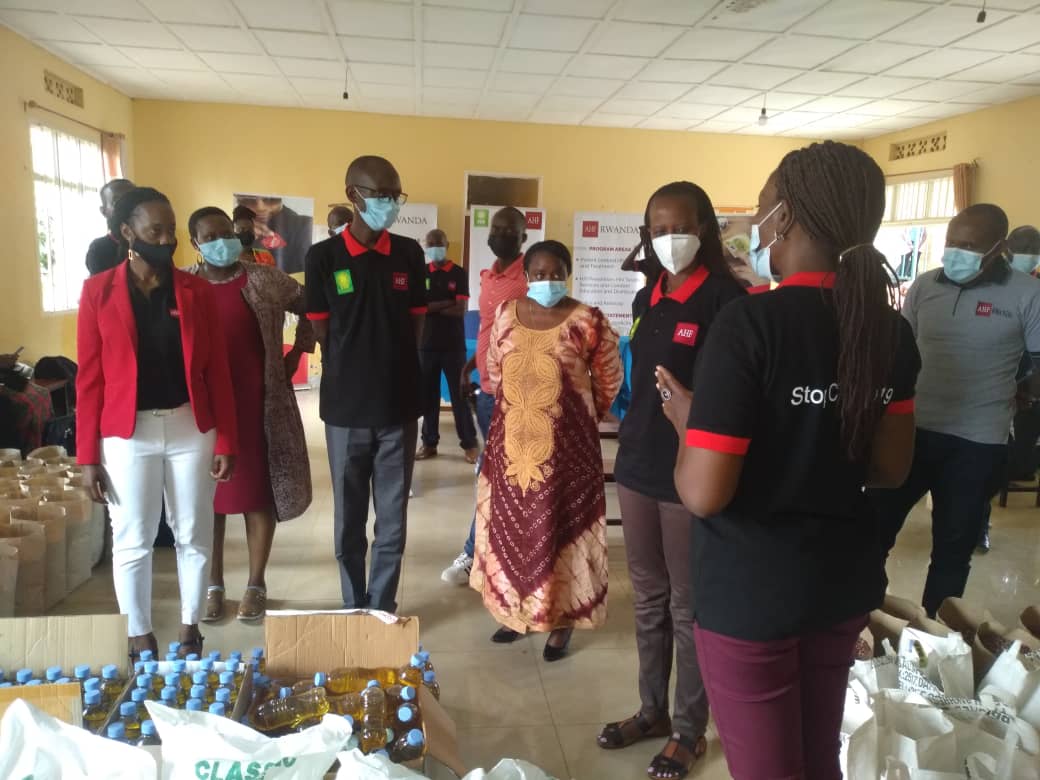 Twiyubake women's refocus is backed by the National Institute of Statistics  2020 figures which show that while most sectors were affected by COVID-19, agriculture increased by 2% in Quarter 3 2020 while industry dropped by 1% and services dropped by 7%.
With this example of women resilience in COVID-19, a local nongovernmental organisation- Community Socio-economic Development Initiatives (CSDI) has donated $16,000 to the 250 families in Jabana to enable them to build their future resilience.
The funding was this Saturday handed over at Jabana sector officials in form of food, personal protection equipment (facemasks), health insurance support and sanitary pads to enable women beneficiaries through the ongoing pandemic.
"The intention is to ensure women don't worry about such needs and enable them feel confident during the business activities under the pandemic," said Leon Pierre Rusanganwa, Chairman CSDI.
To further build this model of women's business and manage HIV/AIDS related stigma and discrimination, Rusanganwa said that they will solicit funding from international donors to offer business and financial skills to the beneficiaries.
Central Bank says that Self Help Group initiatives have resulted in increase of women accessing formal finance from 36% in 2012 to 63% in 2016 but still low compared to men who increased access from 51% in 2012 to 74% in 2016.