When the Genocide started on 7 April 1994, Nadine Uwamahoro was nine years old living with her family that comprised of her mother and five siblings in Ndera Sector, Gasabo District, Kigali City.
In the morning, one of their neighbors only remembered as Mabuye who was a member of Interahamwe militia group passed by at Uwamahoro's home holding a machete and a club looking weirdly.
When Uwamahoro's mother asked Mabuye why he was angry, he responded that 'Akanyu Kashobotse' or beware, you are finished.
Uwamahoro's mother told her children that Mabuye could be planning an attack against them. They packed the least they could afford and headed to Ndera Psychiatric hospital to seek 'safe haven'.
"My mother thought that at Ndera Psychiatric hospital we would have protection because there were several Belgian nationals including medical personnel, clerics and soldiers. We went hiding in bushes and reached there," Uwmahoro said.
At the hospital, the director allowed them to enter rooms which were already congested which suggests that patients had mixed with safety seekers in hospital rooms.
For a couple of days, no one attacked them, but within a week, Interahamwe started finding a way of sneaking into the premises. At first, they three grenades inside from afar.
"The Belgian soldiers were still around, Interahamwe feared to enter in rooms to kill using machetes and clubs. They started throwing grenades from a distance. People started to die and others sustained injuries," Uwamahoro recalls.
"In our room, it was difficult to differentiate patients from other people who were seeking protection, everybody was trembling because of fear. Doctors stopped attending to patients, I could just see people running from one angle to another, dodging grenades that were thrown at a distance."
In that period of time, the hospital was kind to them; they were feeding on porridge provided by the hospital.
On 17 April 1994, Belgian soldiers decided to evacuate their nation and that same day in the afternoon, killers attacked the hospital and started shooting everyone mercilessly."The rooms were locked and we first refused to open and they started shooting through the windows before forcing open the doors. But many of us were already dead," Uwamahoro said.
"The government soldiers together with Interahamwe forced us out and put us at the courtyard and forces us to separate between Hutu and Tutsi."
According to Uwamahoro when killers started shooting, the victims fell on each other, and some were taken for dead, including Uwamahoro.
"I don't know how I survived really; I had lost conscious. But I woke up at night and found myself on the ground amidst bodies. The soldiers and Interahamwe had gone, the bodies were many, I could not see my mother and sister but I just walked home," she recalls adding that her three siblings, aunts, uncles, and other relatives were already killed at that same place.
Uwamahoro testified during commemoration event- Kwibuka at Ndera Psychiatric hospital to pay tribute to patients that were killed during the Genocide against Tutsi on 17 April 1994.
Charles Nkubiri, Director General of Ndera Psychiatric hospital said that all the patients' records were burnt by firearms ere thrown all over the hospital rooms and it is still difficult to know the exact number of patients who were killed.
However, the Ndera Psychiatric hospital memorial site is a final resting place for 21,000 genocide victims. The number includes victims from across the city who had gone to seek protection and patients themselves.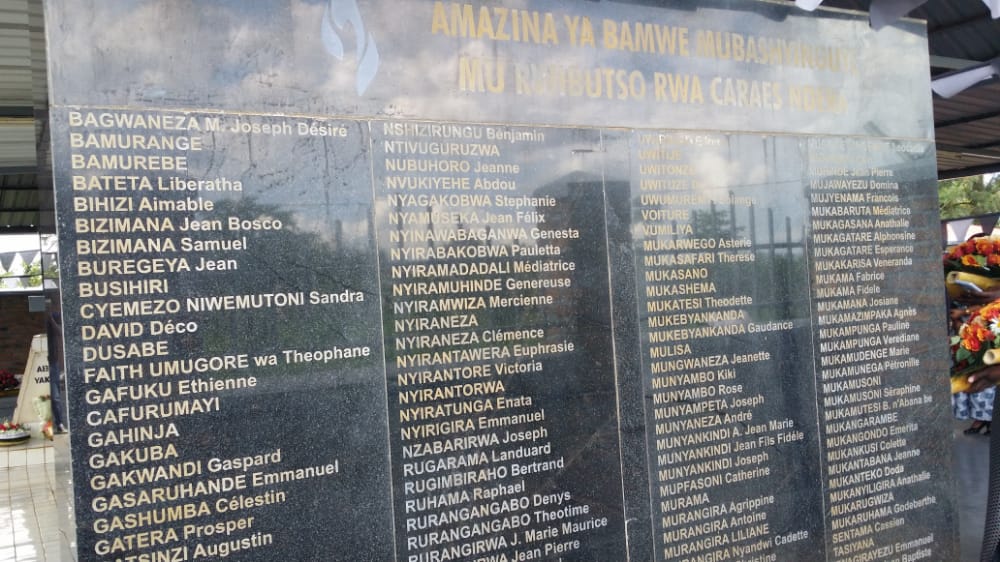 "The patient's forms were burnt, everything demolished by grenades. It is not possible to know the specific number of patients that were killed because they were mixed with asylum seekers," Nkubiri said.
He added that the killers were not mentally any better than the innocent patients.
Today, Ndera Psychiatric hospital is the biggest in the country in this specialization. It receives 75,000 patients annually.