Thursday, May 27, 2021 will go down in history as the day Rwanda and France- two closely linked countries that share a tumultuous history, opened a new chapter of bilateral ties, after more than 27 years of diplomatic tensions.
As President Emmanuel Macron and his host President Paul Kagame took the podiums at Village Urugwiro to brief the media and answer a few questions, an air of optimism filled the tent as the two leaders made history, taking great strides towards the full normalisation of ties.
The momentum at Village Urugwiro was set by President Macron's earlier speech at Kigali Genocide Memorial, where he took a step which no other French leader had taken before, to acknowledge the responsibilities of his country in Rwanda in the period between 1990 and 1994.
When he said what he said at the Gisozi-based memorial, a debate ensued, particularly among the dozens of French journalists who accompanied him and observers, as to whether Macron apologized for France's role or not, with many trying to interpret the words he used.
As the semantics as to whether it was an apology or not went on, President Kagame, who has previously emphasized that Rwanda is not looking for apologies in trying to repair ties with France, sealed it for the doubters.
"The President has just made an important statement at the Kigali Genocide Memorial. This was a powerful speech, with special meaning for what is taking place now, and which will resonate well beyond Rwanda,"
"His words were something more valuable than an apology: they were the truth," President Kagame said, adding that speaking the truth is risky but you do it because it is right.
"Even when it costs you something, even when it is unpopular. Despite some loud noises and voices, President Macron took this step. Politically and morally, this was an act of tremendous courage," President Kagame said of his French counterpart.
It was a rare afternoon, one that could not be imagined even by pundits, but for many, Macron took an extra step and did what his predecessors failed to do. President Nicolas Sarkozy tried in 2010 but his efforts miscarried when he was defeated by François Hollande in May 2012.
Hollande seemed indifferent, or at least to those who were close to him, his stand on Rwanda was not exactly one that would lead to a rapprochement. A glimmer of hope appeared when Macron took office in 2017.
In 2019 when Macron established the Duclert Commission of Historians to investigate the role of France in Rwanda particularly from 1990, granting the commission led by Vincent Duclert to access former President Francois Mitterrand's government's archives on Rwanda, the writing was on the wall.
His determination to address a difficult past and open a new chapter was affirmed by President Kagame who said that President Macron, who he described as a brother, showed commitment to address challenges from the past for a better future.
Though his remarks were subject to interpretation and extra scrutiny, President Macron did not mince his words when it came to acknowledging France's role in what happened in Rwanda and said that only the victims and survivors would find a place in themselves to forgive what happened.
A renowned orator and poet, Macron did much more than what was expected but also managed to leave some guessing but it is in his other actions that many could tell that a new page in the relations of the two countries had been turned.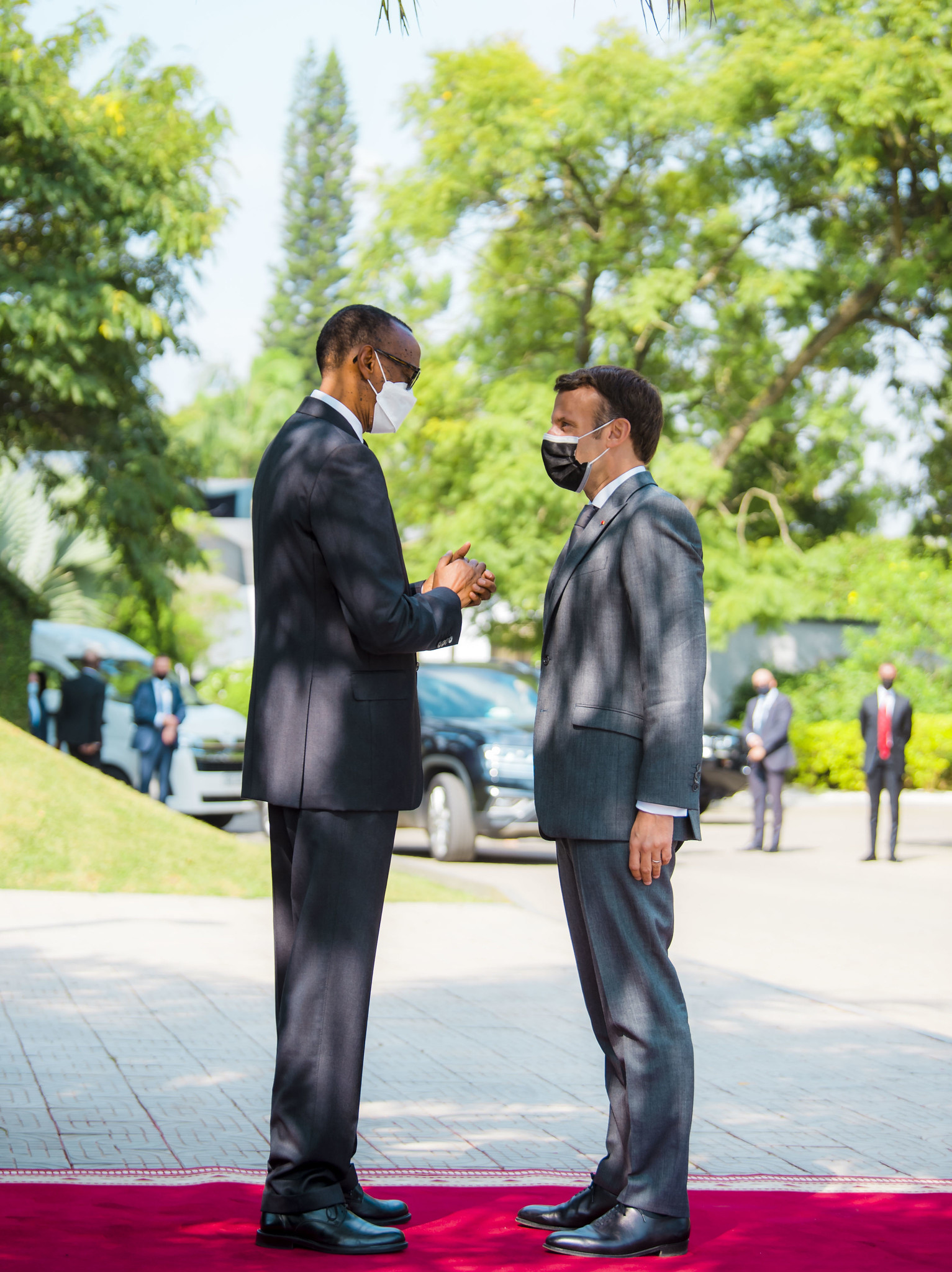 "We have decided to resume the path of dialogue cooperation without ignoring the difficulties," Macron said, fully acknowledging the past but it is in the future that both countries want to focus.
He pointed out that the last 3 years have been about removing obstacles that have stood in the way of the relations of the two countries, particularly commending the Duclert Commission for the work it did, which set the next course of action.
President Macron, who arrived in the country with 100, 000 doses of the Covid-19 vaccines in tow, highlighted some of the socio-economic activities France has been supporting in Rwanda and in the region, announcing new areas of support and increased funding.
He said in 2020, France, through the French Development Agency (AFD) provided the government with funding of more than 100 million euros to support efforts to fight Covid-19, adding that new projects are on the way.
He said that since the revival of bilateral ties in 2019, France has funded rural electrification projects in Rwanda, to the tune of 130 million euros while more projects worth 500 million euros, running up to 2023 are underway, particularly in the area of health.
He pointed out that France did support the candidacy of the former Minister of Foreign Affairs of Rwanda, Louise Mushikiwabo, for the post of Secretary General of the International Organization of La Francophonie (OIF).
Through the OIF, France intends to fund different projects in the region which will promote cultural exchanges and language development.
Among other things, he said France will strengthen judicial cooperation with Rwanda, pointing out that one of the key areas the two countries will cooperate is pursuit for justice, particularly on the issue of genocide suspects in France.
As President Kagame said, President Macron's visit was a moment to speak to the present and to the future, while reflecting on the past that brought the two countries where they are today.
The busy day, characterised by exchanging rare niceties between the leaders of the two countries, ended with both going to Kigali Arena to watch a Basketball Africa League (BAL) game together, to cement what seems to be a lasting bond
Both Heads of State however watched the game on the edge as Rwanda's Patriots Basketball Club battled Mozambican giants Ferroviário de Maputo in a nail-biting quarterfinal game, which saw the Rwandan side triumph 73-71.
In the end, it was not just victory for the Patriots but victory for both Rwanda and France, as the two leaders headed off to rest after a fruitful day in office. For many, the events in Kigali marked an end of an era and the beginning of a new one.