Muslims in Rwanda today joined their brothers and sisters across the world to mark Eid Al Fitr day which is also called the "Festival of Breaking the Fast".
Eid-al-Fitr is regarded as a time to celebrate, with Muslims gathering their friends and family to show gratitude toward God following the previous month of reflection. The holiday serves as a great reminder for Muslims to be grateful for what they have, and to share with those who may be less fortunate.
With COVID-19 still a looming global pandemic since 2020, this year's celebrations were not different from the previous year, where the normal practice of gathering in big numbers for general prayers, was restricted.
In the City of Kigali, the Muslim community convened for prayers at Kigali Stadium in Nyamirambo sector, where prayers were conducted with a high sense of social and physical distancing to prevent the spread of COVID-19.
Unlike in the past years where thousands used to take part in this communal prayer, this time around only 500 Muslims including their representatives were allowed to take part in the prayers.
All Photos by Plaisir Muzogeye
Each of the prayer participants went through a rigorous check and asked to present their digital permission sent on their mobile phones, to test for body temperatures and sanitize before entering the prayer grounds which had each participant standing three meters away from the other on each side.
The prayers were led by the Mufti of Rwanda Sheikh Salim Hitimana who used the opportunity to remind the Muslim community on the need to prevent COVID-19 during the day's celebrations in homes and in the community.
This is an important celebration for the Muslim community but I would like to remind all of them to uphold the current government restrictions to prevent more infections," Hitimana said.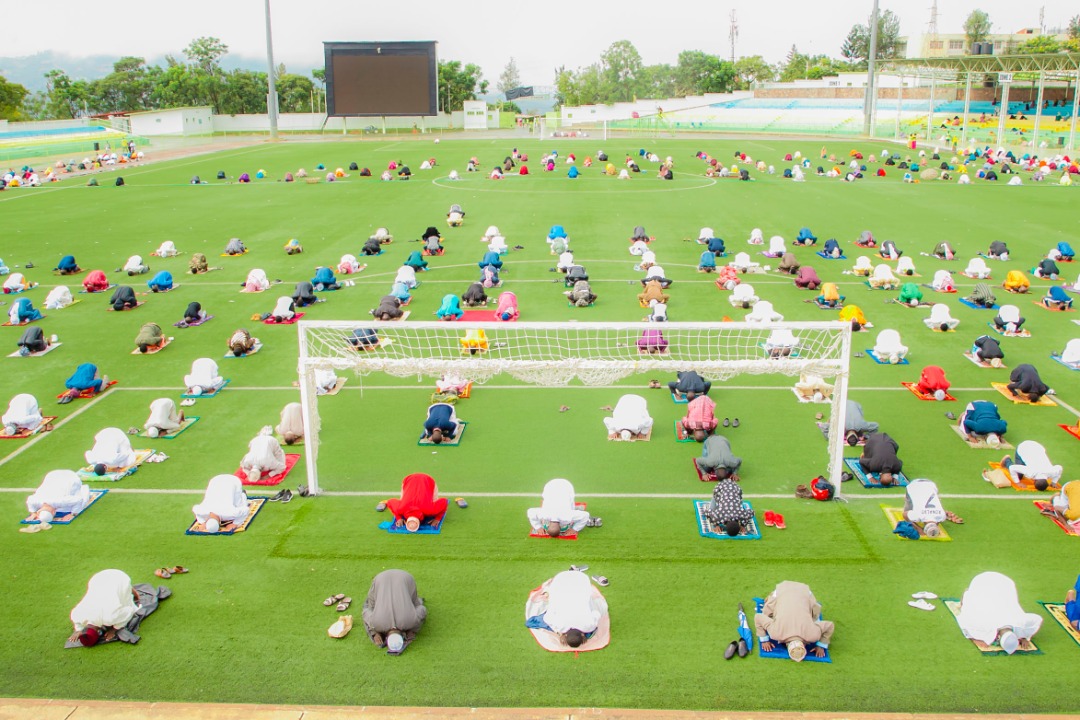 Among those to desist from, as indicated in the cabinet resolutions are public celebrations, feasts among others except for events limited to a closed family affair.
On the practice of sharing as in the Muslim tradition, the Mufti said that collections of funds have been made and will be distributed to needy families across the country using digital payment methods, so as to avoid physical contact.