The Rwanda Private Sector Federation (PSF) has awarded five champion female entrepreneurs, an event that seeks to address gender gaps in entrepreneurship.
Dubbed the Women Champion's Award, the initiative is a partnership between PSF and the United Nations Development Programme(UNDP) and Rwanda Monitoring Office.
It seeks to support and empower women in small and medium businesses (SMEs) in access to finance and skills development.
The biggest award, Rwf 7.8 million went to Avocare, a company involved in production of avocado oil followed by three runner-ups with Rwf 7 million award each.
The three include Veggies for Health Ltd, Afri Foods Ltd  and Braimpire Ltd also in agriculture value chain business.
U&M Garments in garment industry also was awarded with Rwf 6 millionExplaining the motive behind this initiative, the chairman of PSF Robert Bafakulera explained that first of all there is a need to strike gender balance in private sector, including in management of the federation.
"The promotion of gender equality in the private sector still faces challenges related to access to finance, skills and innovation, access to market information and participation of women in managerial positions," Bafakulera said.
From this perspective, he said that to address such challenges, PSF with support of UNDP and Gender Monitoring Office developed a-5 years' gender Mainstreaming Strategy for Private Sector.
He is thankful that this effort is paying off especially "in the area of employment through internships in male dominated sectors."
The award winners were thankful that, indeed, the financing will turn around their businesses that were largely affected by COVID-19 pandemic.
Afri Foods'CEO Sakina Usengimana, with her 10 hectares of horticulture products in Gatsibo district and more in Nyanza district, said that she has been affected by logistic issues and farm maintenance.
"We are producing for export but we have been affected largely by, among others, irrigation, documents' acquisitions in a world full of COVID-19 restrictions," Sakina said.
"In the end, maintenance of the farm, our exports became challenging."
With the Rwf 7 million awards, Sakina will use Rwf 6 million for farm maintenance and extension, while Rwf 1 million will go into promotion.
"I believe that PSF has got the point; allowing female owned businesses to stand means reducing the gender gap in entrepreneurship. The other way round would be widening it," she said.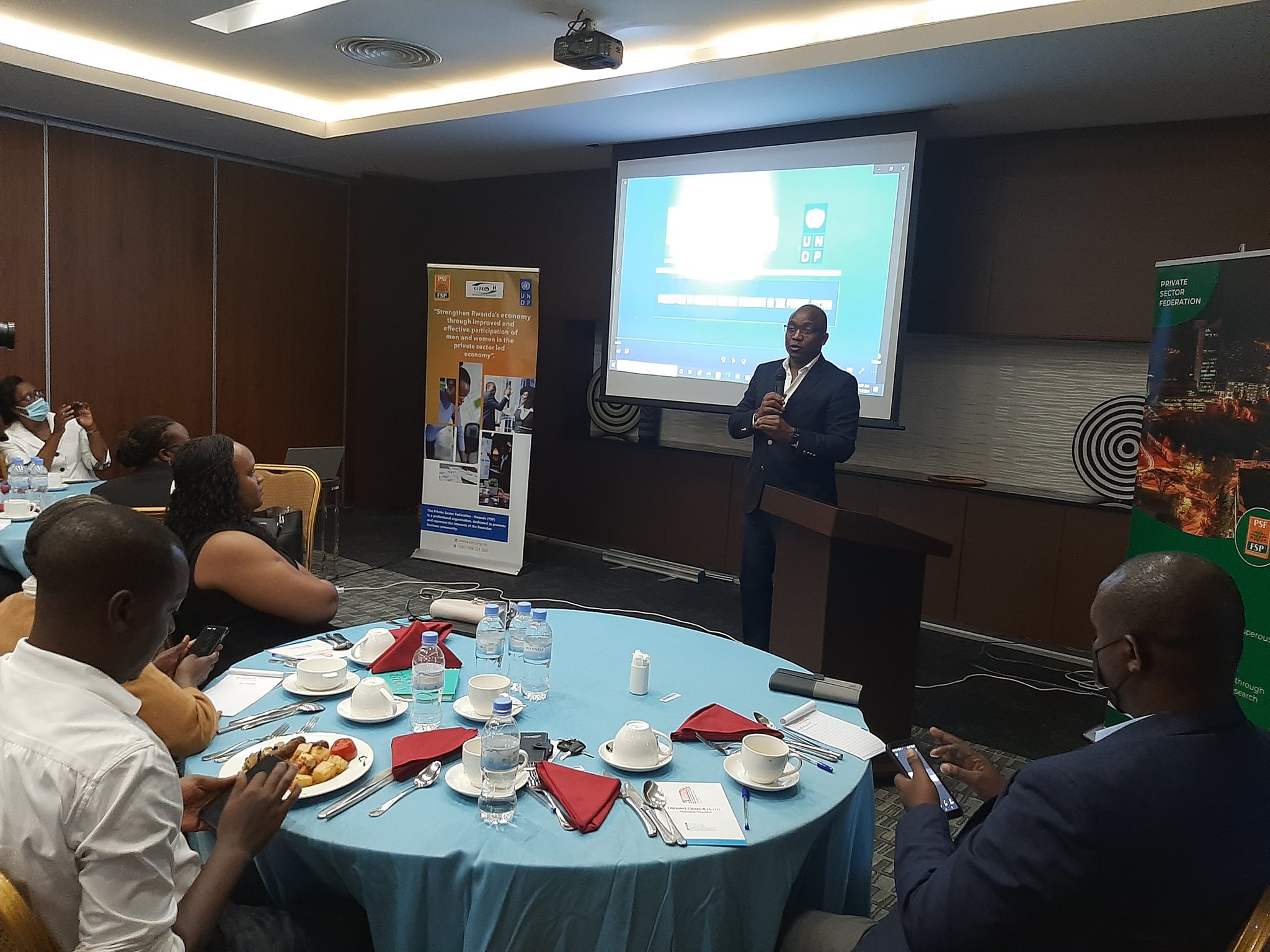 On his side, the UNDP country representative Maxwell Gomera commended PSF for associating them in this endeavor which has a genuine explanation.
"Enterprises owned by women suffered the blunt of the virus, with consecutive lockdowns and travel restrictions that limited the purchase power and the production capacities for many small and medium enterprises," Gomera said.
According to UNDP, the data from a study by PSF shows that, even though the overall impact of COVID-19 on both male and female-owned enterprises was similar and was perceived to be the highest in terms of sales reduction and shortage of cash flow, the impact was higher on female owned enterprises where 84.9% that reported to face reduced sales compared to 80.7% to male-owned enterprises.
While Gomera believes that the five women that were awarded are but "a drop in the ocean", more opportunities are on the way coming, and women will count among priorities.
Mireille Batamuliza, the Permenant Secretary of the Ministry of Gender and Family Promotion suggested that effective support to the participation of women in the private sector will increase the performance of the sector by leveraging everyone's potentials for improved productivity and economic growth.
" I would like to commend our Rwandan Private sector in partnership with UNDP for this great initiative and hopefully, to be extended to reach more women and young girls that will then transform the society and contribute to the country's development in general," Batamuliza said.
"My message to the selected women champions is to acquire the intended equipment and increase their production capacity to be role models for other women in this journey."