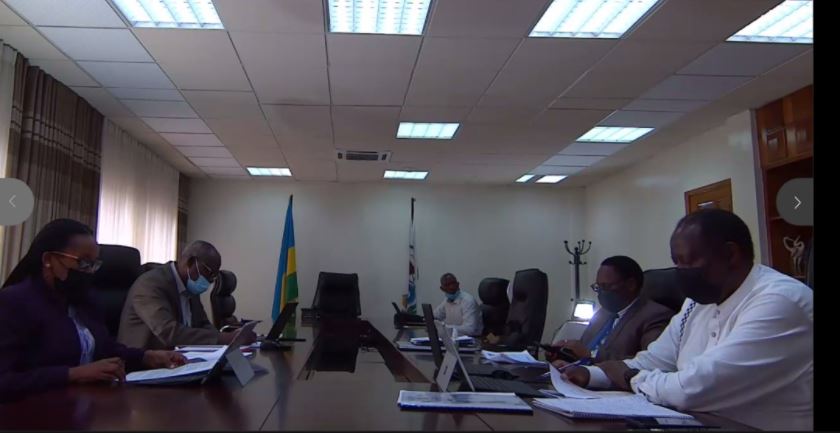 The Senate and its stakeholders have recommended a new cultural process towards ending human rights abuse and gender based violence (GBV), a move that will require abandoning cultural practices and changes in the education system.
The recommendations was made this January 13, 2022 during an open discussion on continued cases of GBV in Rwanda despite the existence of a favorable political will, policies, laws and initiatives to end all sorts of abuses.
The discussion was aimed at  looking into cultural aspects draw new initiatives that can be used to improve perceptions and address causes of violence in homes, and to look at outdated practices that no longer apply to the current Rwandan community such as proverbs, literature and sayings.
Senator Adrie Muhire, the chairperson of the Senate Committee on Social Affairs and Human Rights said that the committee finds that despite policy and reports on human rights abuse especially gender based violence still exist in families and thus a need to go back to cultural values to find possible solutions to the problem.
Muhire said that reports (on GBV) published by government and civil society organization have continued to show that there is a big social problem that needs to be addressed in a new way and this can be through seeking answers in cultural values and practices.
For example the Rwanda Governance Board Citizen Scorecard showed that gender based violence is common in families with women being the common victims (11.4%) followed by children (8%) and men at 7%.
Moreover, the Demographic and Health Surveys (DHS) 2020 report shows 72.2% of the community attest to existence of the GBV cases in homes and divorces increased 6.
A presentation made by Senator Cyprien Niyomugabo showed several cultural aspects  that remain outdated and a setback in promotion of upheld gender values in today's society.
"We should uphold some marriage ceremony practices like using aunties to prepare the bride and parents chosing a bride which give importance to marriage and do away with things like bridal showers which don't give value to family but used as a place to feed a bride with bad ideas about marriage," Niyomugabo said.
He recommended that the first step will be to do away with some literature which was composed with intention to undermine a women in society- for example amafuti y'umugabo nibwo buryo bwe (it's okay for a man to make mistakes).
Niyomugabo said that "This kind of cultural literature has also been sealed by religious teachings which demean a women in society thus a need to do away with literature, religious beliefs and proverbs which undermine women today.
These suggestions sparked several reaction in support and better ways to deal with the problem at hand.
Minister of Gender Jeannette Bayisenge said that there is a problem in the early childhood education which needs to be changed.
"In school the children are taught things which influence their mindsets. For example in a classroom they are told that women do this kind of job and men do these jobs, so you can now imagine how the children grow thinking of themselves and other?"
She however said that the ministry has released a marriage guidebook and is also preparing a tutorial for marriage trainers which will be released in both English and Kinyarwanda to have community volunteers educate couples before and after marriage.
Imbuto Foundation representative also stressed the need to have early education and training of children towards better practices but also called for having community based interventions and full ownership of the existing intervention programs by parents and community leader.
Rwanda Rehabilitation Services Director General Fred Mufuluke also returned on issue of education system that doesn't teach children to become what they should be as adults as desired in the national policies and this is something that should be rethought in new ways.
Edouard Bamporiki, the Minister of State for Culture said that there is need to restore the most basic aspect of a culture of humanity and unity that cuts across every cultural value and practices and essential in enhancing existing efforts such as civic education.
Senators and psychologists backed the idea of using psychology in education approaches in teaching young Rwandan as a key in addressing issues of child abuse in homes by using the information that the child can reveal throught therapeutic education.
Chaste Uwihoreye, the Secretary General of Rwanda Psychology Society said that there is a connection between mental health and gender based violence but further steps have to be taken when incidents of GBV happen.
"Assistance to the family that has gone through issues of violence for example we should think of what to do for children traumatized by what happened in a family that has gone through," Uwihoreye said.
The outcomes of the discussion will be essential in drawing a way forward and used as a peg to draw new ways of addressing GBV in Rwanda.