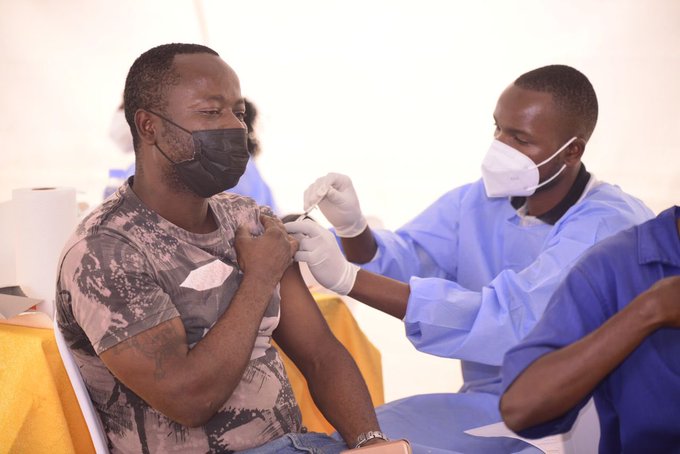 The Ministry of Health has revealed that a large percentage of Rwandans among the targeted population for vaccination against COVID-19 have received a jab.
Rwanda has targeted to vaccinate 70% of the population with over seven million vaccines by the end of this year, a target that has been extended based on availability of vaccines.
Dr. Tharcisse Mpunga, Minister of State in Ministry of Health told the media this Thursday that about 400,000 are remaining among the targeted citizens and this is a small number compared to the vaccination drive that the country has embarked on since last year.
Mpunga revealed that Rwanda has reached close to 80% of citizens (above 12 years) vaccinated with one dose , 51% have two doses and 500,000 with all three required jabs.
This means Rwanda has vaccinated 6,800,000 citizens of the 7,250,000 that were targeted for this year.
Though Rwanda has been recognized for exceeding the World Health Organization vaccination targets set for each country, there are still many cases of citizens who have refused to take the COVID-19 jabs due to contradictory religious belief, misinformation and lack of access to information on vaccination programs and locations in their community.
However, Mpunga said that this doesn't pose a threat as the government will continue to embark on mobilisation efforts to increase numbers of vaccinated populations.
Scientifically, the more vaccinated populations the more resistance the community can be to contain further spread of a virus like COVID-19.
However with the existence of Omicron variant Rwanda has seen cases of COVID-19 related deaths especially among the vaccinated elderly.
Mpunga explained that the fatalities are related to delay or failure to get vaccinated on time due to a perception that they were immobile yet they could be infected by relatives and family living with or visiting them.
Rwandans are currently encouraged to take booster jabs to stay protected from the virus.