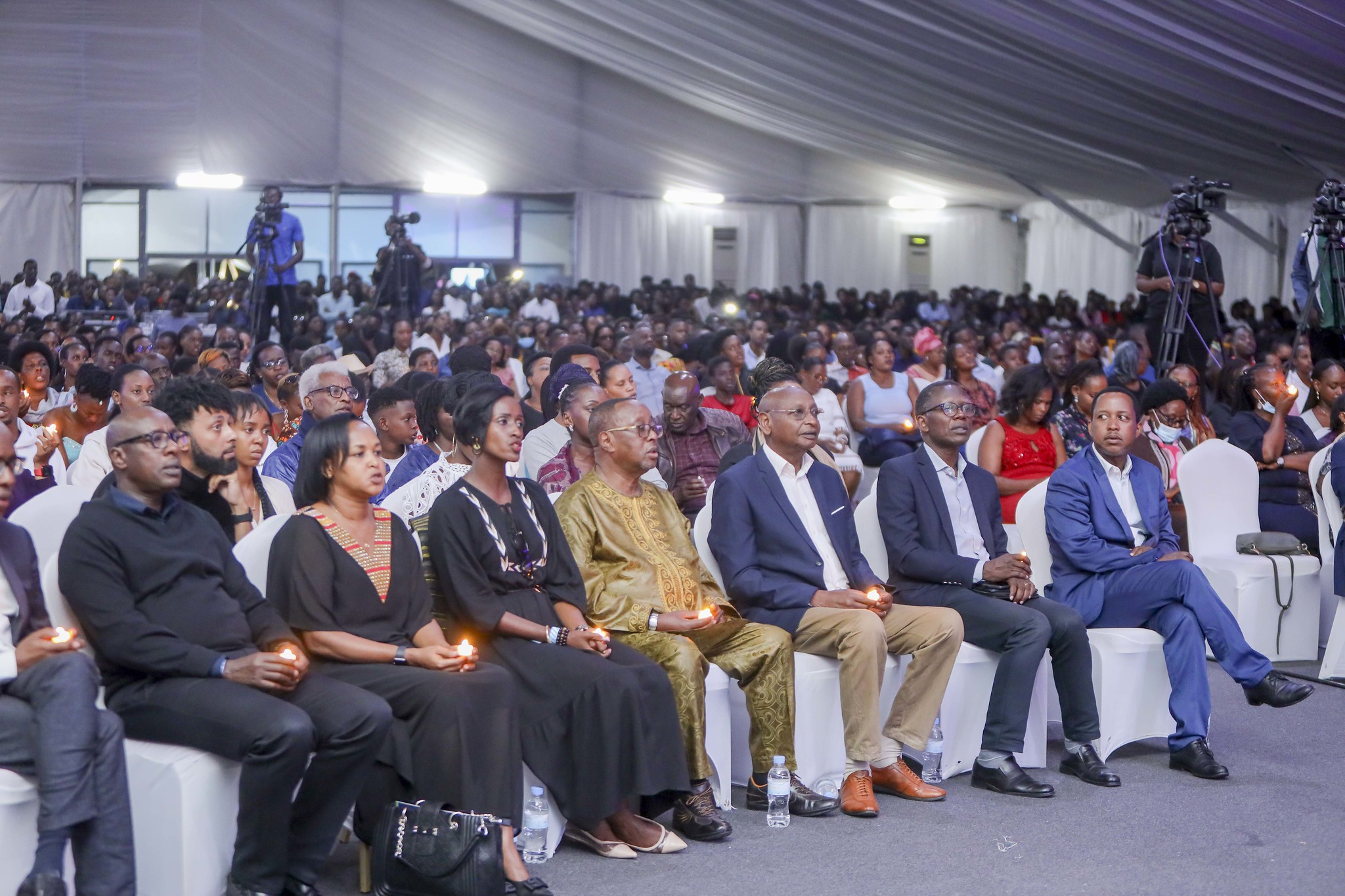 Thousands turned up to pay tribute to Yvan Buravan. The Minister of Youth and Culture, Rosemary Mbabazi, challenged the youth to lead purposeful lives as the singer did in his short life. Photos/Moses Niyonzima/KT PressThousands of people flocked Camp Kigali on Tuesday evening to pay their respects to deceased singer Yvan Buravan, real name Yvan Dushime Burabyo, who succumbed to pancreatic cancer on August 17, in New Delhi, India, where he was undergoing treatment.
Police at the Kigali Cultural and Exhibition Village (KCEV) had to turn away over 3, 000 as the tent filled to capacity as those who could not enter were encouraged to go back and watch online as the commemoration was being streamed live. Over 13,000 people followed live while over 200, 000 people had watched the event which lasted over 5 hours.
Dozens of testimonies on the life singer, who passed away at the age of 27, were given by friends, family and officials led by the Minister of Youth and Culture, Rosemary Mbabazi, who described Buravan as an example of a young man who lived a purposeful and dignified life built on values of patriotism, hard work and positivity.
"Like many people said here and as his name suggested, he was a flower, a fresh flower that decorated our country and the world. He had two outstanding values, hard work and patriotism. He loved his country to the end. As they said, even when he was on the sick bed, he was continued to talk about his projects, what he intending to do and his country,"
"He was a young man with a vision and this is something we can all learn from and the youth especially can emulate and live a life that has a purpose, instead of engaging in things that don't add value to their lives. He was joyous, lively and 'Intore' at heart and I can say he leaves behind a legacy which will live on," Minister Mbabazi said, adding that everyone had high hopes in him.
She condoled the family of the singer and commended the singer's fans and friends who walked with him to the end, adding that the Government of Rwanda also joined the efforts to save his life as he battled the fast-advancing cancer by footing treatment costs but it was never to be.
Buravan's father Michel Burabyo said that from childhood, Dushime, as he prefers to call him, was a determined and brilliant child who excelled in whatever he did and always worked quietly behind the scenes and they would only see results.
Burabyo Snr, who spoke with a sense of comfort and wore a smile throughout, said that even at the time of his passing, he was at peace with himself, not even the pain he was going through could deter his zeal or dent his happiness. He pointed out that he was the last born, who arrived six years later after they thought they had stopped.
"He was born on April 27, 1995, when we had returned to Rwanda and people said he signified triumph, which is why we named him 'Dushime' because we were thanking God for him. His names are not complete when you don't add 'Dushime'," his father said, giving a detailed account of how he joined the music industry, starting with a music competition organised by RwandaTel in 2009.
Burabyo said that throughout his musical journey, he had the support of his family, right from his parents to his siblings, including the big brother who paid for his first 10 songs and he promised him that by the time he gets to the 10 songs, he will have made a breakthrough.
"That is what happened exactly. By the time he got to 10 songs, he was already popular. He excelled in whatever he did and he did so quietly. We would only see results," Burabyo said, adding that when he was a child, his grandfather had predicted that Buravan 'would be a real man.'
His elder brother, who accompanied him to India and his sister, Raissa Umutoni, gave an account of Buravan's journey, including his plans, discovering his health condition, up until his last breath. Marseille Burabyo said that even as he traveled to India for treatment, he remained upbeat despite his body being weak.
"Even traveling on the plane to India was not easy as he could not eat but he persisted through it and often joked and ask me to massage him throughout the long journey," the elder brother said, adding that until he breathed his last, he was still talking about his plans and what he would do when he is discharged from hospital.
Dozens of artistes including Joel Ruti, who was his housemate, Yverry, Andy Bumuntu, Israel Mbonyi, Uncle Austin, Peace Jolis and Kevin Kade, among others, took to the stage to pay tribute to the singer, while Pastor Antoine Rutayisire, who preached on the evening, said that it was easy to tell that despite singing secular music, Buravan maintained high levels of integrity and character, which made his music appealing even to Christians.
Born Yvan Dushime Burabyo on April 27, 1995, he started his music career in 2009 under his stage name Yvan Buravan. Buravan went to Ecole Le Petit Prince, College Amis des Enfants and La Colombiere for primary and secondary before joining University of Rwanda – College of Business and Economics (UR-CBE), to study Business Information and Technology (BIT).
He was an R&B, Afrobeat singer and songwriter whose talent earned him legions of fans and accolades. He started out participating in talent shows in 2009 and 2012, his voice mesmerising judges as he emerged second out of over 700 who auditioned, before embarking on a solo career.
Buravan was the first Rwandan musician to have won the Prix Découverte RFI music award in 2018. He was posthumously awarded the 2022 Prix Découverte by RFI.  His first hit song, 'Urwo Ngukunda',came out in 2015 featuring Uncle Austin, who is credited for introducing him to the mainstream music scene. But it was his second single "Malaika" released in 2016 that propelled him into the limelight.
Buravan released his debut album, 'The love lab', in the year 2018 after winning the Prix Découverte RFI musical. As part of his winning package, he made a tour to 12 African countries, making it his first tour. By the time of his passing, he had released over 30 songs which include 'Gusaakaara', 'Tiku Tiku', 'Garagaza', 'With You', 'Heaven', 'Bindimo', 'Si Belle', 'Just a Dance', 'Oya' and his very last song 'Big Time' which was released in June, among others.
The singer will be laid to rest today, August 24, at Rusororo Cemetery.