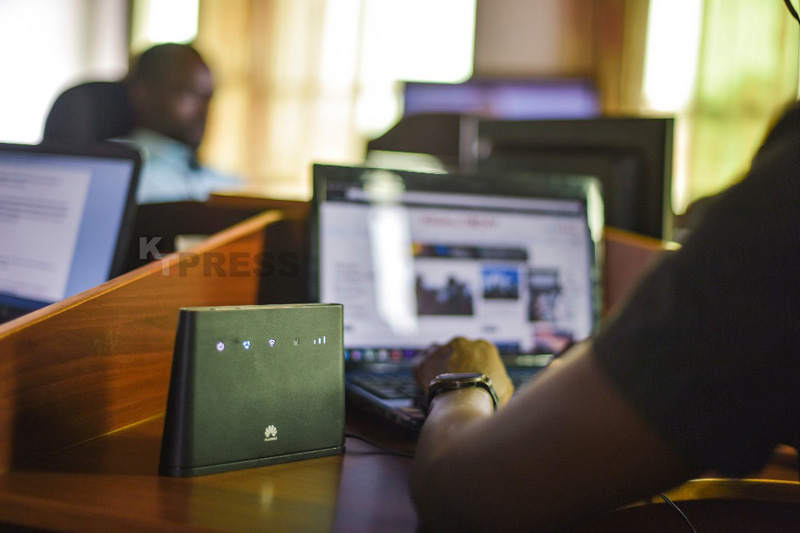 The recently concluded   18th National Dialogue Council 'Umushyikirano' passed 13 resolutions in which, addressing the issue of unstable internet, end-user price of internet among other components that are enabled by internet have centre stage.
Rwanda's internet penetration rate was recorded at 26.3% of the total population at the start of 2022, which calls for understanding why it remains expensive and sometimes not faster.
Even though Rwanda is among the countries that are trying to address the cost, it is still a big challenge to attain a fully faster internet, at an affordable price.
It remains a big concern, because Rwandans use internet for many on-line services like student learning, initiating payments, e-procurement, among other vital services.
During the 18th 'Umushyikirano', President Paul Kagame put top government officials on the spot, over costly policies and sometimes not facilitating those in businesses.
Business operators are among people who raise the issue of high cost and poor quality of internet
 Augustin Kamanzi is a businessman and a regular user of on-line services on Irembo. He says that sometimes the connection is interrupted and finds this resolution worth embarking on, to reduce users' frustrations.
'I don't underrate efforts being made to promote internet penetration to different areas of the country, however, most services have been digitized, which should match with its strength and friendly prices," Kamanzi stressed.
The quality of education at all levels, to enable academic institutions produce graduates who meet demands of the labour market is paramount.  In resolution 8, the Government still looks at meeting the target of enrolling 60 percent of Nine Years Basic Education graduates into TVET by 2024. Achieving this fall on different factors, including availability of modern training equipment, access to the internet for research. and engaging the private sector.
Increasing agricultural production which was resolution 1 of the National Dialogue can also be linked to accessing the internet for research about animal or crop diseases.
Among other factors, access to loans as well as insurance to farmers can't not be possible without the power of technology.
Beata Mukamusoni, a resident of Ntarama sector in Bugesera district has been engaged in livestock farming for the last 5 years. She looks forward to accessing information on how to boost her business.
She said, 'I have always tried to learn more, using my smartphone, by searching for educational information about livestock farming. I need a quick and affordable internet, besides going to other capacity building training.'
 Rwanda has been commended for facilitating doing-business, but it should be recalled that during 'Umushyikirano', leaders were also put to task by the Head of State, to explain why the One Stop Centre overseen by RDB is not fully operational.
This also brings connection in limiting both local and international investors to get various services in a centralized mechanism.
Moreover, Rwandans in diaspora have always been encouraged to think about investing home, as evidenced in most occasions like during 'Rwanda Day'. It is worth noting that Umushyikirano also resolved that those wishing to play their role in Rwanda's economic development need to be facilitated by relevant authorities.
Also worth mentioning, is that Rwanda was affected by the COVID 19 pandemic, followed by the Russia-Ukraine war. Out of these misfortunes there arose the situation of price hike on most commodities. The Government pledged to lay strategies, to curb   the crisis affecting the big population of Rwandan consumers.
A lot has been invested in the health sector, yet challenges of the past keep surfacing, like the problem of malnutrition. Consequently, the Government looks at further investing in community health workers, to take lead in sensitizing parents about proper nutrition.
Sensitization of non-communicable diseases like cancer, heart disease, diabetes, general hygiene, improving health infrastructure and welfare of medical staff also featured as part of the resolutions for a better health sector.
Government through the same dialogue also wants to further promote family by preventing conflict, implementing capacity building for child care givers, campaign against alcohol consumption and drugs, especially among youth, timely reporting on child sexual abuse, among other vices faced by families.
All can't be well, when there is no unity and reconciliation. Through the recently concluded national dialogue, enlightening youngsters about Rwanda's history, cultural values through Itorero, both locally and abroad stands as the best way to go.
Improved public transport has also been a major worry in Kigali City, especially during rush hours to and from work. Increasing the number of public vehicles and rehabilitating old car parks as resolution 2 puts it, would put a smile on every public transport user.