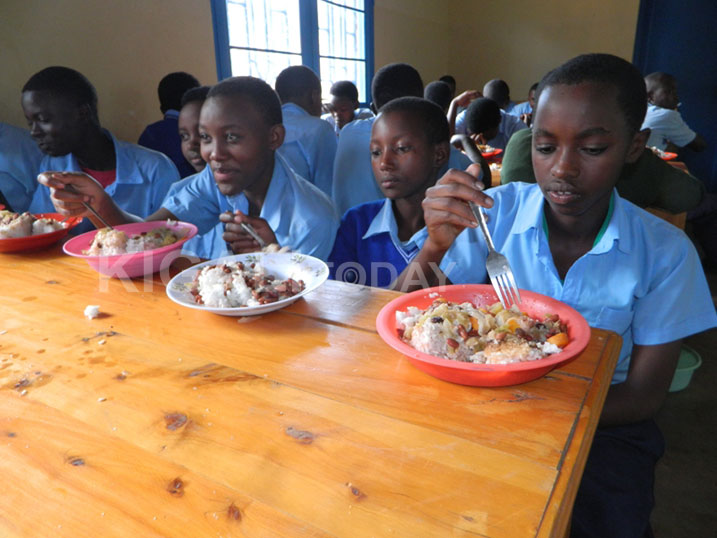 The Ministry of Education says the number of students who receive meals at school have significantly increased in just two years, from 36,000 in 2014 to 4 million students in all schools across the country as of 2023.
The school feeding program started in 2014 in secondary schools only, but was later extended to all schools, from lower primary to secondary in 2020 in public schools and public aided schools.
Currently, 3,805,785 students have their meals at school, out of an estimate 4 million students that are eligible today.
The government contributes Rwf8,775 per student per term against Rwf 975 contribution of parents per student and this largely affects the education budget.
In 2022, the government injected Rwf 35 billion into the program, and this year the amount is estimated to increase to Rwf 78.2 billion.
"The government contributes the biggest share  while parents take the least, even though some of them are reluctant to pay but the sensitization continues," Rose Baguma, Director General of Education Policy and Analysis at the Ministry of Education said yesterday during a talk-show at KT Radio.
According to Baguma, the Ministry of Education allowed schools to establish advisory parents and teacher's committees on feeding programs in each school, because parents understand 'better' community challenges, food prices in specific areas and match them with financial capabilities among other factors.
According to the World Bank, school feeding is a "targeted social safety net that provides both educational and health benefits to the most vulnerable children, thereby increasing enrollment rates, reducing absenteeism, and improving food security at the household level."
Baguma admits that there are still some challenges in school feeding, but regular inspections allows players to adjust every now and then.
According to a 2019 study by the Ministry of Education, the average cost of a basic meal for a student is Rwf150.
This rate however, said Baguma, is being reviewed to meet the market demand.