President Paul Kagame and King Mohammed VI of Morocco were on Tuesday recognized by the Confederation of African Football (CAF) for their passion for football and contribution towards developing the game on the continent.
The CAF President Dr Patrice Motsepe, with the help of FIFA President, Gianni Infantino, conferred the CAF President's Outstanding Achievement Award 2022 to President Kagame and King Mohammed VI, who was represented by the Minister of Education, Preschool and Sports, Chakib Benmoussa.
"An award like this is one of those things sometimes you don't expect or feel entitled to. In Fact, in our history, some of us never feel entitled too much or even deserving too much,"
"But when it comes this way it has, there is a saying here in our country, something of such a value, by loose translation, we say you receive it with both hands," President Kagame said, adding that he meant it when he received the award with both hands.
President Kagame said that throughout Rwanda's history, football has played a key role in uniting people, even during the most difficult of times, such as the 1994 Genocide against the Tutsi and the period that followed it.
He pointed out that football has always been popular among Rwandans and amidst everything they went through, football always consoled them.
"Just months before the tragedy happened here in our country in 1994, there was a lot of fighting, there was a history of sectarianism and so on and so forth,"
"One of the things that came at the top, that people clang too and brought them together, was sports and particularly football," President Kagame said.
The head of state recalled that at one time when there was a ceasefire during the liberation struggle, one of the things that young people were worried about was football and they wanted to know if they could safely play football.
He said that at the time, teams were formed between the warring parties and several friendly games were played. He however said that some members of the team that came from the country to play with the rebels were killed for that when killings broke out.
"They were killed only for that purpose, that they had gone to meet the other side and they were known to us. They didn't kill them because they played football but they were killed because of the people they went to play football with," President Kagame recalled in his acceptance speech.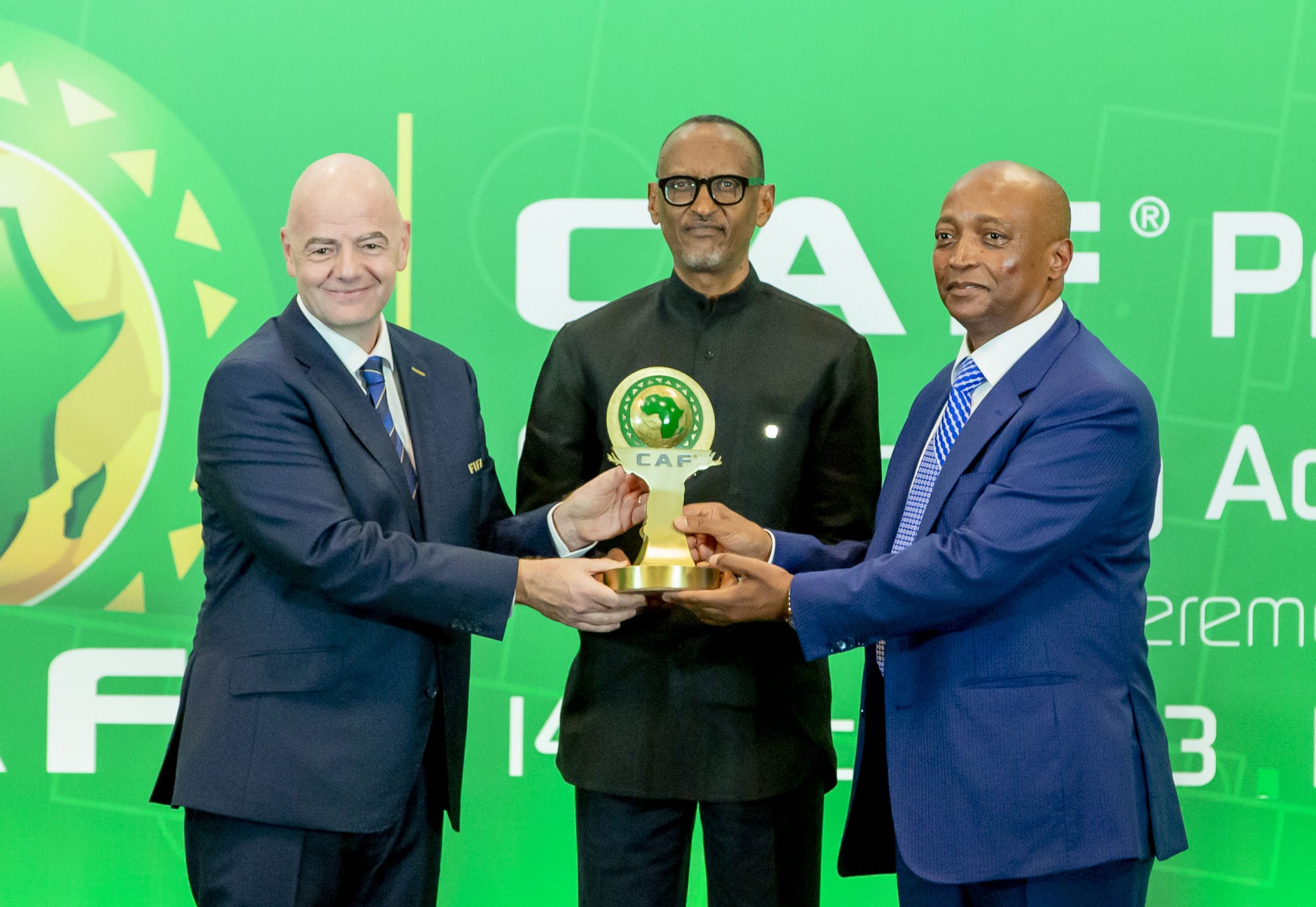 He said that even after the tragic period, young people were mainly interested in football, weaving balls out of banana fibres and playing on dirt roads and fields.
President Kagame said that when the Rwanda Patriotic Front (RPF-Inkotanyi) took over, it invested in many things but also invested in football and sports development.
The Head of State however said that he was still disappointed in the performance on the pitch but football by far remains the most popular sport in Rwanda.
Beyond Rwanda, President Kagame said that football is a popular sport on the African continent but the continent's very best players have to play abroad to succeed.
"Africa has talent. There's no doubt about it but our best players should not need to always move abroad to unleash their full potential," President Kagame said, adding that it doesn't mean that those with an opportunity to play abroad.
He however said that what takes them to play abroad can be achieved on the African continent if there was an effort. He commended the work being done by CAF president Motsepe and FIFA head Infantino to develop the sport on the continent.
President Kagame similarly thanked African football legends for their efforts, reminding them that they are an inspiration for African youths who look up to them for inspiration both on and off the pitch.
The Head of State said that what Morocco achieved at the World Cup 2022 in Qatar is proof that a lot more can be achieved by African countries if they put in extra work.
On his part, Dr. Motsepe said the day was a special day for African football where two individuals who have contributed greatly to the development of football as a sport, were recognized.
"This ceremony today is in acknowledgment of the significant manner in which they have contributed to the development of African football," he said, pointing out that in order for African football to progress further, partnership is needed among the 54 African nations.
Dr. Motsepe said that the two leaders recognized on the day should be an inspiration for other African leaders to borrow a leaf and see what they can contribute towards developing football on the continent.
The CAF head said that the two leaders were recognized and appreciated for their commitment to support football growth, not just in their countries but on the continent.
Motsepe also hailed Morocco for its exploits at the 2022 FIFA World Cup in Qatar, reaching the semifinals and finishing as the fourth overall best team, also emphasizing that the achievement of the North African country signifies the immense potential Africa has.
FIFA president Infantino said that it was a major milestone to celebrate the two individuals who have contributed to the growth of football on the African continent.
"As we know, football is the most important thing in life and the two people we are celebrating today have done incredible things for life -lives of millions of people all over the world,"
"Because football is joy, football is happiness, football is pride and allowing or putting in place conditions that allow children, boys and girls and adults to practice a sport like football, is something that should fill us with pride and joy," Infantino said.
He commended CAF and president Motsepe for organizing the awarding ceremony, something he said left him emotional.
Infantino highlighted several gains in football on the African continent, including Morocco organizing the FIFA Club World Cup earlier this year and many contributions by recognized leaders in their respective countries.
The FIFA head said that commitment and passion, as exhibited by the two leaders can drive the footballing agenda on the continent and football can be a force for good.
He said that the exploits of Morocco at the 2022 World Cup was no coincidence and it went to show what can happen when countries invest in the development of football.
The CAF President's Outstanding Achievements Award took place ahead of the 73rd FIFA Congress which is expected to take place in Kigali on Thursday, March 16.