Students of Integrated Polytechnic Regional College (IPRC) Tumba, Northern Province have demonstrated innovative projects that are expected to change people's lives.
The exhibition held at the college premises on Wednesday, March 22, 2023 was attended by the Director General of Rwanda Polytechnic, Dr. Sylvie Mucyo different stakeholders, and employers.
One of the projects that excited many people was the "The Uruziga Management System" created to help cooperatives manage their assets effectively, and prevent users from mismanaging funds or rendering cooperatives bankrupt, according to the author Roger Izere Hirwa.
Hirwa says that after researching various cooperatives, they found that organizations are facing problems of poor management, resulting in conflicts and losses.
"That's where we started working on this project that will help cooperatives manage their assets, with the help of this technology we discovered, it will help members store cooperative information," Hirwa said.
Uruziga system is a tech based innovation that will enable cooperative members to access financial transaction information on the phones, to know the income and expenses of the cooperative, and be able to track offenders in case of thefts.
IPRC students also exhibited environmentally friendly projects that will help citizens light or cook inexpensively while protecting the environment, with the help of electricity.
The students also invented a grain threshing and winnowing machine for beans and other grains which cost them one million Rwandan francs to build.
Gilbert Niyibizi, a second year student in the Department of Mechatronics says that the students thought of the innovations as a way of addressing some of the agricultural community challenges especially in the eastern province (which is considered Rwanda's food basket).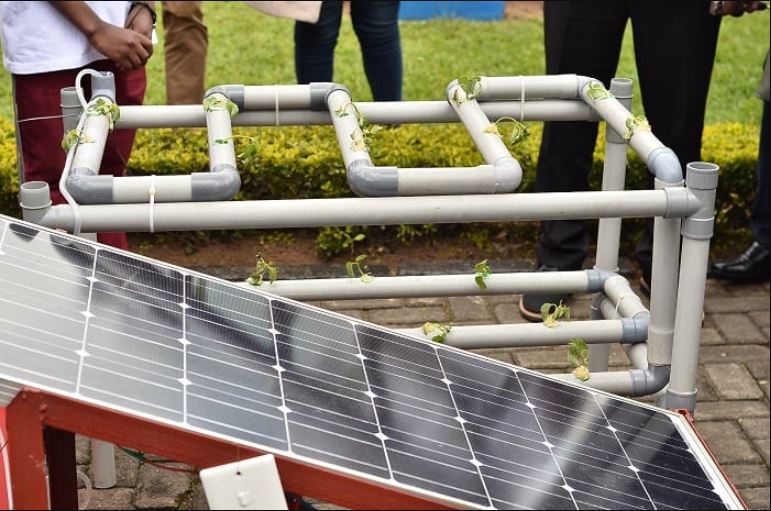 "We immediately thought of this machine, which came as a solution for the people because it currently processes 500 kilos of beans and two tons of corn in one hour. "We are testing other seeds to see if it will work, but our machine does a good job in no time," Niyibizi said.
The students also exhibited project produce wood from plastic waste, a scarecrow project that chases birds from farms in order to prevent children dropping out of school to do farm work
They also demonstrated upgraded kitchen garden technology and a system that enables schools to store school grades and other important school documents.
The French government is one of the main partners of IPRC Tumba, where through the French Development Agency (AFD), in the school that is full of large buildings with specialized machines used in the Department of Electronics, it teaches technology updated to improve industrial performance.
Aurelie KARL, who represented the French government commended the students for innovations to improve citizen's welfare and stated that this will have good impact on their future and benefit the college, the industry sector and the business community among many.
The Principle of IPRC Tumba, Eng. Rita Clemence Mutabazi said that the college will continue to find partners to support the student's projects in order to expand their reach and become bankable projects.
IPRC Tumba also signed partnership agreements and memorandums with various companies and industries players, like Enterprise Sina Gerald- who committed to supporting the students to expand their activities.