Premier Bet Rwanda has announced plans to expand its activities in Rwanda and become the country's most trusted sports betting service provider.
Premier Bet Rwanda, is an affiliate company of Editec UK Ltd, a leading sports Betting and Casino games provider in Africa with an extended presence in 26+ countries only in Africa.
Premier Bet is a licensed sports betting operator in Rwanda, operating for more than 10 years, offering their sports betting games through a network of 143+ shops and employing 500+ Rwandans.
"Premier Bet Rwanda is honored to receive this esteemed award and is dedicated to offering the best service possible to its players and partners," Apostolos Kalodoukas, the company's Chief Executive Officer (CEO)said.
Kalodoukas made the remarks at the reception of a service award as the Best Sports Betting Company of the Year, held at M Hotel in Kigali on April 5, 2023.
This is the second consecutive year that Premier Bet Rwanda scoops this award.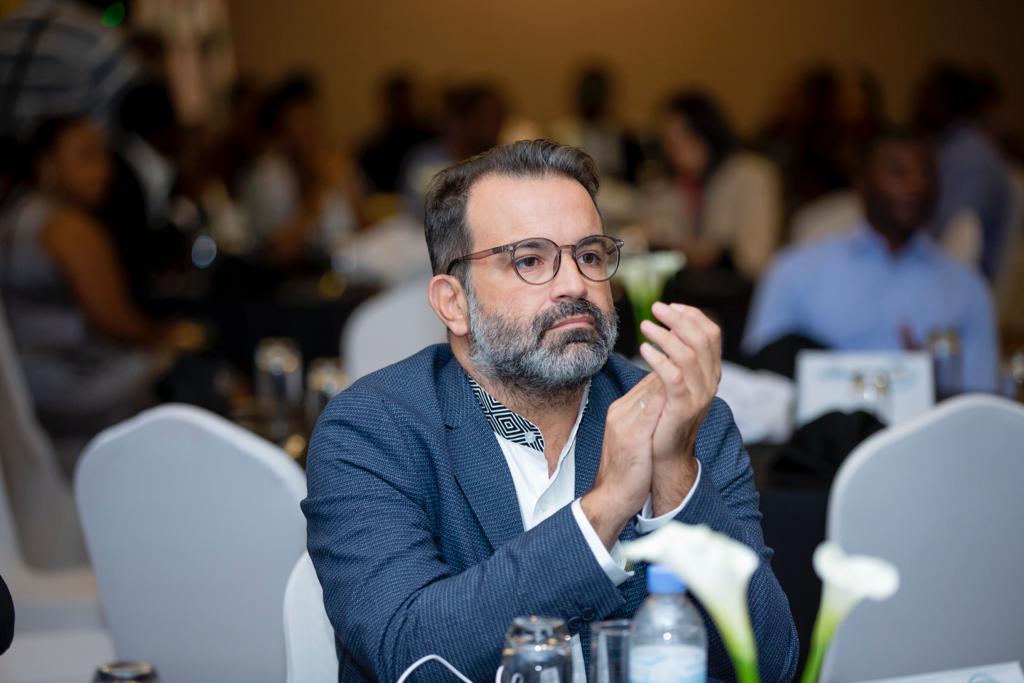 Kalodoukas said this move will stamp their footprint in the country, following Premier Bet Rwanda scoping the annual Consumers Choice Awards that are organized by Karisimbi Events to recognize outstanding customer service providers in the country.
He said that at Premier Bet they have a slogan that says- "If you don't think about a customer every day, you don't think at all,"
Using this ideal, Kalodoukas said customer care is a discipline that goes through all departments at Premier Bet Rwanda and makes their staff excel every day in their duties, thus the reason behind the company emerging as the top in providing the best service in the sports betting sector.
"The combination of all this gave us this esteemed award and we are committed to continuing to do more," Kalodoukas stated.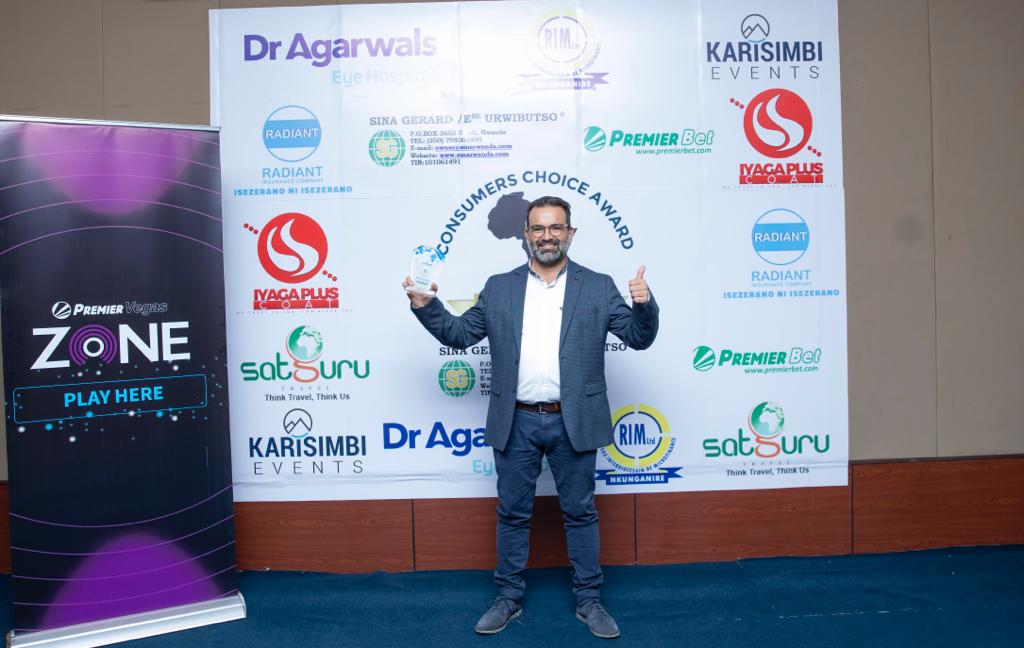 In this plan, Kalodoukas said that their focus will be on building trust among betting customers to instantly pay their paychecks (amounts won) for amounts not more than Rwf20 million and pay off after a day for bigger amounts won.
"There is no way that someone will not get paid as soon as the winning ticket is validated. This is transparency and the other thing is we will keep our clients informed with explanations and interactions whenever they play," Kalodoukas said.
To support this trust, Kalodoukas said that the company uses former Ivorian and Chelsea FC Football legend, Didier Drogba as their Brand Ambassador for Rwanda among other African countries to show the level of transparency and trust between the company and the persons it deals with.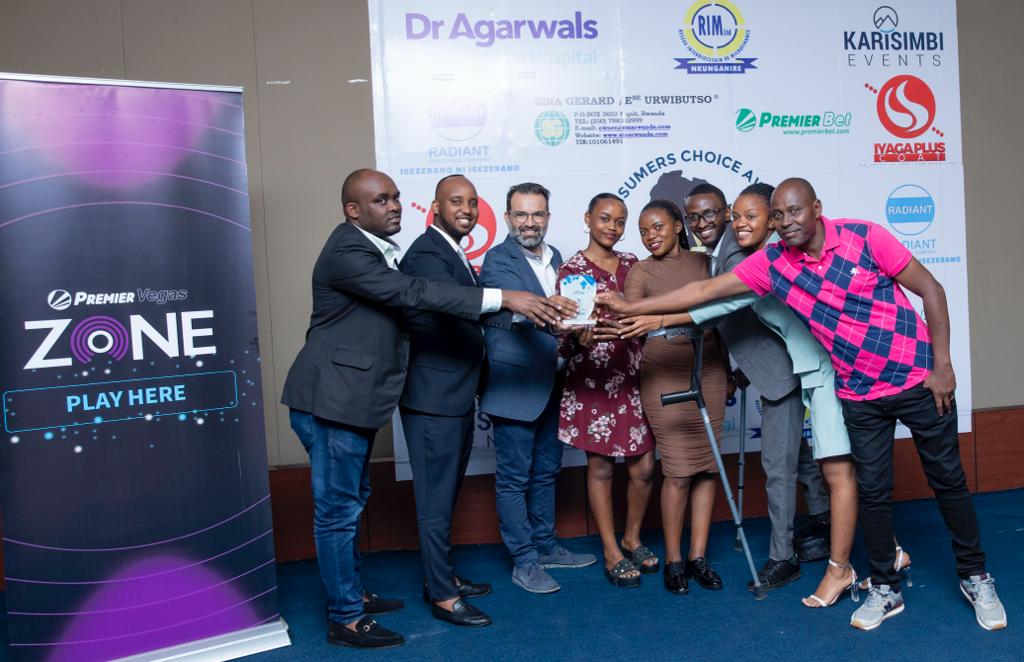 Kalodoukas also revealed that they plan on increasing their network of shops- which will also be built on their model of service and excellence to distinguish Premier Bet Rwanda from other companies.
"As he (Drogba) is committed to football, we are also committed to good services," Kalodoukas said.
Other Awardees:
·       Upcoming hospitality team of the year, Eager;
·       International School of the Year- Acrons international school;
·       Car Brand of the Year- Toyota Rwanda; IT company — Robotic Solutions; 
·       Interior design company of the year- MJF which specializes in wallpaper designs;
·       Travel and Tour Company of the Year- Satguru Travel;
·       Iyaga plus coat- the best Paint Coat of the Year;
·       The service team of the year- Iriza service team that offers protocol services and waiters.
·       Sports Shop of the Year- Hotline Sports Center
·       Microfinance company of the year- Réseau Interdiocésain de Microfinance (RIM)
·       Most innovative healthcare company – Smart ltd for a healthcare application called 'Smart'
·       The large format printing company- Soft Line Design limited
·       Best insurance company in Rwanda – Radiant Insurance
·       Eye Hospital of the Year- Agrawal Eye Hospital
·       The coffee shop of the Year- Stafford coffee brewers located in the Southern province;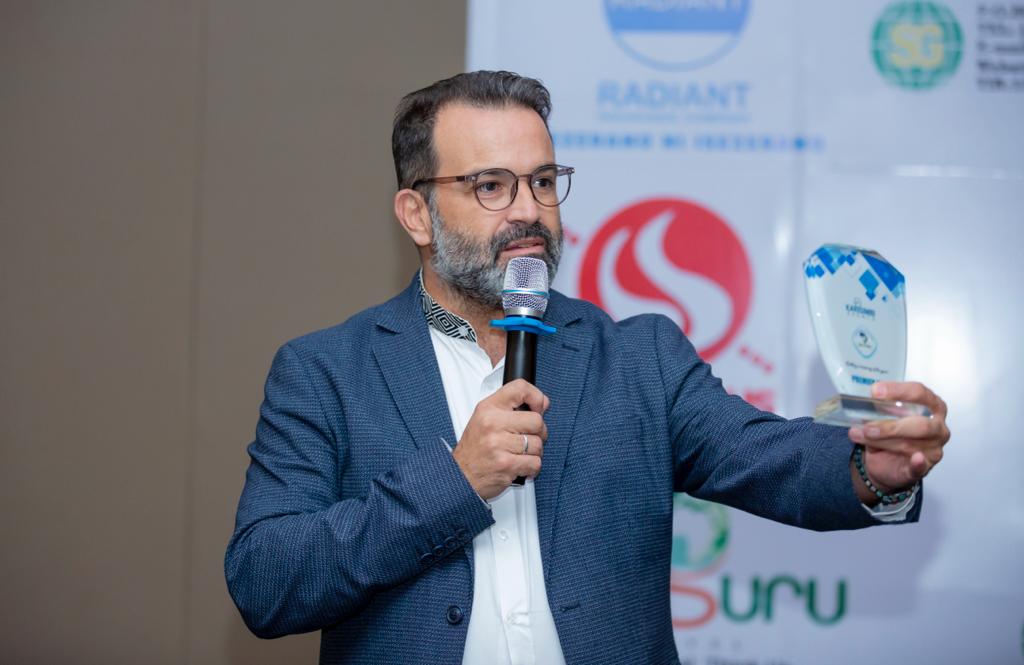 Sina Gerald, the proprietor of Urwibutso Enterprise was awarded – Agribusiness of the Year and he said that such awards should go global because they promote Rwanda and products made in Rwanda, especially from the agriculture and livestock value chain.
Representing the Rwanda Development Board (RDB), Martin Gasasira from RDB Export Department said that the awards show growth in the private sector taking up event management which used to be managed by RDB. today the business community is no longer dependent on the government and we see the sector being private-sector led.
"Stay motivated and work hard to see more entities, categories, and awards increased in each sector. We will work with the private sector to promote its services outside Rwanda," Gasasira told the awardees.