President Paul Kagame on Monday arrived in Guinea-Bissau capital Bissau for a one-day working visit, ahead of his state visit to neighbouring Guinea.
The Head of State arrived at the Presidential Palace in Guinea-Bissau, where he was welcomed by his host President Umaro Sissoco Embaló.  The two Heads of State held a closed-door meeting before proceeding to bilateral discussions with members of both delegations.
In Bissau, President held a tête-à-tête with his host President Embaló, followed by bilateral discussions with their respective delegations, and the signing of a Memorandum of Understanding on Mutual Visas Requirements Exemption. The two Heads of State will also address a joint press conference.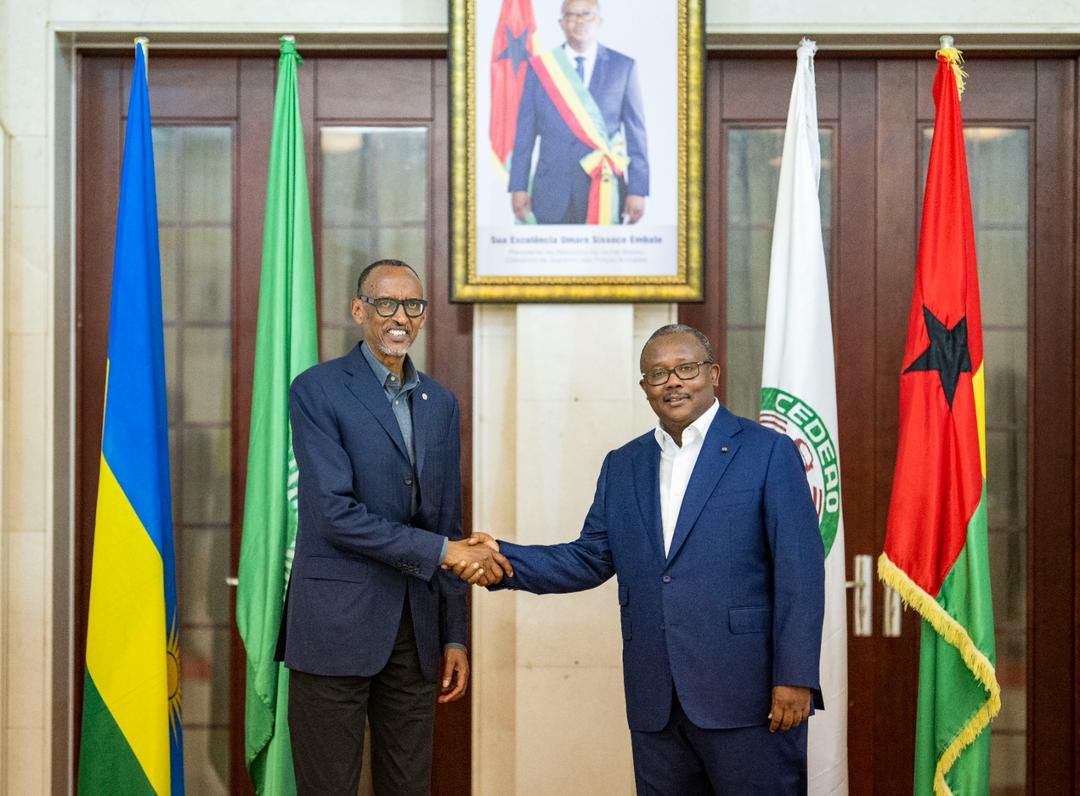 "President Kagame will be conferred the Amílcar Cabral Medal, the highest distinction in Guinea-Bissau, attributed to the heads of state of countries that are friends of Guinea-Bissau,"
"The President will visit the Mausoleum of National Heroes of Guinea-Bissau dedicated to Amílcar Lopes da Costa Cabral, Bissau-Guinean and Cape Verdean pan-Africanist who was one of Africa's foremost anti-colonial leaders, and João Bernardo "Nino" Vieira who was President of Guinea-Bissau from 1980 to 1999 and from 2005 to 2009," the Office of the President announced.
Rwanda and Guinea-Bissau's existing bilateral ties include signed agreements in different sectors including trade, education, tourism, and bilateral air service.
Later today, President Kagame will proceed to Guinea where he will meet with the Transition President Col Mamadi Doumbouya to explore bilateral cooperation between Rwanda and Guinea in various areas of common interests.