The head of catholic church Pope Francis has dismissed the 65-year-old, Father Wenceslas Munyeshyaka, according to the communique published by the Diocese of Evreux in France where he has been serving for more than 20 years.
The announcement that has immediate effect said, "By decree dated March 23, 2023, received last week, the Sovereign Pontiff Pope Francis by his supreme decision which cannot be appealed for, dismissed in poenam 'punishment' from the priestly state father Wenceslas Munyeshyaka, incardinated in the Archdiocese of Kigali (Rwanda) and currently resides in the diocese of Evreux."
Padre Munyeshyaka is exempted from all obligations arising from sacred ordination, and he has  automatically lost all rights specific to the clerical state, and excluded from the exercise of sacred ministry and cannot function as a reader or acolyte, nor distribute communion nowhere.
Father Munyeshyaka was the priest of Sainte Famille during the Genocide committed against Tutsi. He participated in the killing of thousands of Tutsi who had taken refuge at the parish. In a widely shared photo, the priest is seen with a pistol and military attire. The Pope's communiqué however, was not specific on which ground Munyeshyaka was dismissed.
Naftal Ahishakiye, the Executive Secretary of the umbrella of Genocide survivors' associatios IBUKA told the media, that it is a good decision that was long-overdue.
He said, "When he was the priest of the St. Famille Parish, he played a central role in bringing Interahamwe to kill the Tutsi who had fled at the parish."
On November 16, 2006 A military tribunal in Rwanda found Munyeshyaka guilty of rape and involvement in the 1994 genocide against Tutsi and sentenced him in absentia to life in prison.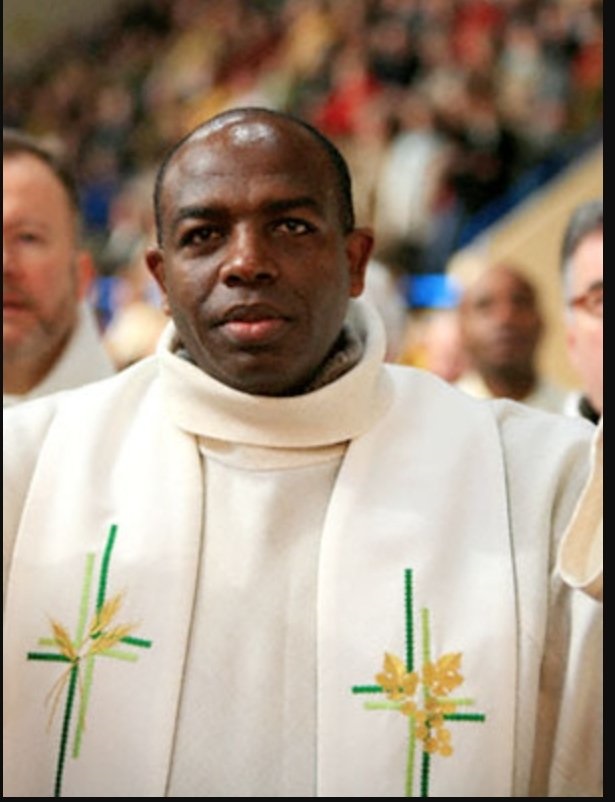 He was found to have delivered hundreds of adults and children to the genocidal militias, which brutally slaughtered them. The military tribunal found Munyeshyaka guilty of rape and of aiding militias in the killing of hundreds of Tutsi refugees at the Holy Family Parish in Kigali, where he was head priest.
In October 2015 the French government expressed disappointment that the French courts had decided to not progress the case further against Munyeshyaka due to the quality of the evidence.
Despite the controversy and his Rwandan conviction, he has been employed as a priest in France since 2001.
In late 2021, he was excommunicated by the Catholic Church because he had sired a son which illustrated that he broke his vow of celibacy.  Also, it is said by genocide survivors that he carried a pistol on his belt, even during the Mass celebration.