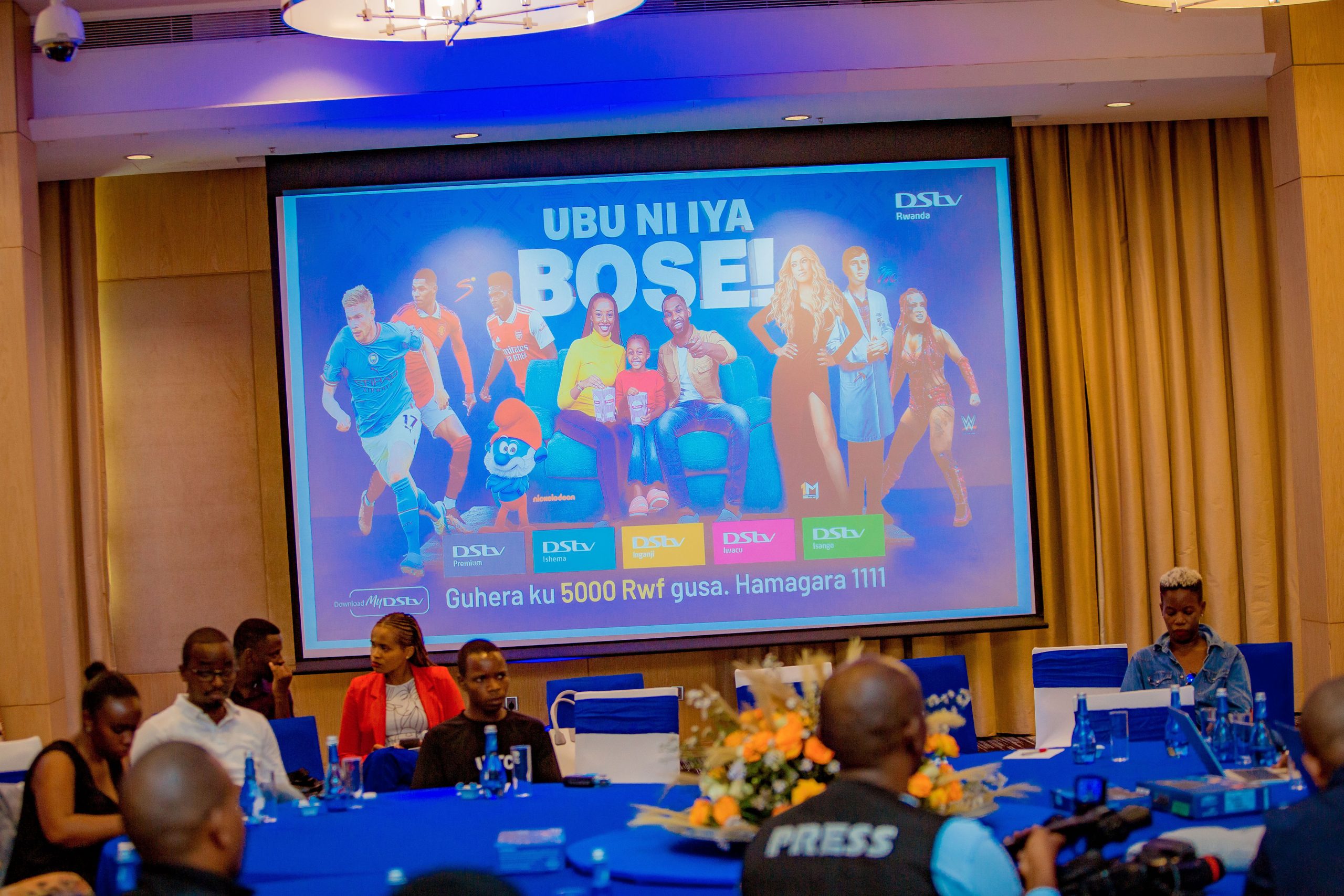 DStv Rwanda has announced a game changer in digital TV services reducing its bouquet prices in a bid to increase the number of Rwandans accessing digital television.
The announcement was made during a press roundtable held in Kigali this May 2, 2023, as part of the promoting government agenda to migrate from analog to digital TV which started in 2011.
The Rwanda Utilities Regulatory Authority (RURA) switched off over 51,000 analog TV sets on 31 July 2014, as it concluded the migration process from analog TV transmission to digital broadcasting.
The fourth quarter of 2022 RURA statistics show that there are only four companies – Tele 10 (DSTV Rwanda), Star Africa Media, Azam Media Rwanda, and Canal+ Rwanda – registered Pay TV subscribers at 436,365 whereas active subscribers were 124,496.
Despite being the oldest digital TV service provider, Tele-10 (the supplier of DSTV since 1997) has had slow market penetration with a market share of 3% (about 4000 subscribers) as a result of the high costs of its bouquet prices.
The DStv brand in Rwanda has for years been known as a service only for the rich and those in the upper and middle class, as its prices were above its few market competitors.
Augustin Muhirwa the Managing Director at Tele 10 and DStv Rwanda said that this narrative is going to change upon the launch of the "Ubu Ni Ya Bose" (DSTV for all) campaign.
"The bouquet prices, in general, have been reduced by half and this includes affordable packages for as low as Rwf5000. This will be for all Rwandans and no longer that of the rich ones as it was previously understood," Muhirwa said.
Under the new campaign to roll out more DStv services, the company is set to announce reduced prices on its four monthly bouquet offers and free offers for first-time buyers.
These include the Isange bouquet- cheapest offer at Rwf5000 from Rwf14,700; Iwacu bouquet (from Rwf23,500 to Rwf10,000); Inganji (from Rwf 31,000 to Rwf 20,000) and Ishema (from Rwf65,000 to Rwf30,000).
The new prices will be effective May 5, 2023, with the official launch event expected to be held in Kigali city and taken across the countryside for the next months.
Yvonne Museveni, the DStv Marketing Manager DTH Countries, Northern Region (East, Central & West Africa) said that they plan to leverage an increased market share and competitiveness on the new offer.
Museveni stated that with the current 4,000 subscribers, they plan to reach between 60,000 and 100,000 new subscribers annually (in the next five years) in order to meet their targets but also enhance access to quality services in Rwanda's digital transition journey.
DStv Rwanda also said that the campaign will create employment opportunities for youth and new business enterprises in Kigali and across the country.
"We will make sure in each sector there will be one youth trained on DStv technology and applications. This will add on to the already 100 technicians we employed recently," Edmond Marie Nkusi, the Head of Marketing & DStv Business.
Rwanda and Tanzania lead the rest of the African countries that have fully migrated from analog to digital television platforms according to the Africa Telecommunications Union (ATU).