May 7 was the fifth day after rains calamity befell the Western, Northern and Southern Provinces, killing 131 people and damaging scores of properties.
It is Sunday morning, and the predominantly Christian community of Rubavu District-Western Province is scattered.
There is a mixed reaction; emotions are still high and a smile low because everyone has a lot in fresh memory.
Luckily, comforting messages keep flowing from high authorities of the country and churches who have been reaching out to them, be it at the three transit sites, and in the ruins of their houses.
Every visitor is accompanied with some relief support which is yet far from being enough.
The Christians from Pentecostal church, chapel of Ruhangiro in Kabirizi cell, Rugerero sector at the shore of Sebeya river had never visited their church in the last five days.
They woke up early for the Sunday service as usual, but they were confused; from the gate, they realised that in the wake of floods, a stock of the mud had made the church inaccessible.
Nevertheless, they struggled and managed to join their two pastors and the legal representative of the church at national level who drove from capital Kigali with a comforting message.
"Our leader came with a message of hope and compassion, but he also pledged some support," said one pastor who also encouraged the Christians to "be strong in these trying moments."
The church was not exempted. It lost its annexes and some properties including the Rwf 9 million worth of music instruments for two choirs that were damaged by the floods.
The church, 400 sitting capacity, was also left with shocks.
"We shall not have a service  this week, and going forward, we shall vacate this church which should be demolished because it has been weaken by water. We cannot afford to expose our Christians' life; they have already seen a lot," the senior pastor said.
In this church, they are planning to build a bigger and stronger church and they have planned to launch fundraising campaign for next week.
"Until we finish the construction project, we shall have to assemble in a tent in the court yard," the pastor said.
At the Anglican church in Nyamiri which is in clay bricks' walls built on a stronger foundation still stands.
The Christians gathered, though in a small number, and they 'praised God for the gift of life at times when fatalities were registered elsewhere.'
"I am very thankful for being alive. I lost five houses which have been earning me more than Rwf 50,000 worth of rent per month but thank God we survived," testified a woman in her early thirties tears rolling in her eyes.
Outside church, Christians who also suffered loss of their houses tell several stories of how they survived and those include Mushimiyimana Fidele, a father of eight.
"I woke up at 3AM following an alarm and realised that my house was flooded. We tried to control the water in vain, and we fled to a nearby hill without saving anything from the waters," he said.
"We thank God that we did not lose anyone to the disaster, despite this injury on the leg," Mushimiyimana said.
Rubangiro village and the neighbouring villages of Kabirizi cell are literally an urban settlement in the outskirts of Rubavu town where houses have been mushrooming. Tenants love the neighborhood because the rent is relatively fair even for the casual labour.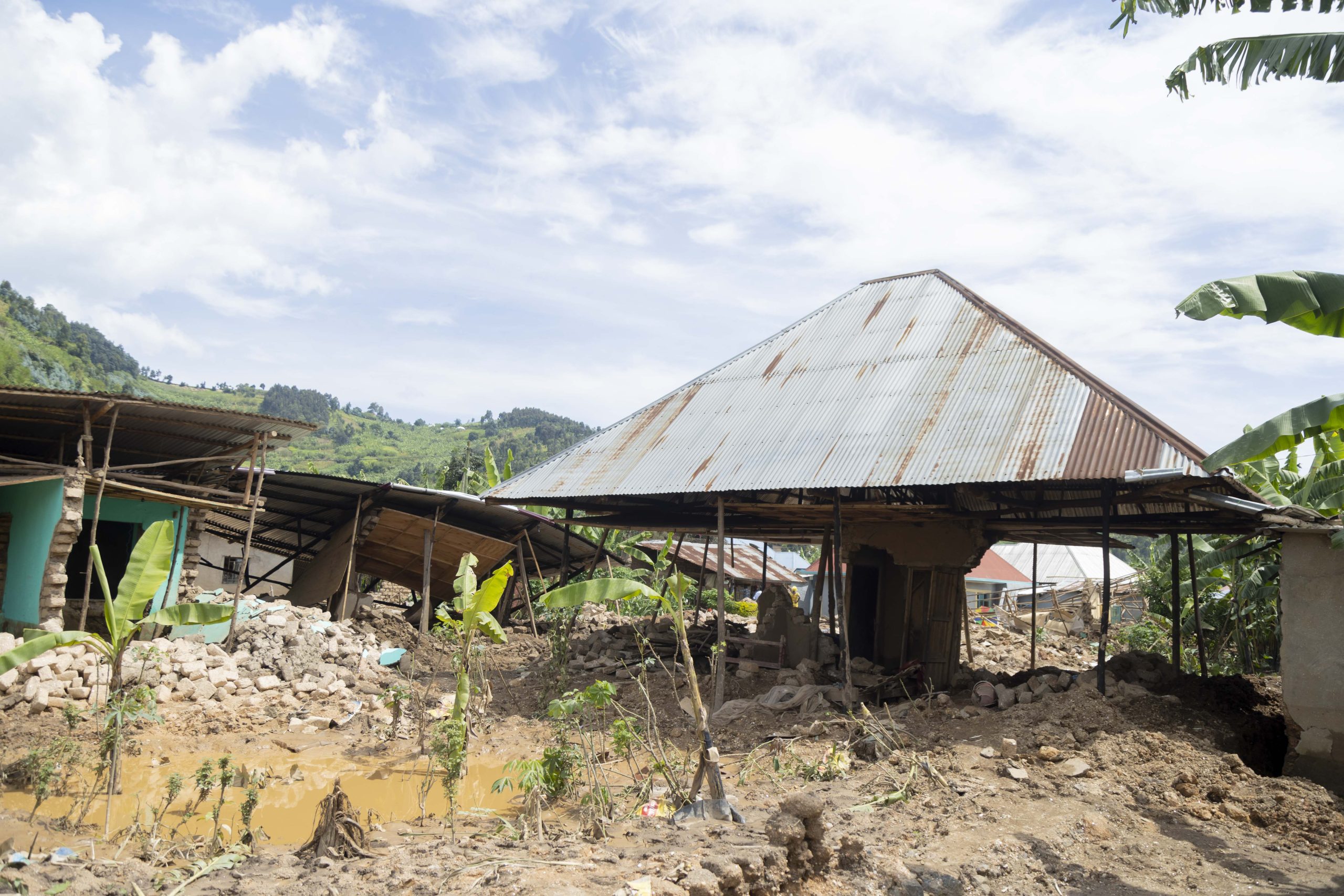 According to the Ministry of disaster management, more than 6000 houses have been affected by the rain in Western, Northern and Southern Province early this month and, of all the corners, Kabirizi cell suffered the worst; most of their houses collapsed, others are such vulnerable that the inhabitants fear to stay in them.
Quite a few others are still standing.
Sunday was a day where everyone was trying their last chance to secure something from the rubbles. They were either coming from the emergency camps of Kanyefurwe and Vision Jeunesse Nouvelles or from families that host them, to try and unearth some equipment that have been swallowed in house rubbles.
Men, like women and the youth look at the rubbles of what used to be their shelter with despair.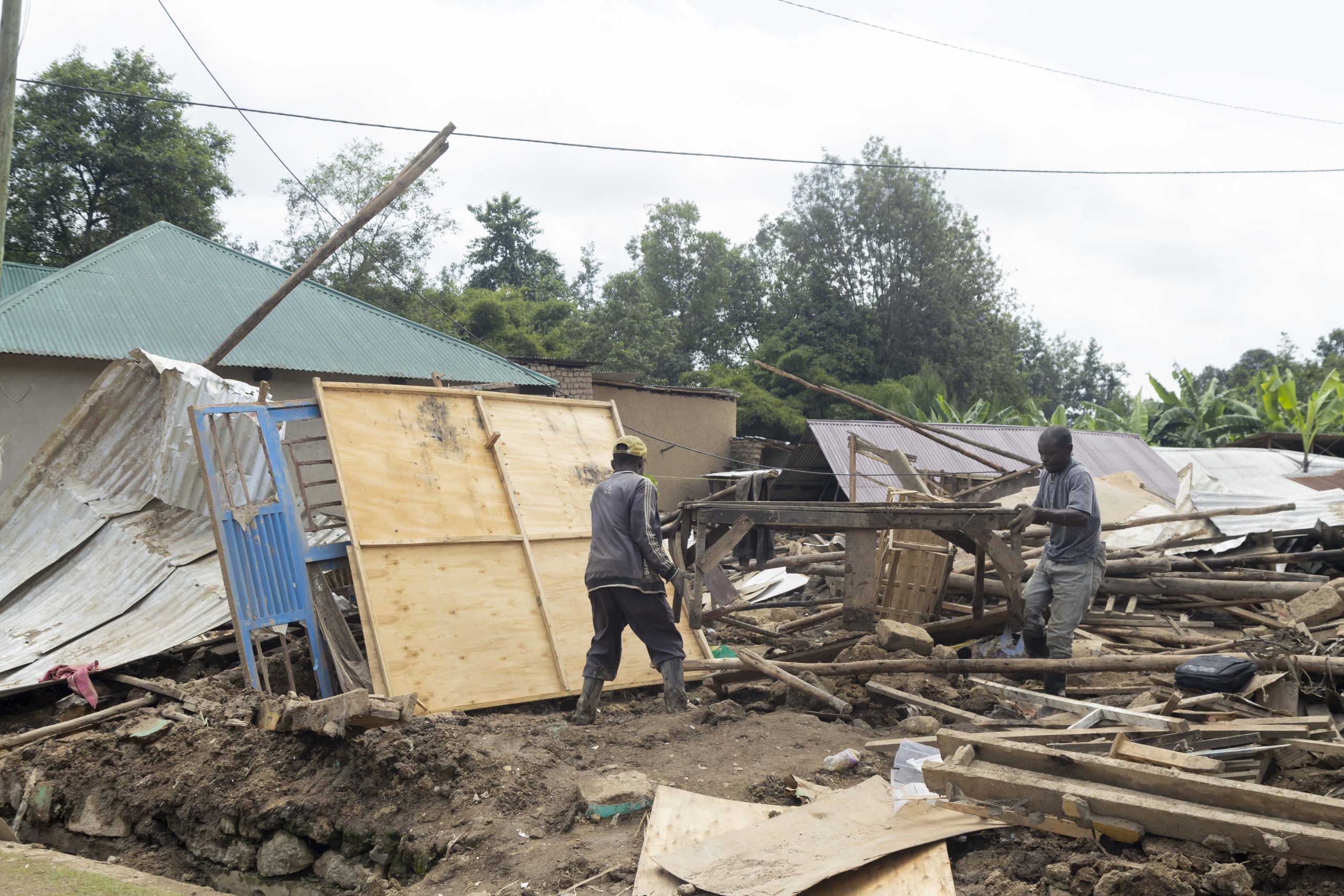 "My bed is underneath these rubble, my clothes too. Several utensils and equipment were either carried by the flood or swallowed by the debris," said Bizimungu Donatien from Nyamiri village.
The father of six lost his three houses which left him saddened.
"We have been here for the last twenty-three years. Our eyes had never seen such an evil before," said Bizimungu.
In Kabirizi cell, most residents vacated to the emergency centres, but some had no choice, but to stay in the debris and those include Dusabimana Jean Damascene from Nyamiri village.
He sleeps 'under a roof' of iron sheets that sits in his plot to keep the cow he got from one cow program-Girinka munyarwanda. His four children joined their mother in the emergency camp.
Survivors of the rains disaster are now sheltered in the transit centres as officials gather the support of first aids.
Photos by Moise Niyonzima