Rwanda and Italy have announced plans to work together towards reviving the former embassy in Rome that has been closed for decades.
The announcement was made this June 5, 2023, during the opening of the new Italian consulate offices in the City of Kigali and presided over by the Rwanda Ministry of Foreign Affairs and International Cooperation (Minaffet) and the Italian Ambassador in Uganda.
Ambassador Guillaume Kavaruganda, Minaffet Director General to Europe, the Americas, and International Organizations said that the opening of the new consulate is a sign that the relationship between both countries is growing in areas of cooperation in education, gas mining, security, preservation and ranger skills development.
Kavaruganda revealed that though the relationship has been growing, the Rwandan embassy in Italy was closed before 1994, and has never been reopened due to various constraints including economic disruptions.
"We now wish to have this relationship moved to another level where both countries have full ambassadors. We all agree that these embassies should be established and this idea is on plan though it was delayed by COVID-19," Kavaruganda said.
Massimiliano Mazzanti, the Italian Ambassador for Rwanda, Uganda, and Burundi said that opening a new consulate in Kigali is a step towards a bigger plan to upgrade the Kigali consulate to an embassy status.
He said that by having an embassy in Kigali, it will be part of upgrading Italy's diplomatic relations on a reciprocal basis which is currently being discussed among ministries.
"We need continuity and presence and I think that we need to reflect it with a solid presence, both in Rome and in Kigali," he said.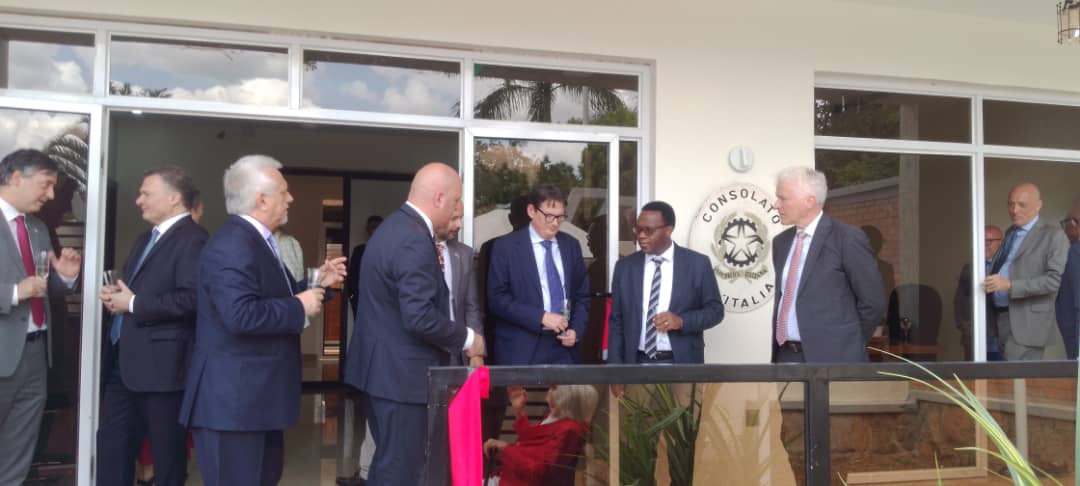 Meanwhile, the new Consulate is expected to improve services for Rwandans and Italians living in Rwanda who will now access services within the city center- such as visas, passports, document legalization, emergency travel documents and assistance, and so on.
Giovanni Davite, the new Honorary Italian consul who was born in DR Congo and has lived in Rwanda since the 1960s said that he is ready to serve using his experience in Rwanda.
"I am a very busy businessman but when I was approached to serve as the honorary consul, I accepted the job because there is no better opportunity than to serve the countries I love," Davite said.
Rwanda has had an Italian Consulate since the 1970s, which was formerly located in the Kigali Parc Industriel until 2018, and then relocated to Kanzenze (Nyamata) in Bugesera district, a location which was about 45 minutes out of Kigali.