President Paul Kagame on Monday participated in the groundbreaking ceremony of Zaria Court Kigali- an urban development project being undertaken by Masai Ujiri, co-founder of Giants of Africa and president and vice-chairman of the NBA's Toronto Raptors, which is expected to add value to the Kigali Sports City.
The Head of State hailed the partnership between the Government of Rwanda, Masai Ujiri and partners, pointing out that what started simply as an idea is now bearing fruits, thanks to a shared vision which is aimed at tapping into the full potential the sports industry has.
Located in Remera, Gasabo district, at the former RBC Headquarters, the urban hospitality hub is expected to create over 500 jobs in hospitality and tourism and it will feature an 80-room boutique hotel, restaurants, a rooftop lounge, a gym, wellness spaces, co-working spaces and a podcast studio.
At the heart of the site is a multi-purpose court, which will serve as a space for sporting events, festivals, performances, markets and other events.
The Government of Rwanda allocated the land to the investors, who include Andrew Feinstein, a co-sponsor of the project, along with Ujiri, to develop a state-of-the-art sports and entertainment complex which is expected to complement the already existing BK Arena and Amahoro National Stadium which is under renovation.
Speaking at the groundbreaking ceremony, President Kagame reiterated Ujiri's earlier message that the highly anticipated facility came out of the same dream the BK Arena was born, after the Head of State met Ujiri in Toronto at the 2016 all-star game and discussed what can be done to transform Africa's sports industry and make it lucrative.
President Kagame said that since meeting Ujiri they have been able to work together and many things have happened since then, highlighting some of the achievements in building the whole sports ecosystem, including several of the basketball courts which have been set up in partnership with Giants of Africa.
"Above all he is a doer, he does things, and testimony to that is what we are experiencing here," President Kagame said, jokingly adding that the only thing Masai has failed is to convert him into a Toronto Raptors' fan, mainly because he was already supporting another team in the NBA, the Golden State Warriors.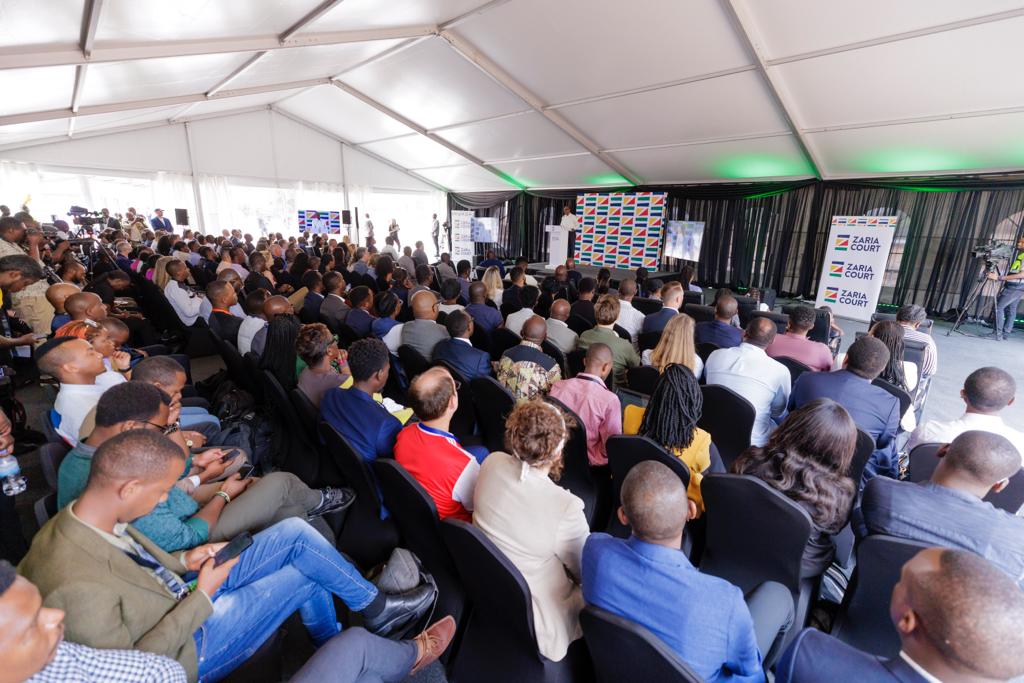 Outside the jokes, President Kagame said that he was grateful that he has been able to work with Masai Ujiri
"We have been able to work together, and many things have happened, including now this one that is coming up, Zaria Court, and the whole ecosystem built around it, as he said,"
"It doesn't stop here. It spreads across Rwanda, the region and our continent. Masai told you many stories about the meeting we had in Toronto. He invited me to go and watch the All-Star Game and how that resulted into building the arena," President Kagame said.
Echoing the earlier message by Ujiri, about African countries not doing much to develop the sports industry, President Kagame said that since the arena was built, several African heads of state have visited Rwanda and the sports facility, promising to go back home and build even much bigger arenas than Rwanda's.
"I encourage them to do that. I tell them after all, you have more and more reasons to do that, please go ahead and do it. So, it starts with one thing then it spreads," he said, adding that he is still following up and nudging them to make sure that they keep their word.
Referring to how his encounter with Masai Ujiri led to the birth of a beautiful story, he said there could have been some challenges that slowed the progress but eventually they came to bring the dream to reality, albeit with some delays, but it goes to show that if people put their minds to something, it can be done.
"We might have been slow in different places, on different aspects, but I think it's been growing and growing and I think there is a lot more to come than we have already seen," President Kagame said in reference to the partnership.
President Kagame emphasized the government's commitment to support efforts to develop the sports and leisure industry, even though the country might not have the resources required but through such partnerships, a lot more can be done.
It starts by identifying where the potential and talent around is and the next step would be thinking how to leverage the opportunities and as far as he is concerned, Africa has limitless options if this talent can be nurtured and tapped into.
"The potential is enormous, it is actually limitless. There is a lot that can be nurtured and grown here in our continent and that connects with many other things, other sectors. You know, it's not a secret how in Africa sports is a big thing. The poor the rich, everyone is just connecting with that every day, every moment,"
"That helps the spirit to grow, even in other areas of development. Therefore, it will grow the infrastructure, it will grow economies, it contributes to tourism, it does many things. So, this is not just as we see it. It's much bigger than what is seen by the eyes," he said thanking Ujiri, Andrew and everyone who is supporting the growth.
On his part, Feinstein, the co-sponsor of the project, he said tourism first brought him to Rwanda many years ago and sports made him return, pointing out that the two sectors go hand-in-hand.
The American entrepreneur, who is the CEO and Managing Partner of Denver-based EXDO Development said that when he returned to Colorado from his visit to Rwanda, he found that Masai Ujiri had been hired by his favourite NBA team, the Denver Nuggets.
"So, in 2010, after I visited this beautiful and inspiring country for the first time, I went back to my home in Denver and my beloved Denver Nuggets had hired Masai,"
"At the time as he was the first ever African born person to lead a Western sports franchise in history of the world and after when I met Masai after he got the job, we bonded over two things, a basketball and Africa. I love a basketball and I love Africa," Feinstein said.
Soon after, Masai asked me to join him on summer, excursions for Giants of Africa, which he co-founded 20 years go and that is when he got inspired to join efforts to develop Africa's sports industry.
He pointed out that President Kagame's vision, which led to the birth of the BK Arena and the ongoing renovation of Amahoro Stadium align with their vision, which sports infrastructure development, which he is renowned for back home.
"Both incredible, transformational projects. When Masai invited me to tour the completion of BK arena, and walk these grounds with yourself and offered me this opportunity to participate, in a small way, in the future of the Kigali Sports City, it's really been one of the greatest honours of my life," he added.
Feinstein said that both President Kagame and Masai Ujiri are winners who are determined to achieve a lot whether it's sports or real estate development and that is what inspired him to join in with the Zaria Courts project to align with the vision.
He thanked President Kagame and the Government of Rwanda for allocating them land to build the ultra-sports and entertainment hub and equally thanked Rwanda Development Board (RDB) for easing the way people do business in Rwanda.