Rwanda's national team Amavubi stars bowed out of 2023 African Cup of Nations Qualifiers after a 1-all draw with Senegal on Saturday, ending any slim hopes left to make it to the tournament to be hosted by Cote de Ivoire next year.
Gérard Buscher's side drew 1-1 with Senegal in their final Group L match of the Africa Cup of Nation Qualifiers on Saturday night at Huye Stadium thanks to an injury-time goal from Olivier 'Seif' Niyonzima.
This meaningless tie saw Amavubi's 2023 AFCON Qualifiers campaign end without a victory, while the Lions of Teranga finished first in their group and secured a berth at the AFCON that will be held in Ivory Coast in January 2024.
Despite bringing what could be considered a second team, Senegal managed to score first against Rwanda, who were playing in front of their home crowd, through 20-year-old Mamadou Lamine Camara's brilliant header in the 65th minute. However, it took Rwanda until the 95th minute to tie the score when Olivier 'Seif' Niyonzima scored with his head after turning in a corner kick from Christian Ishimwe.
The two teams entered the match aware that the result would not affect their standings in Group L as Senegal had already qualified for the 2024 AFCON, whereas Rwanda already had no chance of doing so.
The game started with an impressive attempt from Rwanda to score by team captain Djihad Bizimana, but his incredible shot was saved by the Senegal goalie Pape Mamadou and sent into the corner.
Buscher's men had plenty of possession thanks to the likes of Djihad Bizimana and Lague Byiringiro, who contributed significantly to having more possession, but lacked creativity and failed to produce anything meaningful such as a goal. Gilbert Mugisha attempted a 25-yard shot in the 31st minute, but it was blocked and only flew wide.
Senegal failed to attempt a single shot on target before the first half ended, illustrating how dominant Amavubi were in the first half. The pair went at halftime break in a goalless draw.
Pape Ndiaw's team started the second half strong, dominating Rwanda. In the 48th minute, the Lions of Teranga thought they should have been given a penalty after Rwanda's centre-back Isaac Mitima seemed to touch the ball with his hand, but the match official was undoubtedly watching the play and ruled it out.
Innocent Nshuti received a superb pass from Lague Byiringiro in the 52nd minute, but his attempt at a header went wide. After two minutes, Nshuti again ran with the ball by himself but didn't do much more than get stopped by the Senegal defenders to send it for a corner kick.
From then forward, Rwanda regained the upper hand, creating multiple chances and controlling the ball well, and in the 58th minute, Mitima missed a free-header that went just wide of the goal after Christian Ishimwe converted a brilliant corner kick.
In the 61st minute, Fitina Omborenga crossed an excellent pass to Bosco Ruboneka in the penalty area but failed to control it well enough to score.
Senegal proved to be clinical when Lamine Camara headed in a free kick from Cheikh Sidibe in the 65th minute to give them a 1-0 lead.
Shortly afterwards, Buscher made an immediate substitution, replacing Gilbert Mugisha with Ramadhan Niyibizi. Didier Mugisha came on for Nshuti Innocent in the 73rd minute.
The Lions of Teranga, who were ahead with one goal, capitalized on that advantage by outplaying Buscher's team with the help of their young front-line players, particularly 15-year-old wonderkid Amara Diouf, who entered the game late and greatly taxed Amavubi's defence as well as Fiacre Ntwali with his dribbles and persistent shots. Ntwali, however, adroitly handled these minutes, making crucial saves for the team.
Didier Mugisha controlled the ball gently and fired a shot that just missed the target in the 92nd minute, making Rwandan supporters think they had scored. A few minutes later, Amavubi ultimately scored through a header from Olivier 'Seif' Niyonzima in stoppage time, turning in a corner kick from Christian Ishimwe in the 95th minute, and the match ended in a 1-1 draw.
In contrast, Mozambique qualified for the forthcoming AFCON, breaking a 13-year streak of failure to do so, thanks to an injury-time goal by Clesio Bauque to defeat 3-2 and join Senegal to represent Group L at the 2024 AFCON.
The Lions of Teranga finished first with 14 points, the Mambas came in second place with 10 points, The Cheetahs grabbed a third-place finish with five points, and Amavubi finished at the bottom of the group with three points.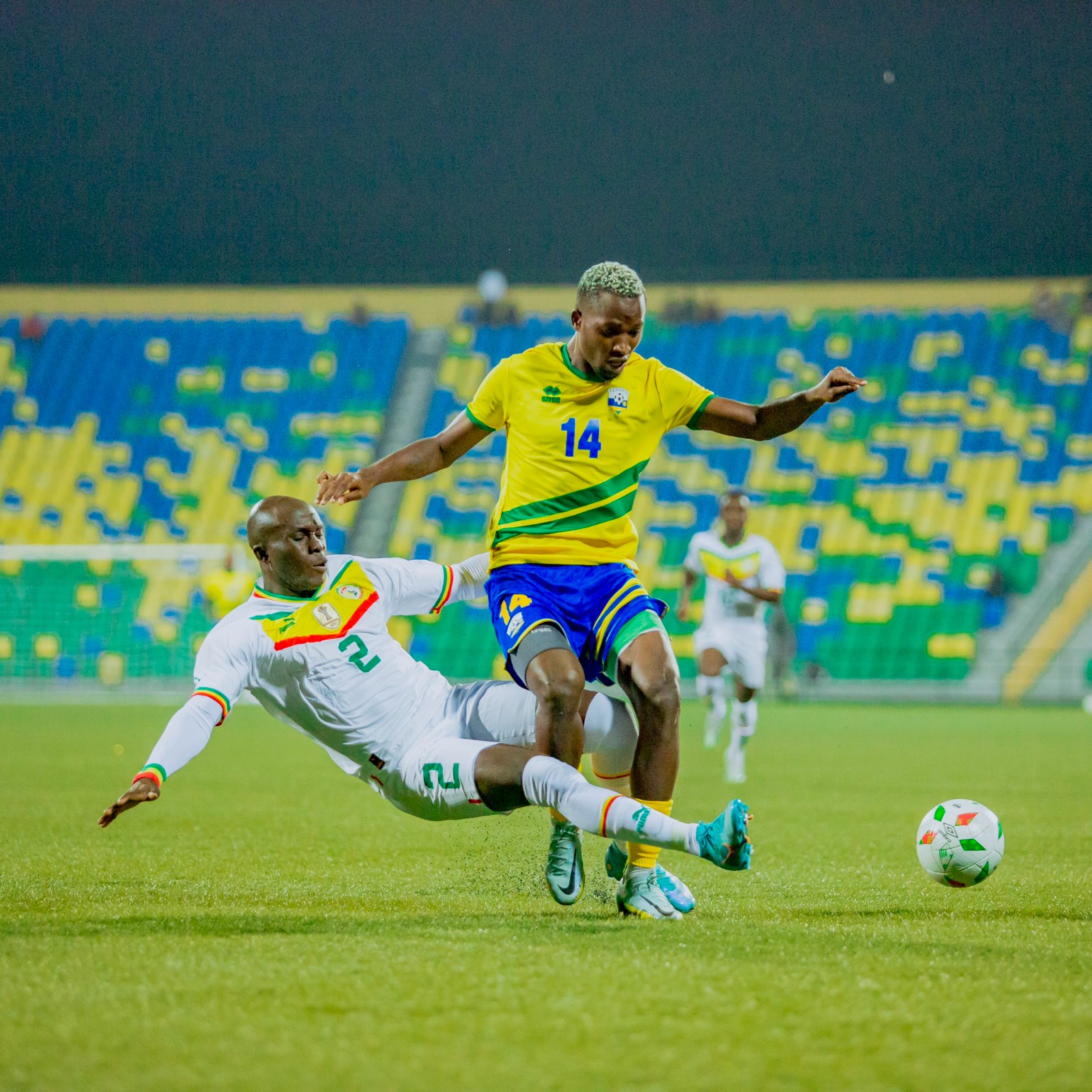 Despite the fact that Rwanda tied Senegal minors, we observed an improved Amavubi in terms of having plenty of ball possession, dribbling and making passes firmly, which they had been lacking in previous years.
Last night's match also indicated the need for changes in calling up and summoning according to current form rather than just name. Isaac Mitima, for instance, who was handed a late call-up to replace Thierry Manzi; everyone remembers his stunning free header in the 58th minute that would have fired Rwandans to the brink of their dream.
Unfortunately, it missed the goal, but he had a memorable national team debut, putting forth a standout performance and displacing Rayon Sports teammate Abdul Rwatubyaye.
Didier Mugisha, who came on for Nshuti Innocent in the 73rd minute, is another quick example. He spared no effort in demonstrating his ability to control the ball delicately and fire imposing shots ruthlessly. Basically, these boys just need a reliable gaffer.
We might see some significant changes in the upcoming World Cup African Qualifiers slated for November, if the team quickly appoints a trustworthy head coach.