President Paul Kagame has shared with the global community the top secret behind Rwanda's success story which has enabled the country to come out of a state of devastation during the 1994 genocide against Tutsi to a country with a clear direction.
Kagame was speaking at the ongoing 7th Edition of the Future Investment Initiative (FII) in Riyad where he shared the Rwandan story on Day 2 of the meeting which centred of the subject of innovations working around the world- "The New Compass"
In a discussion led by Richard Attias, CEO FII institute, Executive Chairman Richard Attias& Associates (RA&A), President Kagame was asked to explain the secrets, strategies and motivation behind his leadership that has enabled Rwanda to be recognized on the global platform in many aspects.
Kagame noted that this is about beliefs, not hesitating and confidence in a country's sense of direction.
"As far as I understand it is not a secret or some kind of magic. It is just being decided. And for us the tragic history has also helped us because we had to make a decision- whether we disappear on the face of this earth because of the tragedy or to come out doing the best we can for ourselves and moving on like, maybe it has happened, with some progress," Kagame explained.
Asked on what strategies have helped Rwanda achieve all the results in health, gender equality, ICT innovation and financial hub in Africa, Fastest growing economy and leading in peace and security efforts and considered one of the most secure places on earth, Kagame said that Rwanda took a choice of rallying the community to work together, building unity in all aspects of life, investment in human capital and also creating an enabling environment that can aid Rwandans to do the best they can.
In this environment, Kagame stated that accountability was crucial and ensuring the country's goals are not dettered.
"The accountability that ensures that everything we do is aimed at achieving a certain goal. We don't allow diversions of different kinds that would eat away what we have invested in," he said.
On human capital and gender equality, Kagame said that it is simple logic to empower women because 52% are women and questioned what would happen if excluded, however noted that it is also a human right for women to have their rights considering the role they play in life.
"In fact, we are lucky we are born to women- all of us. There is a woman in everybody's life. No question about it. So, how can you at some point forget the existence of the very people who bring us to existence," Kagame explained.
Borrowing from his life as a refugee for over 30 years, Kagame said women played a direct role in the liberation struggle and thus it is a basic fact and proven to be right to empower and invest in women.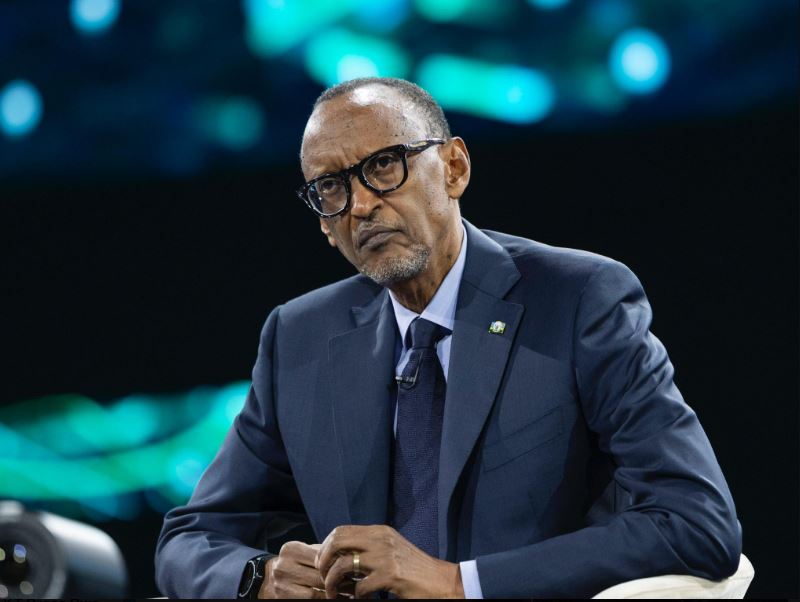 "It is the country that gains. That is our thinking and it has proven us right. I think wherever they have tried it, it has been proven right as well," Kagame said.
The FII edition 2023 is intended to promote investments and act as a platform to share their money across the world but especially in Africa, which currently has a big market potential of 1.4billion people and natural resources.
Attias asked Kagame's opinion on why the investor should invest in Africa without hesitation despite the coups on the continent and insecurity concerns spread all over African regions.
"It is a big mistake to not invest in Africa. There is no question about it," Kagame said, Africa has a potential market which is not a simple issue to ignore because this can create problems.
Kagame clarified that Africa is not one country but many countries and the problems inside the continent are not exclusively for Africans, and stated that even the investors come from countries with one or two problems.
"The point I want to make is that we should first of all understand what the problems are, and not exaggerate and also understand that africans and their leaders want to do their best to address these problems that have kept all of us behind-the rest of the world," Kagame clarified his point of view.
Kagame also said that people should go beyond the coups and find the possible cause and their origins even when they seem to be military yet some are civilians and there is an interconnection of causes, thus should not be coined in Africa especially since there are aspects of colonization.
For example, Kagame said that the coups and bad governance seen in Africa are related to the amount of control that former colonizers still maintain on the continent and the coups happen on the watch of people from outside.
Kagame advised that it is not right to jump into blaming Africans for having coups but possibly they should be blamed for letting them happen in the first place.
Kagame used the platform to call on investors to invest in Rwanda in the areas of health and education, food security, Infrastructure (real estate) and Technology (ICTs).
On his compass, Kagame said that it rotates around Africa, Rwanda and wants more people to learn, cooperate and work with each other as a way of moving forward, however attain this by investing in the youth.
On a personal level, Kagame responded to a question on lack of good leadership, saying that it is a hard question but stated that leaders arise from the choices they make and how they affect their people.
"Leadership is about what makes sense to the leader but more importantly to the people we lead. So, if we keep a fix on that and not just tell stories that don't amount to anything," he said.
"I think we should be more practical, more pragmatic and focused on performance and result- how we benefit people," Kagame said adding that this is what Rwanda has done and can be proven in results on ground.