Kenyan elephant research scientist and activist against poaching and trade in ivory, Dr.  Jim Justus Nyamu, says that elephants are in major trouble and have disappeared in many African countries.
The ecologist who is also the Executive Director for Elephant Neighbors Center (ENC) is expected to cover a total of 3000 kilometres, conducting the campaign dubbed "Ivory belongs to elephants" in four EAC member countries. They include Kenya, Rwanda, Uganda, and Democratic republic of Congo (RDC). He expects to conclude his campaign on October 15, in DRC.
"Looking at the population of elephants, they have really disappeared. I resigned in 2009 when we started losing so many elephants, and in four countries in Africa; Zimbabwe, Botswana, South Africa, and…. Their population decreased. They lifted the ban on Ivory in those countries. The four countries were given go ahead to start trading Ivory, so we realised the decline of elephants across East Africa and some countries of South Africa," Nyamu told Kigalitoday multimedia team on October 4.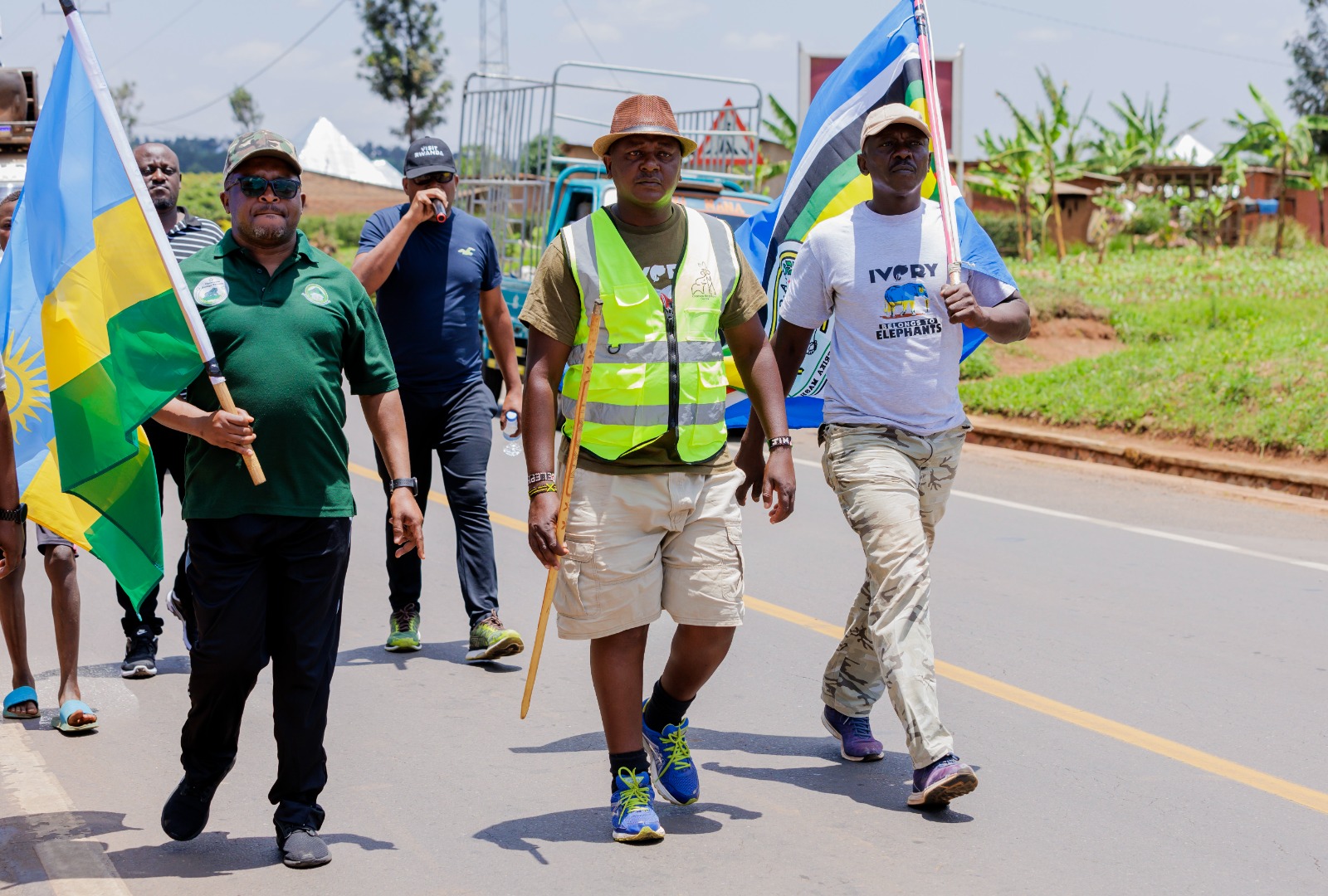 "We can't keep blaming China for killing elephants, basically Africans were killing elephants. So, I decided to stop writing research journals and start educating our people. So, I chose elephants as a species because when we conserve the elephants, we bring other species, yes elephants play a significant role, but these poachers also kill rhinos. When we bring elephants together, there are species that bring other species together. We call them the multiple species associator," he added.
He pointed out that he left Kenya on July 29,, travelled to Uganda, and entered Rwanda through Kagitumba border and walked to Akagera national park, meeting communities neighbouring the park and educating them about the importance of conservation.
According to the WorldAtlas, Rwanda has about 100 elephants, and their population has been growing in recent years. The elephants found in Rwanda are mostly savanna elephants.
The number of African forest elephants has fallen by more than 86% over a 31-year period, according to WorldAtlas.
In Rwanda, everyone is engaged
For a couple of days meeting communities, Dr. Nyamu says most people in Rwanda understand the benefits of conserving nature and are engaged. However, more efforts need to be integrated, especially bee keeping because it is "a bee country."
"I want to say a big thank you to the people of Rwanda, Rwanda Development Board, Akagera National Park, and the African Parks by bringing communities together. We cannot conserve unless we bring everybody together, we have seen it in different other countries, what is making it hard is when our borders are porous, when a country cannot speak with her neighbour," Dr Nyamu stated.
"You can choose who your friend is, but you cannot choose who your neighbour is. Let us work together with our neighbours. My campaign is actually supporting the elephant coalition; let's first speak among ourselves, there are some countries that don't have these animals and should be helped to reintegrate them. Kenya is willing to donate 11 rhinos to Rwanda, Kenya is willing to donate 300 hyenas to Uganda, this is one thing that we are actually asking," he continued.
According to Dr. Nyamu, community work, also locally known as Umuganda is among initiatives that is used to bring people together for the common goal like conservation.
"I stopped at one of the centres and people were asking me what else we can do.  Communities are willing to support, let us engage them, let us give them opportunities, not only seeing these animals, but even when we are cleaning our park, even when we are celebrating the world elephant day, the world environment day, let us engage them. This is one way of making them responsible and also participating in the conservation agenda," he said.