The World Travel and Tourism Council (WTTC) 23rd Global Summit officially opened in Kigali, Rwanda, on Thursday, with President Paul Kagame of Rwanda, President Samia Suluhu Hassan of Tanzania, Vice-President Prosper Bazombanza of Burundi, calling for liberalized travel across the region and the continent.
In his keynote address, President Kagame called for the opening of African skies and removal of visa restrictions to allow Africans to travel freely across the continent, pointing out that Africa is the future of travel with its fast-growing middle class hungry to explore.
The two and a half day summit, the first WTTC summit to be held on the African continent, brings together over 1,500 delegates from across the continent and the globe to discuss the future of the travel and tourism industry, amidst a positive recovery trajectory.
President Kagame thanked WTTC for choosing Rwanda as the venue for this year's summit, and for the excellent work they have done to support the travel and tourism sectors not just on the African continent but also globally.
The Head of State used the opportunity to highlight Rwanda's openness to receive people from across the world, who can use the country as a connecting point to the rest of the continent and the world, just as Rwanda benefits from what other countries have to offer.
President Kagame said that as the high cost of travel on the continent and visa restrictions continue to make it difficult for Africans to travel as they wish, calling on African countries to address these impediments.
"Globally, the travel and tourism industry has recovered strongly but the high cost of travel to Africa and within Africa remains a barrier. Implementation of the single African Air transport Market is an important priority," President Kagame said, adding that Rwanda has done her part, removing visa restrictions from citizens of all African countries as well as many other countries to make travel to the country easier.
Referring to the East African Community, President Kagame said the bloc is actually a single destination with attractions and experiments that reinforce one another, which they can leverage to boost revenues generated from the two tourism and travel industries.
The Head of State spoke about Rwanda's tragic and destructive past, characterised by the 1994 Genocide against the Tutsi, but the country has since been able to pick up the pieces and today it is
"Almost [30] years ago, Rwanda experienced its darkest moment. This was a place that people fled from, a situation that the world looked away from in horror, but we vowed not to let the past define us. This meant building a nation where all Rwandans live in peace and dignity," President Kagame said.
In doing what they did, President Kagame said the government imagined a Rwanda anyone in the world would want to travel to and that is why tourism is a key driver of economic growth and employment.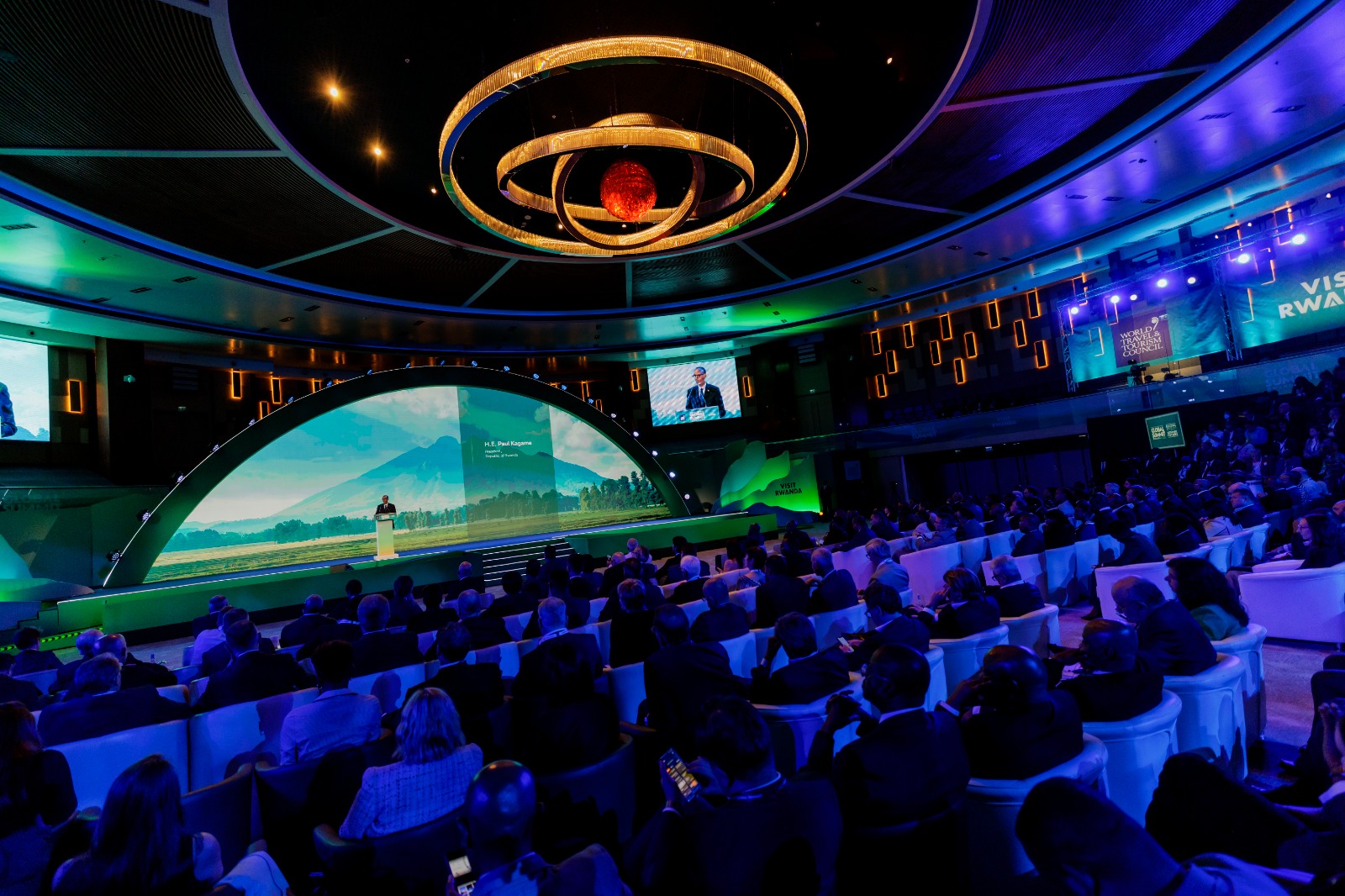 "We have not been disappointed. Every year we welcome so many visitors who come to Rwanda to enjoy the unique natural beauty, to attend sporting events or participate in gatherings like this one,"
"This is a privilege and trust that we don't take for granted. Conservation is a big part of our strategy to build a sustainable future," he said, highlighting  some of the gains registered so far, such as Nyungwe Forest National Park being designated as a world heritage site.
Among other things, he said Rwanda is investing in infrastructure to host global events like the WTTC summit as well as other facilities that can help the country tap into the continental and global market.
"Africa is the future of tourism, as the middle class continues to grow in the next decade to come. We must work together to continue developing Africa into a premier destination to travel," pointed out.
Arnold Donald, Chair WTTC, said that investment in Travel and Tourism in Africa has risen at a much stronger rate than the global average since 2000 -something he said is a good sign for the industries, citing Rwanda as one of the countries that have showed how it is done.
"Between 2000 and 2019 investment increased by nearly 350%, that's about three and a half times, and at a broadly consistent rate across the continent. Today, here in Rwanda, we send a resounding message to the world: the heart of Travel & Tourism beats strongly here in Africa," Donald said.
He hailed President  Kagame and the Government of Rwanda for their efforts to transform the tourism sector,
refering to the sector which attracted US$173 million in revenues in 2022.
"And better still, Rwanda's Travel & Tourism sector is forecast to rise to US$194 million, and in the next decade, it is expected to grow substantially even more — creating hundreds of thousands of new jobs," he said
Donald said that country's commitment to carbon-neutrality and conservation is an example to the rest of the world and it aligns perfectly with this year's summit theme.
One her part Julia Simpson, WTTC CEO and President 10 years ago, Rwanda didn't even rank in the top 150 countries for ease of doing business but today it is day, it's in the top 20 and one can register a new company in just six hours.
Simpson said that nearly 30 years ago no one would have thought of Rwanda's progress today and the hope it gives many people, citing a story of a young man in the startup world she encountered who she said is an epitome of everything Rwanda stands for.
"This is a country, almost thirty years ago, was torn apart. Three decades on, it's a nation transformed. Strong, united. Today Travel & Tourism is the single largest source of foreign earnings. By the end of 2023, it is forecast to be 8.2% of GDP, employing over 350,000 people," Simpson said.
"That's what we mean when we talk about the economic opportunity of travel. And it's not just Rwanda. Africa – this remarkable continent – has transformed too. In just two decades, tourism has more than doubled. 84 million overnight international visitors added $186 billion dollars to Africa's GDP in 2019 – 7 percent of the region's entire economy," Simpson said, adding that the forecast for the next ten years is even brighter.
She pointed out that Africa's tourism sector is set to grow 6.5% every year – almost twice as fast as the wider economy, pointing to a new report which shows how Travel & Tourism in Africa could boost continent's economy by US$168BN over the next 10 years
African sector expected to grow 6.5% per year over the next decade, according to the report, 'Unlocking Opportunities for Travel & Tourism Growth in Africa', which was unveiled in Kigali on Thursday.
This potential growth, according to the report, is dependent on three key policies to unlock annualised growth of 6.5%, reaching a contribution of more than US$ 350BN.
The report includes a policy package focused on improving Africa's growth based on air infrastructure, visa facilitation and tourism marketing.
Travel & Tourism is a powerhouse sector in Africa, with a contribution of more than US$ 186BN to the region's economy in 2019, welcoming 84 million international travellers.
The sector is also essential for employment, providing livelihoods to 25 million people, equating to 5.6% of all the jobs in the region.