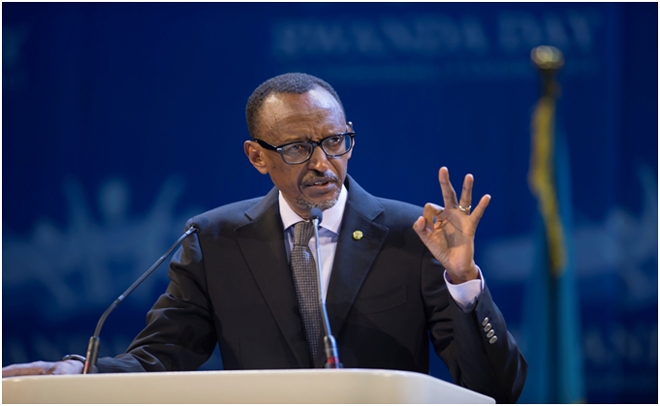 President Paul Kagame has advised Rwandan fugitives living abroad to reconsider their status and return home promising them pardon despite the gravity of their cases.
"Our coming here is a way of inviting you to repatriate. Even if you would have something that makes you detest your country, we can forgive you because you are one of us," Kagame told thousands of Rwanda Diaspora during Rwanda Day event held in the Netherlands capital, Amsterdam.
Kagame also warned exiled Rwandans that the host countries in Europe are overwhelmed by the current surge of refugees and may soon run out of compassion.
He said that European countries are now reviewing cases of asylum seekers so that the only vulnerable ones can be accommodated.
The President asked Rwandans who sought asylum in European countries to repatriate as a matter of urgency.
Cases of criminals who fled their peaceful mother land-Rwanda, pretending to be political refugees will be discovered and asked to leave.
Thus, he said of western countries, "Have a favorable understanding, but they sometimes abuse it because they welcome people who pretend to escape from a democracy crisis, yet they are criminals. Then they are given airtime on radio and television…their cases will be soon revealed."
On top of other asylum seekers whose record is not always clean, the Netherlands hosts 17 Rwandans suspected of Genocide crimes committed against Tutsi in 1994, but their extradition is delaying for the last 20 years.
In a visit to Rwanda last month, the Netherlands MPs said their country has the rule of law and any decision to extradite suspects has to be looked at carefully.
"We are not a country where criminals should expect safe haven. But we are a country of peace and we need to always strike a balance between the two," Sharon Sesthuizen head of delegation told KT Press then.
Choosing to repatriate means choosing dignity. Kagame said; "It is easy to sit around and live with leftovers but it means giving up to your dignity and freedom of choice."
He said no worries as of the size of Rwanda, where old regimes had denied some people a home because Rwanda was too small to accommodate its returnees. "We are not like the previous regimes," Kagame said.