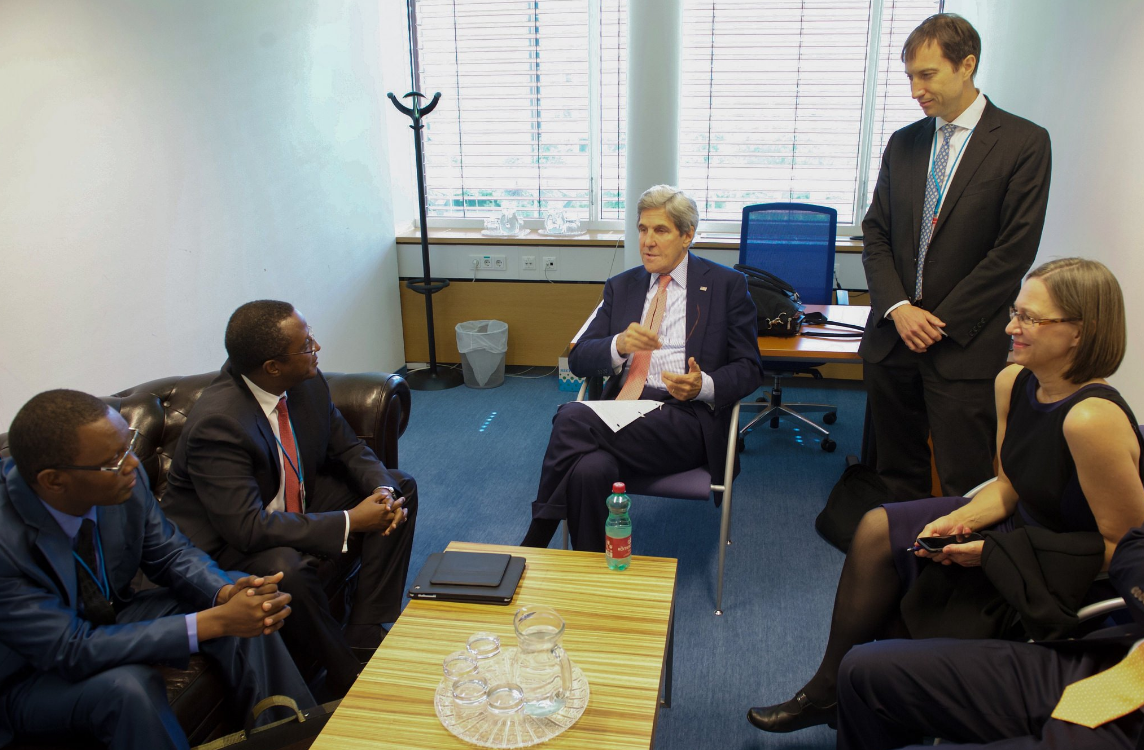 Rwanda's Natural resources minister Dr. Vincent Biruta (2ndL) chatting with US Secretary of state John Kerry (c)
Come October, senior officials from 200 countries will descend on the Rwandan capital Kigali to put pen to paper for a global deal that has been billed as the 'biggest single measure to limit global warming' – bigger than the COP12 Paris Agreement in December last year.
For about two weeks until late Sunday morning, ministers from across have been holed up in back-breaking negotiations in Vienna. Natural resources minister Dr. Vincent Biruta represented Rwanda. US Secretary of state John Kerry attended the final days of the marathon talks which worked out the final text. The big party for a final deal will be in Kigali.
Even though they contribute only a small percentage of the world's greenhouse gases, hydro-fluorocarbons or HFCs — which are potent greenhouse gases used in aerosols, refrigerants and air conditioning, do trap heat in the atmosphere at up to 1000 times more than carbondioxide, according to scientists.
Negotiations to ban HFCs have dragged on for nearly seven years. The deal would be an amendment to the Montreal Protocol, the landmark 1989 environmental treaty designed to close the hole in the ozone layer by banning ozone-depleting coolants called chlorofluorocarbons, or CFCs.
Rwanda hit hard
But the draft language emerging from the Vienna talks could lead to a final deal ready to be signed in Kigali which will host the '28th Meeting of the Parties to the Montreal Protocol ' due October 10-14.
"At the [conference] in Vienna the basis was reached today, in the early hours of Sunday, for a political agreement on the sustainable reduction of climate-damaging gases," said Austria's Environment Minister Andrae Rupprechter in a statement.
"The text that has been worked out … should be conclusively decided on … in October in Kigali. This decision is a milestone for the reduction of climate-damaging gases," he added.
On Friday, John Kerry met jointly with Rwanda's Dr. Biruta and Senegal's environment minister Abdoulaye Bibi Baldé as the leaders of the African bloc. Kerry wrote on Twitter after their meeting that the three officials had discussed 'urgent climate challenges facing Africa'. It was from here that the continent – which largely under developed, won concessions for more time.
Rwanda has particularly been hit hard by the harsh realities of climate change. Tens of thousands of people in communities in east and southern Rwanda are facing severe drought. As a result of the irregular rains which came in May – instead of April, crops failed. Affected families are getting food aid from the central government.
Government says the weather phenomenon el-nino is keeping away the rains, and when they fall, leave trail of destruction.
In north and western Rwanda, entire communities have been left homeless as a result of landslides caused by abrupt heavy rain. Hundreds of families have had to be moved from what are called 'high risk' zones as government resettles them. And the costs involved are putting pressure on government coffers.
What's the fuss about Kigali?
Under the current draft of the Vienna text, rich nations would get a target of almost eliminating HFCs by the 2030s, while poorer nations — which may struggle with the high costs of shifting to new technologies — would get a decade or so longer.
"The odds are very high for a deal in Kigali," David Doniger of the U.S. Natural Resources Defense Council told Reuters.
So what is so unusual about the imminent Kigali deal that is causing so much excitement? An amendment to the Montreal Protocol would have the force of law in almost every country, which could give it more potency than the Paris Agreement, a legal hybrid that lacks the binding force of a treaty.
While some portions of the Paris Agreement are legally binding, the specific actions taken by countries to reduce their emissions are voluntary.
"These negotiations narrowed gaps on key issues like the HFC phase-out timetables, creating strong momentum for Kigali," said Paul Bledsoe, a former Clinton White House climate adviser attending the talks, in interview with Reuters.
Poor countries – Rwanda included, want more funding from the rich, which have actually bellowed the dangerous gases for decades.
"We believe with appropriate funding this could occur in as little as five or six years after an agreed amendment," said Biruta in his statement to the Vienna conference. "But our ambition must be matched by their ambition and appropriate funding."
Rwanda, for its part, says it is ready to implement all aspects of the Kigali deal, as long as other players keep their side of the bargain.
In December last year, at a UN Climate conference or COP12, a historic agreement was hammered setting caps on what has to be done to keep global temperatures below 2°C above pre-industrial times. But serious reservations remain as to how that can be enforced.
While some portions of the Paris Agreement are legally binding, the specific actions taken by countries to reduce their emissions are voluntary, say analysts. And there are already questions about whether some countries will follow through on their Paris pledges.