President Paul Kagame on Monday declared the year 2017 'a period of cooperation, prosperity and democratic rule' that will ensure better service delivery to citizens.
Hosting foreign diplomats accredited to Kigali for a luncheon at The Radisson Blu Hotel & Convention Centre, Kigali  (KCC), Kagame said in 2017, the country will build on the successes of 2016. He pointed out last year as having been good for Rwanda and its partners.
Some of the highlights of last year included five star hotels – Radisson Blu and Marriott, among other modern structures. The facilities hosted huge international and continental summits including the annual summit of leaders of 53 African Union members. Kigali also hosted the amendment of the Montreal Protocol, a major climate deal.
National carrier RwandAir expanded its flights and acquired bigger planes. The country secured an investor to construct Bugesera International airport, as well as launched the first drone-port in Africa.
The lake Kivu methane gas extraction saw more power pumped onto the national grid. In the automobile sector, the country signed with German carmaker  Volkswagen a deal to build cars locally in 2017.
"The progress that we all see in Rwanda is a result of our commitment to good politics," Kagame told the diplomats. "We appreciate you for standing with us and for sharing your views along the way."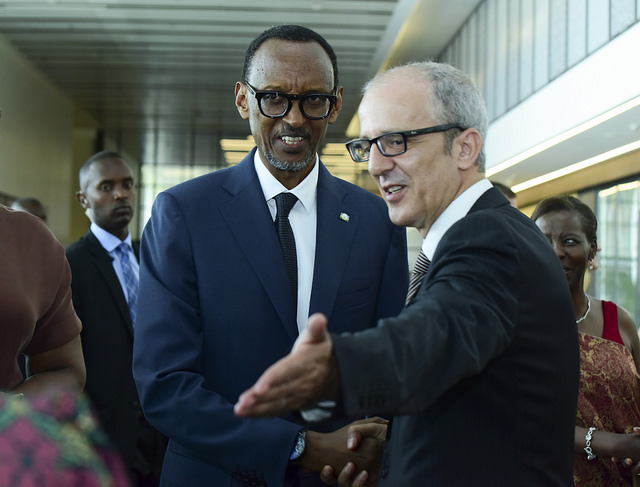 To the President, the developments couldn't have been attained without listening to citizens, building their capacities, strengthened institutions and working together with partners.
He said that Rwandans played a role in this politics which is 'responsible, forward-looking and centered on a country of hardworking people who are now mature enough and ready to safeguard these gains'.
Rwanda, he said, is looking forward to recording more success stories in 2017.
"Together we can take satisfaction in the results of our cooperation…We are looking forward to constructive and meaningful elections this year, marking a period of consolidation for our country," Kagame said.
Rwanda will hold presidential elections on August 4, 2017. Indication from the often heated political talk shows suggest anxiety towards any changes. There is visible appetite to maintain President Kagame as leader of the country.