Next year when Women gather again to celebrate the International Women's Day, there should be a significant reduction in malnutrition, early pregnancies, domestic violence and poor hygiene – The First Lady Jeannette Kagame wants this promise kept.
She was speaking during celebrations marking the International Women's Day held in Shyira sector, Nyabihu district – Western Province.
She has also urged parents to use available platforms and social programs to end persistent crises in families to ensure a better future generation.
Most disturbing, there are still cases of children below 18 years getting pregnant; The First lady says this may lead them to miss out on many chances awaiting them in future.
"Why are we still registering early pregnancies with children under 18? You know early pregnancy affects them because their bodies are not yet ready to support pregnancy," the First Lady said.
"Moreover, at that period, a girl child still needs crucial education."
Bracing rain drizzles this morning at a football pitch in remote Mpinga village, The First Lady asked a huge gathering of parents and youth, to reflect on issues persistently affecting families yet government has put in place mechanisms to end them.
The First Lady also asked Nyabihu residents and the general public why there is still poor hygiene despite initiatives like Mutimawurugo –  the women with integrity who have cultivated the culture of excellence, Ubutore.   
With stunting and malnutrition also prevalent in the country, The First Lady wants parents to reflect on reasons for this situation because government has put in place several ways to improve child nutrition and in families.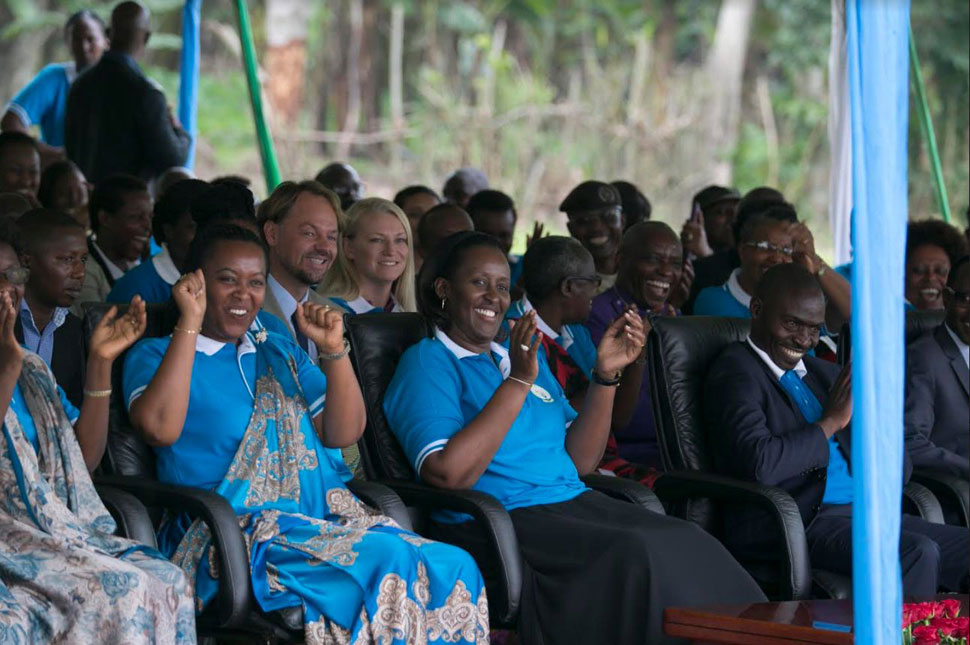 For example, the Early Childhood Development Centres (ECDs) focus on child development while providing indispensable packages to expectant mothers and children up to six years, and their care givers.
Parents also get trained in the Igikoni cy'umudugudu – a program for learning good cooking practices. Most have been taught to prepare vegetable gardens, commonly, Akarima k'igikoni.
The First Lady also cited domestic violence of all kinds still prevalent in families yet government has platforms that help solve conflicts. Under the Akagoroba k'ababyeyi initiative, families in the same neighbourhood meet to solve problems in families.
Abunzi – mediators and several religious mechanisms can also help settle conflicts.
"Together with Mutima w'Urugo, let us commit to work on these challenges. When we meet next year on this date we will have registered tangible progress," she requested.
Meanwhile, Mutima w'Urugo members in Nyabihu district presented to the First Lady achievements in areas of family protection. They managed to mediate 137 families and helped  300 school dropouts to return to school.
The First Lady also visited an exhibition stand for Nyabihu women cooperatives – They displayed several  agriculture products and said, her guidance and advice to develop a woman is unprecedented.
To support vulnerable families, the First Lady granted cows to 50 families. Just like under the one-cow per family program beneficiaries will give calves to their neighbours until each family owns a cow.
Celebrations for the International women's day were also observed across the country in different ways.
Thus, in Huye district, southern province the female district security officers, Dasso exhibited their ability in a parade among others.
Recently voted Miss Rwanda and her runners – up visited Muhima hospital in Kigali and supported the economically challenged patients, including a woman who gave birth to triplets.