The five Burundian lawmakers who refused to come to Rwanda for sessions of the regional parliament are actually regular travellers to Rwanda on many private visits, according to travel details obtained by KT Press.
Our investigation suggests that some of the lawmakers were in Rwanda as recent as some weeks ago. They come to Rwanda for family and business trips. Some even meet Rwandan officials on regular basis. In addition, thousands of Burundian visitors came to Rwanda between November 2016-February 2017.
With such details, some observers will be wondering how the lawmakers suddenly felt they would not be secure in Rwanda if they attended the ongoing sessions of the East African Legislative Assembly (EALA). Fellow lawmakers are in shock – that a member country of the regional bloc that is trying to rebuild itself from turbulent years, could block its MPs not to travel to another.
EALA Lawmaker Charles Makongoro Nyerere, also son to Tanzania's founding father, President Mwalimu Julius Kambarage Nyerere (RIP), said the MPs in question should not take security as an excuse when they were assured of safety. In an interview with KT Press, he said the Burundians have "no tangible reason" for their action.
On Monday last week, March 6, 2017, the East African Legislative Assembly (EALA) started its session in Rwanda's capital Kigali. The opening was presided over by President Paul Kagame, as per the norms of the rotating parliamentary sittings.
As the two-weeks sessions kicked off, EALA speaker Daniel Fred Kidega expected all 45 lawmakers from 5 member states except South Sudan – a recent member state to join the East African Community, to be in attendance. To speaker Kidega's surprise, five out of expected nine Burundian MPs did not show up. He told journalists that the lawmakers had "no written" explanation for staying away.
The MPs had reportedly expressed to the speaker fears for their security while in Rwanda – a claim speaker Kidega said was not credible.
All members who missed EALA sessions belong to the ruling party CNDD-FDD of President Pierre Nkurunziza. Relations with Rwanda have fallen to an all time low, as Burundi accuses Kigali of fomenting chaos in their country. Rwanda has simply ignored repeated Burundian provocations.
On the first day of EALA sessions, speaker Kidega sent stern warning to the rebel MPs – saying they could face punitive action for missing sessions.
While many could have sympathized with the MPs concerns not to travel to Rwanda due to their security, KT Press can exclusively report that their refusal to attend Kigali sessions are motivated by a different agenda rather than their security. These MPs have been and still travel to Rwanda freely without any threat.
The MPs; Emerence Bucumi, Leonce Ndarubagiye, Emmanuel Nengo, Isabelle Ndahayo and Jean Marie Muhirwa, stayed back home on the orders of the ruling party in complete disregard of regional laws.
A Different Target Instead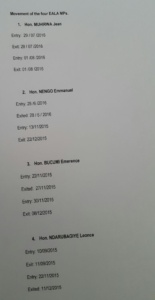 The document above shows that the four Burundian MPs have been freely entering Rwanda privately. Jean Marie Muhirwa for example, had a return trip on July 29 last year. He then had another the following month early August. In other words, he had two trips to Rwanda within 3 weeks. In controversial voting process, Muhirwa replaced Hafsa Mossi at EALA following her assassination.
Another of the boycotting lawmakers is MP Emmanuel Nengo who came to Rwanda in June last year and spent four days.
The other three lawmakers Emerence Bucumi, Leonce Ndarubagiye and Isabelle Ndahayo – also travelled to Rwanda as recent as November 2015. Emerence Bucumi who acts as the EALA Parliamentary head for Burundi delegation, is a very senior CNDD-FDD party member and close confidant of President Nkurunziza.
These trips highlighted are only a tip of the iceberg. Since Burundi's current political stalemate broke out in April 2015, it means even as CNDD-FDD was lambasting Rwanda publicly, its top members were freely coming to Rwanda. A vast majority Burundi politicians travel to Rwanda on regular basis.
Meanwhile, four Burundian MPs from opposition parties who attended EALA have been receiving threats back home, and have informed the speaker that their lives could be in danger. Their troubles are not new.
In 2015, Burundian Parliament Speaker Pascal Nyabenda wrote to EALA speaker informing that four MPs had been recalled. A protracted battle over several months ended with the Burundi parliament giving up. The concerned lawmakers stayed in the House.
The opposition MPs and their parties had been targeted as the ruling CNDD-FDD party accused them of opposing President Nkurunziza's bid to prolong his rule which has caused political unrest and left hundreds of Burundians killed.
Government in Burundi has been blocking its officials from attending events of the six-member East African Community (EAC) regional bloc which are held in Kigali.
The current political crisis has also left more than 250,000 refugees fleeing to neighboring countries. Rwanda is hosting more than 80,000 of the refugees. There is daily stream of refugees – usually at night.
Meanwhile, in a dramatic move on Thursday afternoon last week, one of the lawmakers who boycotted EALA sessions surfaced during a plenary session. Leonce Ndarubagiye, 75, surfaced at about 2.30pm at the plenary session but remained silent throughout the sessions.
Outside parliament, when KT Press approached him seeking for comment, Ndarubagiye quickly dashed to a waiting Rwandan registered taxi car. He constantly made stares of irritation at our reporter. "I have no comment, leave me alone," Ndarubagiye said in Kirundi.
60,600 Burundian visitors
In July last year, the Bujumbura government vowed it would punish anyone who exported their already scarce food commodities to Rwanda.
Second vice president of Burundi, Joseph Butore warned that any local leader or police officer who will endorse export to Rwanda "will have problems". In the same spirit, Rwandan express public buses – which Burundians depended on, were stopped from entering Burundi.
Then a full ban on all Rwandan travellers and vehicles was imposed. No official announcement was made, but Rwandans simply stopped travelling to Burundi as cases of arbitrary arrests and detentions of Rwandan nationals became a daily occurrence.
The most high profile victim was former Rwanda minister Jacques Bihozagara who was arrested and thrown in Burundi's notorious maximum security Mpinda jail where he died. Had it not been for international pressure, the Burundians had even refused to hand over the body.
When the deceased's body eventually arrived at Kigali International Airport, the injuries on his body were so shocking. Bihozagara's widow, Jeanne Bihozagara and their daughter Bonita Isaro filed official demand in Rwanda seeking international inquiry into his death. They have vowed not to rest until they have answers.
Publicly, CNDD-FDD party sells the isolation from Rwanda as a punishment that would force Kigali's hand. Amid a scenario where the Government of Rwanda has completely ignored all provocations, the ruling party is in celebratory mood behind closed doors because of one simple reason: Burundians are free to enter Rwanda.
Data we have obtained shows that with the exception of fleeing refugees who arrive every day in Rwandan border communities, Burundians from government and private sector are visiting Rwanda in their thousands every month. They come, do their deals and head back without any troubles.
According to available figures, 60,600 Burundians visited Rwanda between November 2016 to February this year. They are regular travellers who visit and return to Burundi. For February 2017 alone 13,600 visited Rwanda.
Along with human traffic, come the vehicles. Some 5,700 vehicles entered Rwanda in the same period. For February 2017 alone, 1,400 Burundian vehicles came here and went back.
EALA MPs condemn
Government in Kigali says it has no problem with Burundians and has left the border open.
Back at the regional parliament in Kigali, MPs from EAC countries are in disbelief at the actions of Burundi.
"I don't like what they did and it is not good for EALA," said Charles Makongoro Nyerere, son of Tanzania's founding father President Julius Nyerere. "If a state is at political loggerheads with another, it has nothing to do with EALA. I would find it to be stupid of an individual not the state."
He added; "We (secretariat) had a lengthy discussion on the issue of security concerns raised by the Burundians. We even informed Rwanda about these concerns. The Commission has to find enough reason to reschedule EALA sessions but in our discussions we found no tangible reason why the sessions could not to be held in Kigali."
The Commission is the highest decision making organ of EALA composed of the Speaker and heads of select committees. It is made up of 12 officials. Makongoro Nyerere is a member of this body.
For the Burundians who are attending the sessions, all the other EALA members and staff, Nyerere added, "are safe in Kigali and I personally have been walking back to my hotel room in Remera."
"My experience tells me that not all MPs should attend all plenary sessions, and technically the five MPs didn't boycott….let's not add swords into already existing wounds. The boycott doesn't hold any water but we are sure as [EALA leadership] we will take measures. The best we can do here is to deny per-diem and seating allowances to the missing Burundian lawyers."