Before you throw away a blown build, think twice – it can actually be repaired and light-up again for another two years.
Tuyisenge Kagenza Moise 25, holds a bachelors in Information Communication Technology from the University of Rwanda. He graduated in 2015 from Nyagatare campus in Eastern Province where he also lives.
He has been repairing bulbs of neighbours giving them another life.  Ever since he started repairing bulbs, nobody returned complaining about the functionality of a lamp he repaired.  "After graduating, I couldn't live without working, so I started thinking about how I can get money by practicing what I followed at the university," He said.
The 'resistance' kit that makes a lamp function can be damaged when the electricity power is greater than the resistance(measured in Ohms or Ω). Tuyisenge said that his job consists on replacing the resistance kit equipped with 0.5 Ω to a more powerful resistance of 50 Ω able.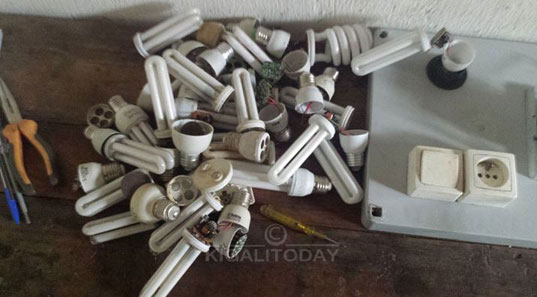 According to him, people spend a lot of money buying lamps every week yet they can be repaired and work again.
"I want to see electricity becoming a source of happy life rather than of poverty,"  Tuyisenge said.
Tuyisenge developed this idea after noticing that members of his community always  bought new lamps after others were damaged by the electric circuit.
Talking to KT press, Tuyisenge said he owns a business worth rfw 1.5 million from rfw 250 000 of capital, only after six months of repairing his neighbors lamps.
Now he earns more than rfw 70 000 monthly with a hope to earn rfw 700 000 within two years.
A repaired lamp costs rfw 300. Tuyisenge buys damaged lamps from his neighbors for rfw 100 and sells it at rfw 500 each after the reparation while a brand new lamp in the shop costs rfw 600.Nyagatare community is not only benefiting from Tuyisenge's work but also he established a school for training young people including lamp repair. Students pay a monthly fee of rfw 15 000 and are trained in a period of six months.
Simillary, Tuyisenge also transforms desktops into televisions and plumbing, which also provides him a pack of money though it is not regularly." I think a good graduate is a job creator rather than a job seeker and sometimes to somebody who holds a same degree like you," He said.
Additional reporting by: Emmanuel Gasana Sebasaza