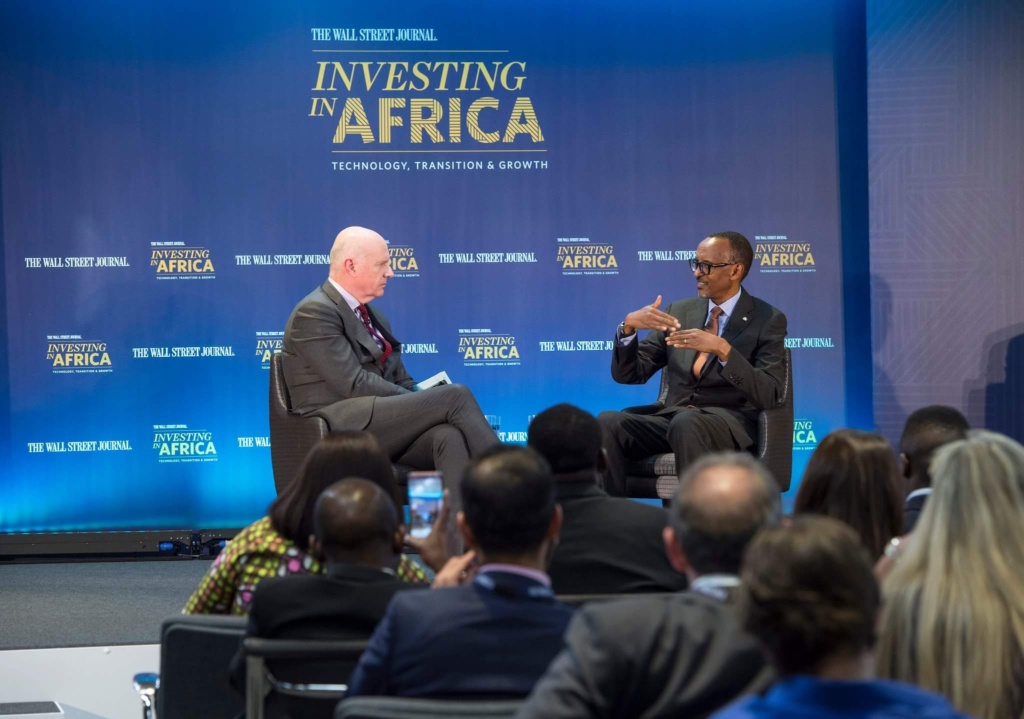 President Paul Kagame has said the world should not be surprised that Africa has not yet figured out how its partnership with the U.S. administration under President Donald Trump will look like, much as Americans themselves are still trying to understand what he holds for them.
The president was speaking Tuesday evening at the inaugural Wall Street Journal Conference on "Investing in Africa", organized to discuss technology, transition and growth, at the News Building in London.
The day-long conference featured one-on-one interviews, panel discussions and themed lunch table discussions, all hosted by the Journal's editors, who drew on their knowledge of influential leaders to explore key challenges and opportunities in Africa.
Keeping in mind that Rwanda is often cited as one of the most ambitious and innovative of Africa's fast-growing economies, WSJ chose President Kagame for closing discussion.
The host, Wall Street Journal's Editor-In-Chief Gerard Baker wanted the president to offer a perspective on Africa's past, a clear assessment of its present and a bold vision of its future as an increasingly important player in the global economy.
Baker asked the president what Africa expected from President Trump's government.
Kagame responded in part: "If President Trump is still being figured out by those who elected him, you can understand from our perspective it will take time to understand what the real administration under president Trump holds for Africa. Maybe we will soon find out."
However, Kagame finds that it would not be surprising if nothing much comes out of Trump's administration as far as partnership with Africa is concerned.
"Even before this, there has never been a clear US-Africa policy," he said.
There has been some US commitments to work with Africa, though.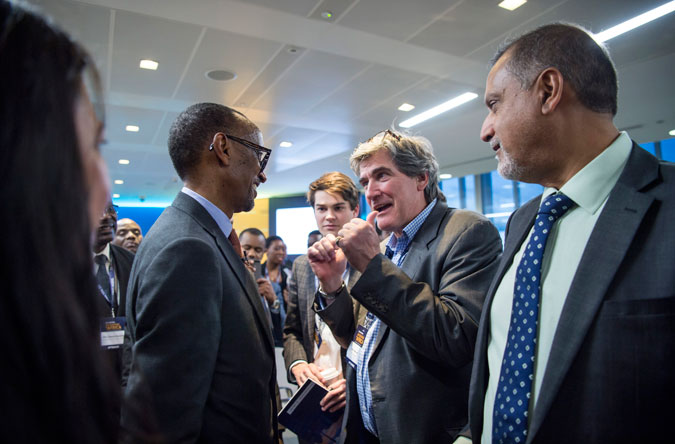 In US Africa trade deals, Kagame mentioned the African Growth and Opportunity Act (AGOA), a United States Trade Act, enacted in 2000 and has been renewed to 2025. AGOA enhances market access to the US for qualifying Sub-Saharan African (SSA) countries. Rwanda is also partner State.
In 2016, former US President Barak Obama introduced a Tax-Free initiative on more travel goods and luggage targeting the US Market from AGOA partner countries.
Obama added 27 travel and luggage goods from developing countries on the list of products that receive duty-free treatment in US under an Annual Product Review of June 2016.
Also commendable was U.S. President's Emergency Plan for AIDS Relief (PEPFAR).
But the president is of a view that all the unfolding events have to teach African countries on finding solutions amongst them.
"Our interest as Africa is not to have people to do things for Africa but with Africa. It would be too early to judge President Trump's administration now but probably something good might come out for us because it Is not babysitting we want," Kagame said.
"Maybe Africans might be pushed to learn a few lessons and do what they should have started long ago, which is to start working towards self-reliance."
President Kagame said intra African trade, regional and continental integration is the way to go.
The interview explored at lengthy the Rwandan experience of development. "Our experience has been that of centering every activity we have been involved in on our people," Kagame told his audience.
The formula has been for the government to always examine how the citizen, get involved and participate into a given activity and how they benefit from it.
He said the country has put in place mechanisms to evaluate how these components are observed, on a quarterly, annual basis or so.
Evaluation of citizen participation and benefits from development activities is carried through, among others, the annual performance contract, Imihigo, whereby leaders in central and local government pledge a number of objectives to achieve. They get evaluated at the end of every fiscal year.
"We keep questioning and testing. Even when we work with neighbors and beyond, we keep coming back to see how Rwandans participate and benefit," said the president.
"My satisfaction lies in the truth that we have not been involved in harming our people. We are developing our country."
On the experience of development in new technology, the president explained that it all started with government commitment to avail infrastructure, including the fiber optic rollout across the whole country, in partnership with Korea Telecom which allowed availability of 4G internet.
To these, infrastructure was added providing the country with human capital while welcoming renown institutes of technology in the country including; Carnegie Mellon University (CMU) and Africa Institute of Mathematical Sciences (AIMS).
This is already yielding tangible results whereby for example, the country has managed to digitize and offer most of public services online.
All these projects were favorable for a public private partnership and even reinforcement of private investment, despite some critics, whom, Baker quoted, criticize Rwanda on ground of encouraging favoritism in doing business.
The president said the country was experiencing a steady growth trend of foreign direct investment.
Kagame was also asked about the huge influence that Crystal Ventures, a holdings company of the ruling Rwanda Patriotic Front (RPF) party, has on the economy. The company has portfolios in nearly all sectors of the economy – being the sole monopoly in some cases.
Critics have contended that Crystal Ventures, which introduced mobile phone connectivity in this region, is being used by RPF to control the country. Some say it could be a driver for stealing the country's wealth after the RPF will no longer be in power.
Kagame, in perhaps the first public discussion about the huge company, vigorously defended it as "crucial" player in the transformation of Rwanda.
"We wanted to see a difference in our country where nobody was coming to invest," said Kagame.
For example, to counter the massive inflow of soft drinks from big producers surrounding Rwanda, Crystal Ventures brought the multimillion dollar Inyange Industries. Within a few years, it has virtually suffocated all regional competition – leaving it struggling to keep the supply going, as more of its products have become more popular than it can avail.
Kagame was also asked to comment about "fake news", a new wording that has become common with the election of Trump. The US establishment says Russian manipulated the internet by flooding fake news which drove the eventual win of the billionaire president.
Trump has fired back in full force, branding all of the biggest US and global media groups as "fake news". Some like The New York Times and British broadcaster BBC have been banned from press conference at the White House.
"It is what you have been hitting us that is coming back to bite you," said Kagame, in reference to years of negative news that has targeted the country under his government.
Also in this conference was Akinwumi Adesina, President, African Development Bank, Mo Ibrahim, Chairman, Mo Ibrahim Foundation, Ashish j. Thakkar, Founder Mara Group and Mara Foundation, and Alon Lits, General Manager, Uber Sub-Saharan Africa among others.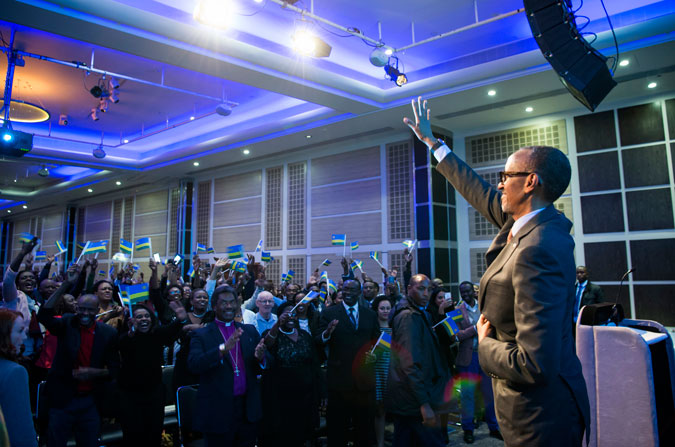 In UK, President Kagame was received by a cheerful Rwandan community whom he addressed after the Wall Street Journal Conference.
"Thank you for carrying Rwanda with you everywhere you are," he told them.
"Meeting with you renews our strength and make challenges we face easier."
After UK, the president is expected in the United States. On March 10, at Harvard University's Centre for International Development (CID), he will speak during a session untitled "A conversation with His Excellency Paul Kagame."