Gasabo intermediate court has denied bail six leaders from the top management of Association des Eglises Pantecote au Rwanda – ADEPR who were arrested two weeks ago over mismanagement of church funds.
The leaders in the case include ADEPR deputy spokesperson Bishop Tom Rwagasana who was arrested early this month.
A former head of Private Sector Federation in Eastern Province before joining ADEPR leadership, Bishop Rwagasana's arrest came barely a day after three other church leaders were detained over similar allegations.
His co-accused are; Sindayigaya Theophile – senior spokesperson in charge of economy, Gasana Valens – Executive Treasurer, Christine Mutuyemariya – the chief finance, Pastor Salton Niyitanga – the Special Secretary in office of Rwagasana, and Pastor Leonard Sebagabo – Secretary General of ADEPR.
Prosecution told court that the accused are fond of stealing funds that Christians raise for development activities.
The court heard that in 2015, they acquired a loan from Development Bank of Rwanda (BRD) "to fund a huge development project."
The loan was supposed to be serviced until 2025 but after getting it, they convinced Christians that for the sake of being trustworthy, it was better to raise the money and pay back quickly.
Christians agreed with this idea and raised Rwf 3,592,465,324, but the money was never paid back. Instead, court heard that the co-accused found a formula to swindle it steadily.
Some of the trick they used was to sign cheques with surplus money to contractors working in ADEPR activities. Many such cases were reported in construction of the Rwf 5 billion Dove Hotel located in Gasabo district in the capital Kigali.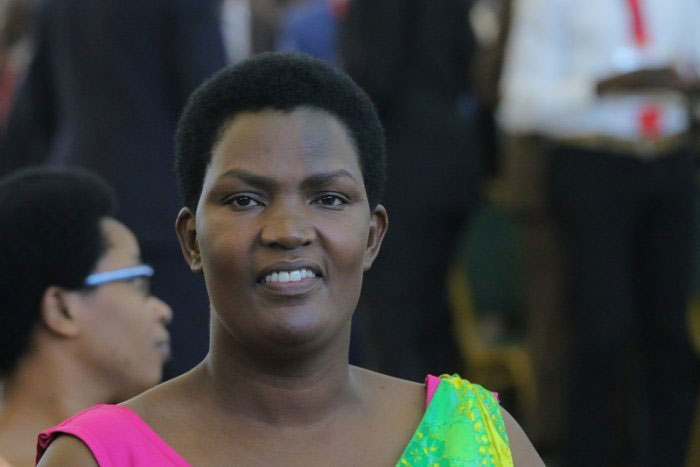 The surplus money had to be returned to the ADEPR leaders who would deposit it on their personal accounts.
Jean Uwimana, a cleaner at the ADEPR headquarters and witness in the trial said that in this process, he got cheques with a combined worth of Rwf 200 million which he used to withdraw and give money to Rwagasana to get just peanuts as 'bonus'.
Rwagasana pleaded innocent. "An audit that was conducted early this year by an international auditing firm should be quoted; it indicated no mismanagement in church funds," he told judges.
Like Rwagasana, co-accused also pleaded innocent and asked court to release them "because they cannot be victims of jealous and petty talks within church members."
The court ruled in favor of prosecution and remanded suspects to 30 days pending further investigations.
A case among so many
Internal wrangles, mismanagement of funds, genocide ideology as well as sectarianism, have been at the forefront of ongoing conflicts within ADEPR for many years now.
For instance, in 2008, scuffles erupted among church leaders of ADEPR in Muhanga, Southern Rwanda – creating two factions within the church accusing each other of harboring genocide ideology.
Three years later, in the same church, pastors demanded top church leadership to intervene after a two-month long feud between pastors became unbearable.
This emerged as a result of five pastors, who accused then Gitarama Parish Pastor, Gérard Nyombayire, for threatening to relieve them of their services and openly insulting them – referring to them as Banyamulenge from Democratic Republic of Congo.
That same year, two pastors from a similar church in Ruhango district brought before court after they were arrested over swindling church funds.
In 2014, several pastors within ADEPR church were arrested while convening a rebellious meeting against their leaders.
Police rounded them up at Sports View Hotel in the capital Kigali, while meeting to plot against their leaders whom they accused of being government stooges.
Their cases were handled in courts – a sign that the church administration structure had been hit by a weak system.
In January this year, a group of five ADEPR members created a 'Restoration Commission' headed by Dr. Jean de Dieu Basabose – a missionary in the church, with intent to push for changes in the church always marred with internal wrangles.
"The communiqué is a reflection of all Christians in ADEPR and you should believe us. We are mature people who do not just make mere statements; they (Christians) are fed up of irresponsible church leaders," Basabose told KT Press then.
They accused Church leaders of taking home most of the cash meant for construction of Dove Hotel.
The communique was however dismissed by church leaders headed by Bishop Jean Sibomana – its legal representative who termed it as 'weakening' church leadership.
Bishop Sibomana blasted the five church members against taking such a rebellious decision without financial proof.
"This group has not audited how we manage church assets. We are doing very well and we are even soon launching a Rwf5billion Dove Hotel at Gisozi," he told KT Press.
While ADEPR case remains rampant, latest reports show other Pentecostal churches including Evangelical Restoration Church, Zion Temple which is an affiliate of Authentic Ministry fall under similar scandals.
Zion temple is headed by Apostle Paul Gitwaza who has for decades won himself the hearts of hundreds of people. The Apostle recently faced a nearly planned 'holly Coup d'état' when a section of his pastors accused him of abandoning the church for his personal interests in the US.
The church has branches in different parts of the world.
According to reports within the church, a section of pastors and bishops at Zion temple branches in Rwanda and Belgium plotted a plan to set up another church with a different name. They accuse the apostle of taking advantage of church coffers.
Apostle Gitwaza reportedly fired many pastors and told faithful followers that whoever was willing to follow them was free to go.
In a sermon at his parent church in Gatenga in the capital Kigali, Gitwaza blamed members of his church – of betraying him while he was called by God. Currently, Apostle Gitwaza lives in the United States with his family.