Presidential campaigns in Rwanda kicked off on July 14. Three candidates want the country's top office – to be President of the Republic.
Dr. Frank Habineza is the flag bearer of the Democratic Green Party of Rwanda (DGPR), Paul Kagame for the Rwanda Patriotic Front (RPF) Inkotanyi and independent candidate Philippe Mpayimana.
Some 6,888,592 Rwandans will vote for their next president on August 4. The next president will serve for only 7-years after which, a 5-year term will return.
However, as the campaigns heat up, the presidential candidates are doing anything to win votes. Some are doing bizarre actions. Imagine getting to a campaign rally. You have a campaign team on the ground. You have spent money. But at campaign venue you find only kids. Each candidate gets taxpayer covered security detail.
KT Press team has been following all the candidates at every campaign rally they have held so far. We take you inside the campaigns.
Philippe Mpayimana a.k.a The 'Armstrong'
One of Philippe Mpayimana's tactics during these Presidential campaign is skipping some designated campaign venues.
In several instances, he gives the media a program saying that the following morning he would go East but instead goes West. It has been a challenge to cover his unpredictable campaign rallies.
In some days, he makes an obviously impossible program to follow. For example he plans to go to two sites in Southern province and two more in the far Western province very difficult to travel to all unless using a helicopter.
Mpayimana was seen, on several occasions addressing an ALL children group. He makes several stops during campaigns – addressing people from one trading centre to another including market areas.
Mpayimana has a unique tactic. After his address, there is a Q&A session. Sometimes he stands on his car or on the ground. He does not use podiums, save for small address system. It is not clear if it is because of the money.
Former journalist Mpayimana is the only candidate who does not campaign alongside his family and relatives. He goes alone with aides. He began campaigning in a small car, but changed to 4×4 drive.
On the first day of campaigns in Bugesera district, Mpayimana used spoke without a public address system. It was not clear whether he had no money or deliberate act. He told the small audience that he is fine with the natural voice.
However, the following morning he acquired a megaphone.
Mpayimana has also branded himself after American astronaut – Armstrong. His explanation is that reaching a presidential level was unthinkable.
"The journey I have walked to this level gives me confidence to call myself Armstrong," he told journalists recently at the electoral commission after submitting his credentials.
Frank Habineza and "First Lady"
Dr. Frank Habineza, the Green Party (DGPR) candidate has one strange campaign tactic that leaves his supporters wondering: his propagandists are promoting the name 'Kimaranzara' or (Hunger fighter).
Habineza campaigns with his wife at every rally – often holding hands. In one of his posts on social media he uploaded a photo of his wife accompanied with "Our next First Lady". Habineza has a theme song that showers praises on the Green politician. The RPF says it is "more green" than Habineza.
At some rallies, Habineza has brought comedians who play short sessions depicting his policies. Habineza has earned himself a name in the local government ministry and national electoral commission where he is always calling to complain about this or that.
Habineza knows the power of the media. Any request for interview is granted without second thoughts. Habineza will not let go if he doesn't like a news story or radio segment aired. There have been indications that he has a team in charge of monitoring media. Managers at Kigali Today Ltd, parent company of KT Press, have received regular complaints.
On many occasions, Habineza picks an existing government program, telling supporters he will fine-tune it or add more to what is existing. For example, he will implement "Gira Itungo", which is no different from "Girinka" (one-cow-per-family).
Paul Kagame: the record speaks for itself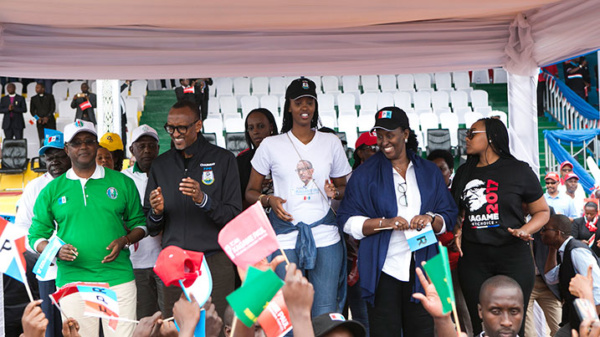 The flag-bearer for the Rwanda Patriotic Front (RPF) Inkotanyi – incumbent president Paul Kagame, has held rallies in Eastern and Southern Provinces, with two more districts in the North and Western Provinces.
Kagame's RPF party is backed by other 8 opposition political parties that announced a coalition with it. At every site, he always recognizes them. Their representatives are given microphones to speak at the RPF rallies. Kagame is always accompanied by his family.
Local superstars, clad in RPF party T-shirts, are a big boost behind the usually lit RPF rallies. Through their music, Kagame is seen dancing with supporters.
Everyone has a flag. The flags are given by hundreds of people moving around and at entrance. All supporters enter with one. As for the T-shirts, nearly all the supporters have them. It seems they get them from village level from RPF cadres. There are also designer of T-shirts for sale. Nearly every shop sells them because they are bought like hot cake.
At all the Kagame campaign rallies, there is an army of volunteers supplying drinking water for the thousands. There is also a separate army of Red Cross persons who give first aid to anybody experiencing medical problem. Outside the venues, there is usually a tent with medical staff. At all times, the tents have flood of people coming in. Since many of the RPF supporters would have arrived at venue hours before, these services will surely help mobilise many.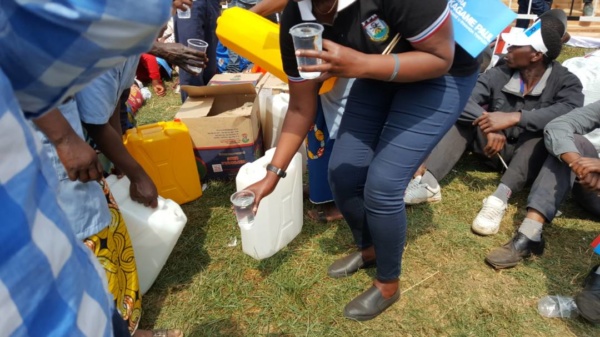 The unique encounters at RPF rallies so far have been, apart from lots of successful party supporters testifying, there are the elderly women. They have a special sitting area for them. Some are seen dancing with Kagame and the First Lady Mrs. Jeannette Kagame on podiums, while children will run through security to greet them.
On top of this, Kagame's addresses at all rallies are interrupted by loud voices of praises from supporters.
Women have a large place in the RPF campaigns; the party used a bigger number of women to lead campaign activities (campaign managers and MCs).
The RPF is using testimonies of success stories from supporters at all campaign rallies. These testimonies help present the power and credibility of the ruling party. Opposition candidates have not been tested and at their campaigns there are no such testimonies.
One woman narrated how she had risen from casual labourer to wealthy businesswoman employing over hundred workers in just a few years.
The success stories are attributed to effective government support programs that give free money to poor. Some have benefited from guaranteed finance instruments in commercial banks. There is a long list of community savings and credit facilities.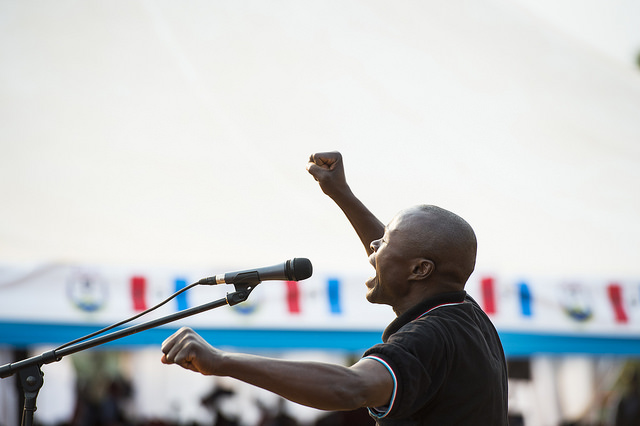 One man said that without Kagame creating an environment in which all people have equal opportunities, he would never have left his village, set up business in Kigali and expanding to United Arab Emirates, Dubai. Another man narrated 7how he started a business with only Rwf 70,000 but is worth more than Rwf100m today.
The RPF candidate is also taking responsibility where he has not done well. For example, in Ngoma district, he said the dilapidated town center would be redeveloped into a modern city.
Infrastructure is another huge tool Kagame is using. Across Rwanda, it looks like a construction site. Bulldozers are digging up earth for a new road or rehabilitating an existing one. New highways are being curved out of mountains like the new road linking Karongi to Nyamasheke district and Gicumbi-Nyagatare road.
There is health post in more than 50 percent of the 2148 Cells making up Rwanda. Nearly each of the 416 sector have a health center.
Kagame wants each of the 30 districts to have a state-of-the-art referral hospital. The most recent addition is the $7m Shyira hospital in rural Nyabihu district.
Burera district, one of the remotest parts of Rwanda, is home to the biggest cancer treatment center in the region. It is also where the $150m University of Global Health Equity (UGHE) is under construction.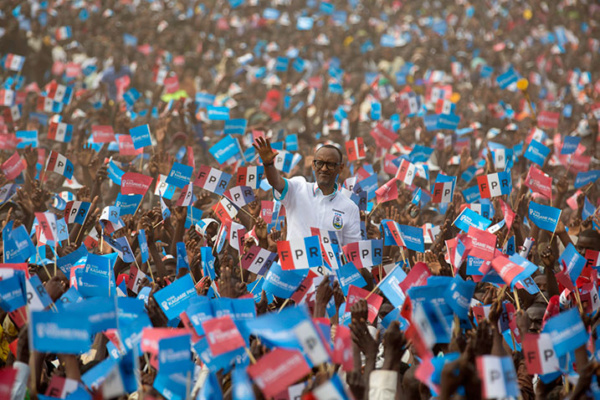 At his rallies, Kagame is admitting the number of poor remains unacceptable. Those with electricity and water are too few. He wants everybody to enjoy same benefits. Kagame is telling his supporters "after August 4th, we will change gears to high speed."
Kagame's rallies are attended by hundreds of thousands, a feat, his competitors can only dream of. Kagame's campaign events
While Kagame is holding rallies, his party machinery is concurrently having huge rallies in all the other districts. The RPF announced at the beginning of the campaigns that they would go "house-to-house".
Asked at a post-campaign press conference recently why the party was spending such huge resources and effort on a election they will obviously win with a landslide, RPF spokesman Wellars Gasamagera said: "We do not take anything for granted".